Everybody loves a solid Top Five list. What are the top five must-see attractions in town? Where are the top five places to eat? Visitors coming to Corolla and the Currituck beaches ask us for these recommendations all the time. To be honest, it's challenging to limit our favorites list to only five spots. Whether you're coming for a long weekend or an extended stay, there's so much to enjoy and we hope you have time to see and do everything we offer.
Top five? How about a top twenty-six, everything there is to love about Currituck County from A to Z:
A is for Atlantic Ocean: The Atlantic oceans borders about twenty miles of the Currituck shore. The water temperature is pleasant for much of the year. You can swim and surf during the summer and let the tide roll over your bare feet in cooler months on a sunset stroll.
B is for Beaches: Soft sand, quiet shorelines, a play place for our county's Wild Mustangs. Our beaches are North Carolina's best kept secret and one of the few places where you can drive off-road (permit required) in the area.
C is for Crabbing: Blue crabs are a local favorite, delicious and plentiful in the summer. If you're feeling adventurous, you can book a crabbing expedition during your stay or buy a bushel of live crabs to prepare in the kitchen of your vacation home.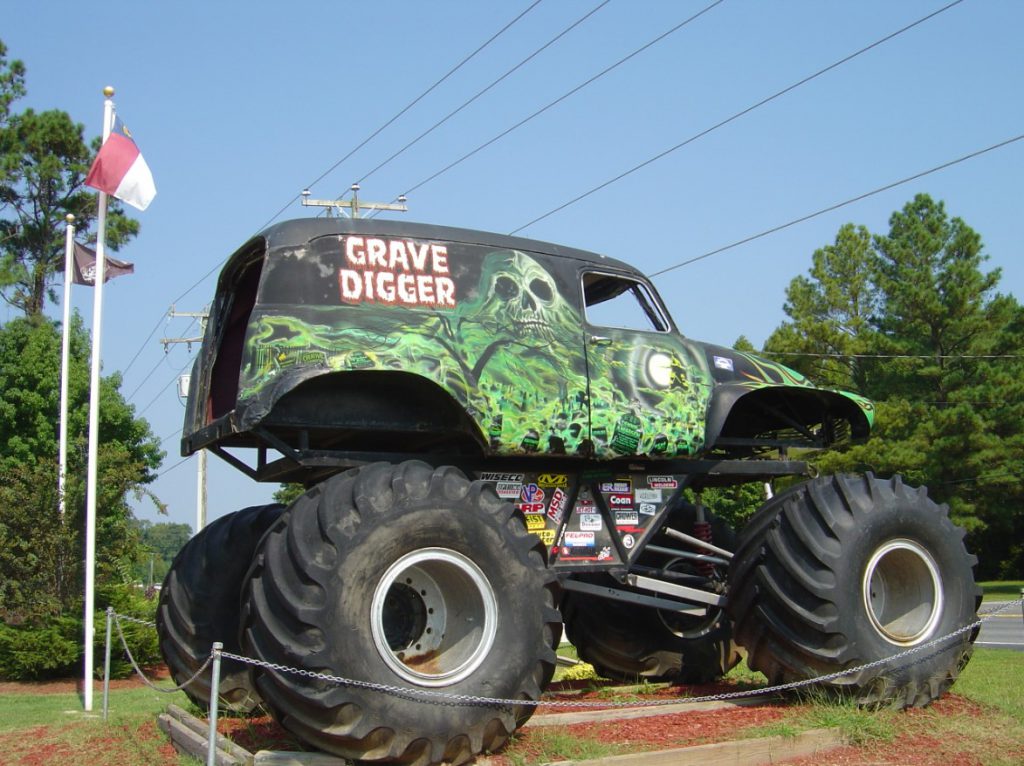 D is for Diggers Dungeon: Located on the mainland in Poplar Branch, Diggers Dungeon is home to the world-famous Grave Digger monster truck championship racing team. Get your picture taken in front of one of the trucks and enjoy lunch at the diner!
E is for Endless Sunsets: Maybe we're biased, but we believe the most beautiful sunsets on the east coast happen on the Currituck Sound. Come out to Historic Corolla Park before the sun goes down and prepare for a spectacular sight.
F is for the Ferry: The Knotts Island Ferry provides travelers easy access to Knotts Island from the Currituck mainland. On Knotts Island, you can hike, go fishing, enjoy wine at Martin Farm and Winery, and even go hunting during the proper seasons. The ferry makes six round trips daily and is free to ride.
G is for Ghost Crabbing: When the sky turns dark, the ghost crabs come out in full force. Night ghost crabbing is a popular family activity on our beaches. All you need is a net and a flashlight to enjoy this catch and release game.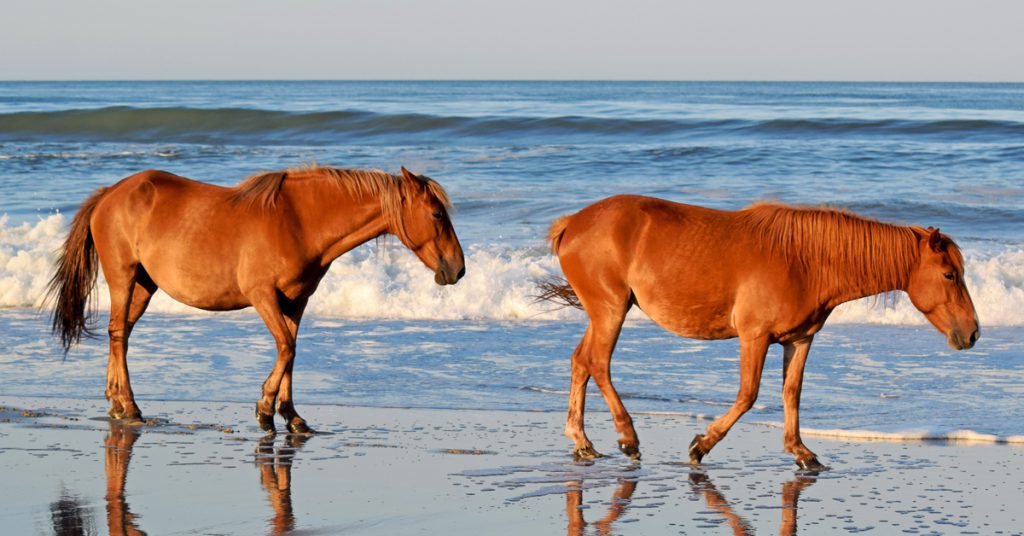 H is for Horses: The Currituck Wild Mustangs have roamed our beaches for centuries. Our horses are the descendants of Spanish Mustangs left behind by long-ago settlers, and these days you'll find them playing on the 4×4 beaches. Book a wild horse tour to experience their beauty and majesty, and don't forget your camera.
I is for Ice Cream: It's your vacation…have dessert first! After a long drive, you deserve an ice cream/frozen yogurt break. Treat yourself to a cone or cup and cool off before you hit the beach.
J is for Jet Skis: Want the thrill of driving your own jet ski on the sound? There are many different water activity companies throughout Corolla that offer jet ski, tubing, kayaking, parasailing, and standup paddleboard rentals. Many jet ski rentals even include 1-, 2-, and 3-seater options. 
K is for the Kuralt Trail: The Charles Kuralt Trail on Mackay Island is a bird watcher's dream. While there, you'll explore nature at its most beautiful and primitive, with many different species of flora to identify.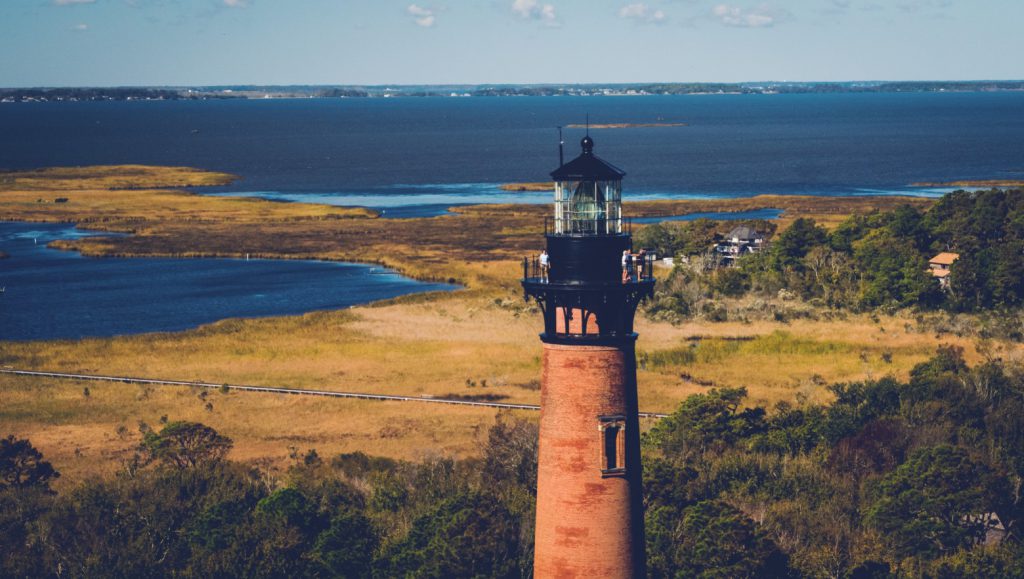 L is for Lighthouse: Currituck Beach Lighthouse has one of the best views of the county. It takes 220 steps to get to the top, and once you're there you'll want to stay a while and take in the amazing aerial views of Historic Corolla Park, the sound, and our beaches. 
M is for Maritime Museum: One of our newest attractions, the Currituck Maritime Museum offers an interactive experience detailing the nautical history of the region. Admission is free, and you'll get to see amazing exhibits featuring restored boats from different eras, and a history of our life saving stations.
N is for Nightlife: When the sun goes down, the day isn't necessarily over. Many restaurants in the area are open late during the summer, and guests can enjoy live music on select nights.
O is for Oysters: Raw, steamed, or fried… how do you like yours? If you're craving a platter of oysters, you've come to the right place. Check out our dining guide for information on all the area raw bars and seafood restaurants where you can get your oyster fix.
P is for Peaches: Peaches come in season on Knotts Island starting mid-June through the summer months. At Martin Farm and Winery, you can pick your own or try one of their signature peach slushies (for grown-ups only, please). If you're in the area on the last weekend in July, come to Knotts Island for their annual peach festival.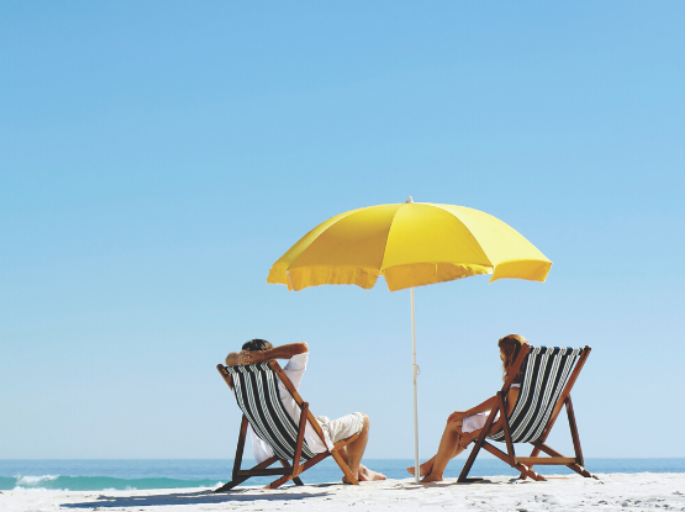 Q is for Quiet: What sets Corolla and the Currituck beaches apart from other resort areas is our remote location. People come for the quiet and serenity of the shore. Our vacation homes provide maximum relaxation. 
R is for Restaurants: Every flavor awaits you on the Currituck Outer Banks. Whether you crave local seafood or a juicy steak, Carolina-style barbecue, or a cool ice cream cone to counter a hot day, we have it. Fast casual to fine dining awaits you in Corolla and on the mainland.
S is for the Sound: The Currituck Sound separates Corolla from the mainland. It's a beautiful body of water perfect for boating, paddle boarding and kayaking. You can launch off the ramp at Historic Corolla Park and spend the afternoon getting back to nature. Did we mention the sunsets?
T is for Turtles: Yes, we do have turtles. In late spring, sea turtles come ashore to nest. Volunteers then assist the baby turtles' trek to the water in July and August. If you visit in summer, you might come across a nest. Here are a few tips to follow to ensure the turtles' safety.
U is for Under the Oaks Arts Festival: Our annual arts festival is one of the biggest events of the summer. Admission is free, and you'll find paintings, photography, crafted jewelry, pottery and other treasures from local and regional artists. There's also a silent auction and food concessions. 
V is for Vacation Rentals: Accommodations on the Currituck Outer Banks are always top notch. Our beach homes can sleep anywhere from four to forty people and come with luxury amenities like gourmet kitchens and game rooms, Jacuzzis, barbecue grills, and wraparound decks. Our directory of vacation rentals is a great starting point for planning your Corolla vacation.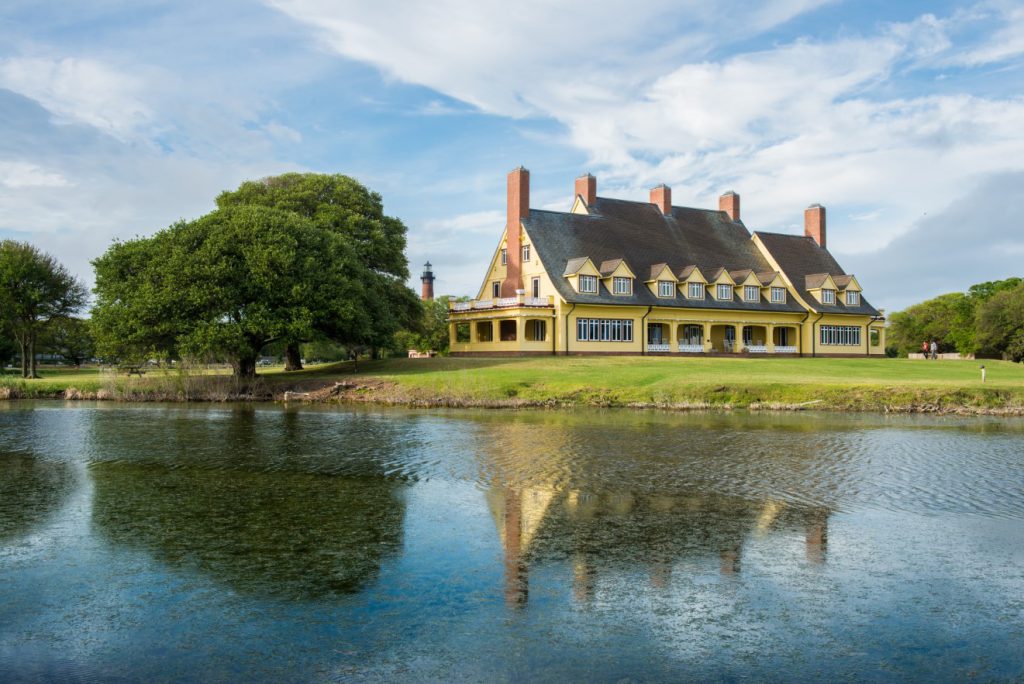 W is for Whalehead: The historic Whalehead mansion, now a museum, is celebrating a milestone anniversary this year. 2022 marks the 100th wedding anniversary of the original owners, the Knights. This beautiful home is one of the most popular picture spots in the county and offers a variety of tours throughout the year.
X is for X Marks the spot: Pirates, in Currituck? According to legend, several notorious pirates such as Blackbeard have a connection with the Currituck Outer Banks. Whether any of their treasure is hidden here remains a mystery, but the stories are great fun.
Y is for Yoga: Every summer on the lush lawn of Whalehead, yoga enthusiasts gather every Thursday morning at sunrise to salute the sun and stretch out the kinks. Yoga mornings are a great way to get the blood flowing and the energy raised for a day at the beach.
Z is for Zoom: Yes, sometimes it's a challenge coming up with a Z name, but if you must get in some work while you're on vacation there's always Zoom. We even have a few Currituck Zoom backgrounds you are free to use. 
What are you most looking forward to when you come to Corolla and the Currituck beaches? Be sure to download or request our free visitors guide and get our mobile app, too, when planning your perfect Currituck Outer Banks escape. We can't wait to see you!