Pelicans dive for fish. A wild Colonial Spanish Mustang cools off in the surf. Seashells tumble up onto the beach.
It's hard to imagine the pristine waters off North Carolina's coast were once home to treacherous pirates lurking amidst its waves. Long before the Outer Banks became an oasis for families to enjoy the ultimate beach vacation, pirates roamed the seas off the coast here, firing their cannons on unsuspecting ships to seize slaves, molasses, tobacco and gold.
Without a doubt, Currituck County's wild history is as much a draw to visitors as its unspoiled natural beauty. It's only fitting that county officials celebrate the region's 350th anniversary this year with a family-friendly, pirate-themed festival July 29, 2018 at Weeping Radish Farm Brewery. In 1668, four precincts were formed out of the County of Albemarle: Currituck, Pasquotank, Perquimans and Chowan.
"They become the original counties of North Carolina," said Barbara Snowden, Currituck County historian.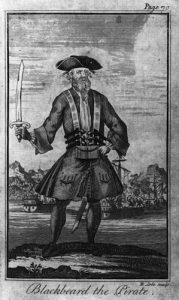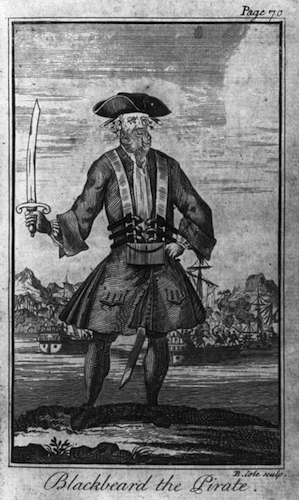 This year also coincides with the 300th anniversary of the death of Blackbeard, perhaps the most notorious pirate who raided ships sailing past the barrier islands. Blackbeard liked to frighten his opponents. He would often set his braided beard on fire to make it smoke and scare people.
"The story is, he would come up from under the ship's deck to make people think he was the devil himself," Snowden said. "He liked to scare his own men, they say."
Born Edward Teach, Blackbeard is believed to have served England as a privateer in Queen Anne's War. He turned to piracy after the war ended in 1713. Within a few years, he commanded his own hijacked ship, which he named Queen Anne's Revenge, with a crew of 300 men and 40 cannons, according to U.S. National Park Service records.
Although he tortured crewmen aboard merchant ships from the Caribbean to the Atlantic coast, Blackbeard, like other pirates, targeted commercial vessels using Ocracoke Inlet. For a while, Blackbeard resided in the town of Bath, forging relationships with colonial government officials who did little to deter his crimes.
When residents and merchant sailors realized they'd get no help from the colonial governor of North Carolina to stop Blackbeard, they turned to Virginia's colonial governor Alexander Spotswood. It wasn't long before Royal Navy Lieutenant Robert Maynard captured Blackbeard during a secret attack off the shores of Ocracoke Island on Nov. 22, 1718. By the end of the battle, Blackbeard was captured and decapitated. Maynard's crew hung his head on their ship's bowsprit.
"The legend is that Blackbeard's head was silver plated," Snowden said. "It became a drinking vessel for the governor of Virginia."
Blackbeard isn't the only pirate with connections to the Outer Banks. Another legendary pirate, Captain William Kidd, supposedly hid treasure somewhere on Knott's Island in Currituck County. But if it's there, it hasn't been found.
Farmer Benjamin Dey, who lived north of Currituck County's courthouse, however, had much better luck. In 1857, Dey unearthed Spanish gold and silver worth $6,000, according to a newspaper report. He discovered the treasure while moving an old pine tree that had fallen near a fence.
His farm isn't that far of a drive on Caratoke Highway to Jarvisburg where Weeping Radish Farm Brewery and Butchery will host the Pirate Plunder Festival from 10 a.m. to 5 p.m. on July 29, 2018 to celebrate Currituck County's 350th anniversary. Parents and kids can enjoy shopping in an artisan's marketplace and watching pirate reenactments, sword and cannon demonstrations and a sea shanties concert. The event also features a children's costume contest, scavenger hunt and pirate school – where you can learn to talk just like a pirate. Admission is free. Food and drinks will be for sale from the brewery and other vendors. Check out the schedule of events to plan your festival activities.
If you're over 21, don't miss the opportunity to try the brewery's special golden ale, created specifically for this event. The Weeping Radish, North Carolina's oldest microbrewery, is also renowned for its sausages and charcuterie, all of which are free of sodium nitrate, fillers, colorants and preservatives. Black Pelican Catering will also be on-site, selling seafood boils by the bucket.