If the constant sound of crashing waves and fresh ocean air aren't enough to help you unwind on the Currituck Outer Banks, grab a large beach towel and head to Whalehead in Historic Corolla for a free outdoor yoga class.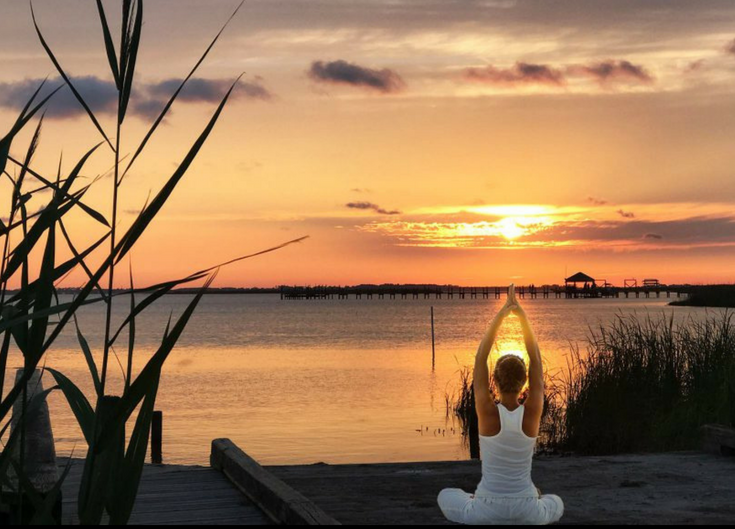 With every yoga pose and mindful breath, instructor Jennifer Spore helps visitors enjoy their beach vacation to the fullest by reminding them why they came here in the first place: to relax and have fun.
It's not hard to do given the spectacular views that surround you during class. Whalehead is a restored 1920s-era Art Nouveau-style mansion that's listed on the National Register of Historic Places. The yoga class takes place on its front lawn, facing the peaceful waters of the Currituck Sound.
The one-hour yoga classes, held every Thursday at 7:30 a.m. through Sept 12, are perfect for beginners and advanced students. It's a way for people to continue their practice while they're on vacation or to experience yoga for the first time. All you need is a towel or tapestry, water, sunscreen and comfortable clothes.
If your muscles feel tight from driving in the car or you just want to help yourself unwind while you're on vacation, yoga can quiet the mind and stretch your body where it's needed.
"I believe yoga is for every body, literally," Spore says. "Yoga helps make space in the body and lets your mind take a nice sigh of relief."
When you connect with yourself, she explains, it helps you connect with others around you.
"I try to help bring people back to the present moment and the reason why they're here. That, for me, is a win."
While Spore can teach a variety of yoga styles, the Whalehead class is what's known as vinyasa or hatha – a multi-level practice that offers many options for people, from newbies to experienced yogis. There's always a way to modify a yoga pose to make it easier on your joints and muscles.
"We work on strength as well as flexibility and balance with special attention to our breath throughout all of our poses," Spore says.
Spore, a mixed media artist, discovered yoga when she was training for a marathon during her college years. After moving to the Outer Banks, she pursued her yoga certification while working as a kayak guide.
"My paddle board customers were eager to do headstands and I wanted to make sure I could keep them safe out on the water and thought why not get certified and show them other poses to try," she says.
The Currituck Sound and Whalehead make the perfect backdrop for a yoga class infused with nature. Don't be surprised if you come out of child's pose to see blue herons, egrets and osprey flying overhead.
"There's usually a nice breeze coming off the water that keeps us comfortable," Spore says.
Visitors have several options to get to class. You can park on site at Whalehead in Historic Corolla, ride a bike to the park or take a shuttle.
While you're welcome to bring a yoga mat, a large beach towel or tapestry often work best on the lawn. Don't forget sun protection. The class is open to children ages 13 and older when accompanied by an adult. Yoga classes at Whalehead in Historic Corolla begin mid-June and continue through mid-September. Call 252-453-9040 for more information.
Additionally, Spore offers private lessons year-round for locals and visitors. You can also take yoga classes indoors and on the beaches of Currituck Outer Banks. Both Soulshine Yoga and Corolla Yoga post their classes online.