Welcome to the Currituck Outer Banks!
Find yourself here.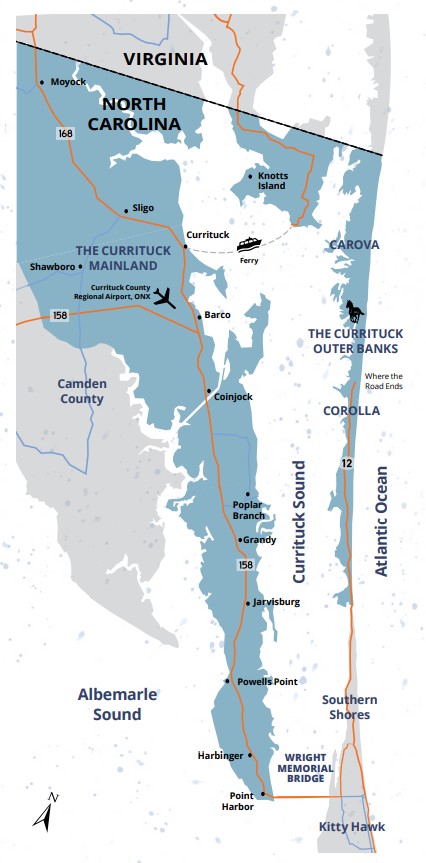 The Currituck Outer Banks – encompassing the northern tip of North Carolina's Outer Banks and the inland townships surrounding the Currituck Sound – are known for its miles of windswept remote beaches, iconic historical sites, fresh coastal cuisine, and some of the finest family-friendly accommodations on the East Coast.
As you consider a visit to the Currituck Outer Banks and Mainland, we invite you to explore a few area maps linked below:
Corolla Map (View, Download or Print)
Currituck Mainland Map (View, Download or Print)
Currituck Outer Banks Visitors Guide (View, Download or request a FREE guide via mail)
TRAVEL & TRANSPORTATION
While Currituck County is located on the upper peninsula of North Carolina (surrounded on three sides by water and marshes) and enjoys a bit of seclusion, it is just a short drive from Virginia's metropolitan Hampton Roads region, which includes Chesapeake, Norfolk, and Virginia Beach.
Driving Directions from the North: Follow I-95 South towards Richmond, Virginia. Take I-64 East towards Norfolk/Virginia Beach and then exit #264/I-664 towards Newport News. I-664 merges back onto I-64 at exit 15B. Follow I-64 towards Chesapeake, VA and then take Exit 291-B to US-168 South (Chesapeake Expressway toll road). Follow US-168 South towards the Outer Banks. The Currituck County Welcome Center is located immediately south of the Virginia/North Carolina border on US-168 (right side). North Carolina state maps and local area maps are available free of charge at the Welcome Center.
Driving Directions from the South: Follow Route 64/264 East towards Manteo and the Outer Banks. Cross the Virginia Dare Memorial Bride to Roanoke Island and continue straight on the Manteo Causeway. You will then cross the Washington Baum Bridge to the Outer Banks. Follow US-158 North for about 15 miles to Kitty Hawk, before turning right onto Route 12 North towards Duck/Corolla. The Corolla Visitor Center is located about 14 miles from that turn onto Route 12. The Visitor Center building will be located on your left next to the ABC store.
Norfolk International Airport (ORF): The closest major airport is Norfolk International Airport (ORF) located in Norfolk, Virginia and is about 30 miles from the Virginia/North Carolina border. Air carriers with daily service to ORF include American, Delta, Southwest, United, and US Airways.
Currituck County Regional Airport: This county-operated general aviation airport is open to the public and is located on the Currituck Mainland in Maple, NC.