Crabbing on the Outer Banks is a tasty way to make some of the best beach vacation memories.
From May to late fall, you can find locals and visitors of all ages doing their best to catch the region's blue crabs that swim through the shallow waters of the Currituck Sound.
Officially known as Callinectes sapidus, which translates to "beautiful, savory swimmer," blue crabs are a local delicacy. In May, when the blue crab sheds its hard shell to keep growing, you can find fried, soft shell crabs on nearly every Outer Banks restaurant menu. Come June, the shells have hardened. Most people steam them with a little bit of Old Bay.
Where to go crabbing on the Currituck Outer Banks
If you've always wanted to go crabbing on the Outer Banks, Currituck County offers some of the best places to catch blue crabs.
It's an activity that families have enjoyed together for generations. With a little patience and the right equipment, you can enjoy a giant crab dinner with your friends and relatives.
"We treat our crab feasts like Thanksgiving," says Hadley Twiddy, who grew up learning to crab with her family. "We sit, tell stories and eat plenty of crabs."
Today, as the owner of Coastal Explorations, Twiddy teaches visitors how to catch blue crabs in the sound. Her company also offers sunset cruises, stand-up paddling lessons and kayak tours during the day and night.
A native of the area, Twiddy loves to share her knowledge of the barrier islands.
"Crabbing is great thing for kids to do on the sound," she says.
Mature male crabs, called Jimmies, have blue-tipped claws while female crabs, Sooks, have red ones. The easiest way to distinguish the crabs is by looking at the apron on its underside. If it's shaped like a Capitol Dome, it's a female. If it looks like the Washington Monument, it's a male.
You can take both male and female crabs home to eat, but they must meet specific size regulations set by the North Carolina Division of Marine Fisheries. Male crabs and immature female crabs must measure at least 5 inches from tip to tip of the carapace (its shell).
Learn how to catch blue crabs during your Outer Banks vacation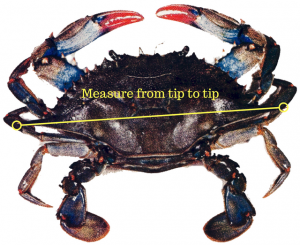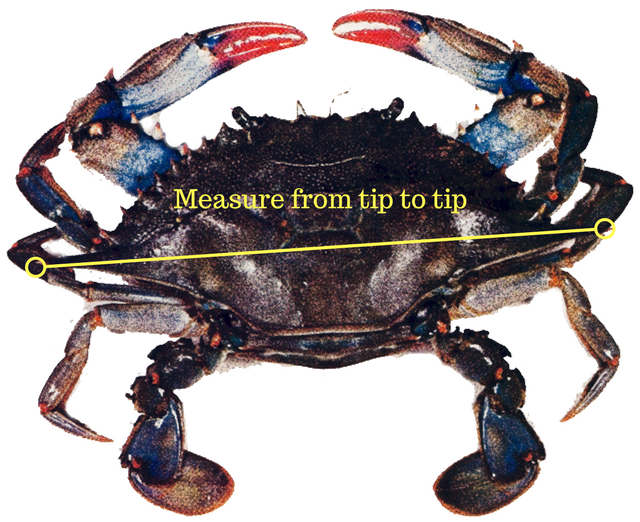 On Twiddy's crabbing tours, visitors get to try two different ways to catch crabs. "That way, there's usually something to take home for dinner," she says.
The simplest method to catch a blue crab is called handlining. It involves dropping a string with chicken meat or squid into the sound from a dock or a boat. If you're lucky, you'll feel a nibble and gently pull up a crab into a net before it swims away.
After guests have tried handlining, Twiddy takes them into the deeper water of the sound where bigger crabs tend to swim. Here, she uses baited, wire cages. A pot will sit for a couple days before Twiddy pulls them up during a tour.
"It's kind of like Christmas," she says. "You're just hoping it's stuffed with Jimmies."
If you want to try crabbing on your own, Corolla Bait & Tackle has all the gear supplies you need for any method you want to try. For less than $25, you can rent enough crabbing gear for five people, according to owner Keith Cummings.
Corolla Bait & Tackle also offers crabbing excursions on its pontoon boats for visiting families. Up to 6 people can fit on a boat. If you want to book a crabbing trip during the summer, Cummings recommends making reservations in advance.
"Everyone loves to go crabbing in the summertime," Cummings says.
Crabbing in the waters of the Currituck Sound
The public is welcome to crab at Historic Corolla Park. The 39-acre site includes the Whalehead in Historic Corolla, the Currituck Beach Lighthouse and the Outer Banks Center for Wildlife Education. Crabbers can drop their lines from the park's wooden boardwalk. You won't need a license for handlining but you can only take home 50 crabs per person. Check with the North Carolina Division of Marine Fisheries for guidelines on crab pots, harvest limits and whether you need a Recreational Commercial Gear License.
Many waterfront vacation homes have docks perfect for crabbing any time of day. If you're staying at a canalfront home, you'll also have access to the waters where blue crabs thrive.
Be sure to keep a cooler handy so your crabs stay fresh. The more humidity in the air, the faster crabs can perish. Hadley recommends covering crabs in a cooler with newspaper and sprinkling ice on top. "You don't want to dump ice on them," she warns. "It'll freeze them."
Finally, only cook crabs if they're alive. You can throw dead crabs back in the water for another creature to eat.