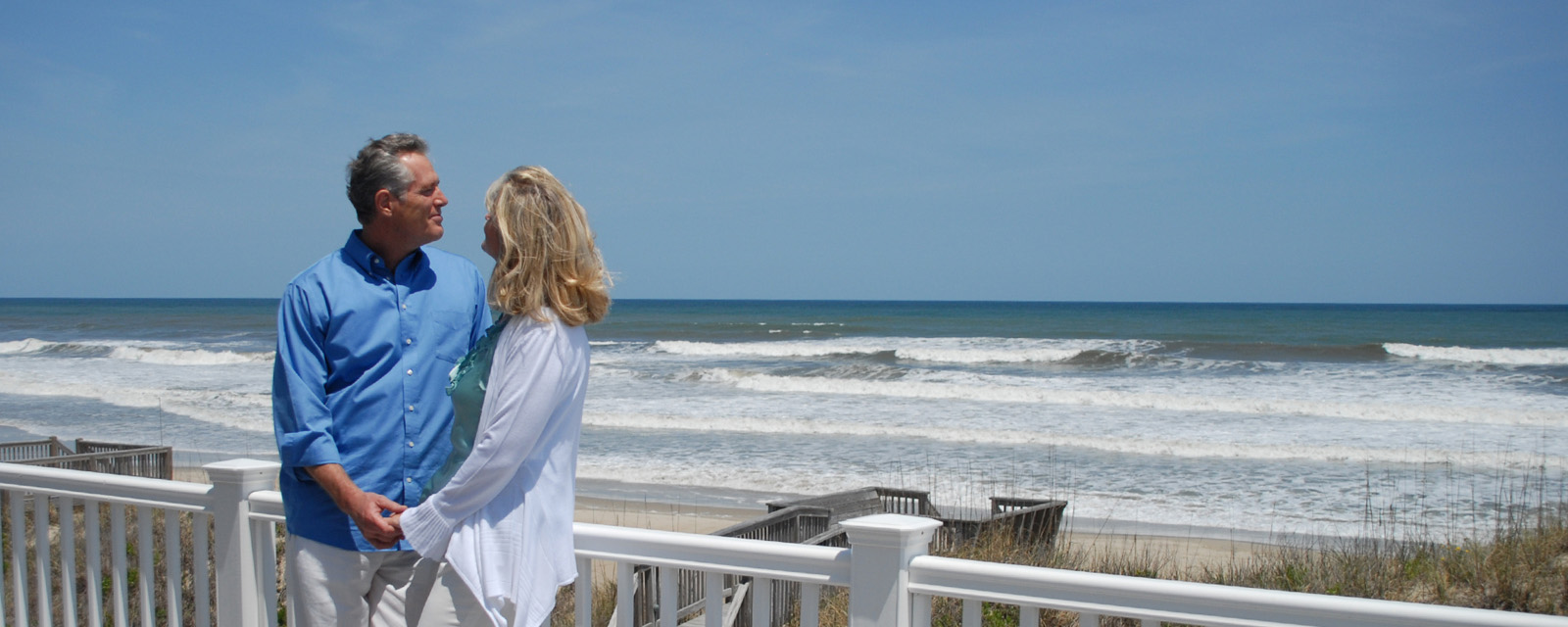 Tranquil beaches and luxurious accommodations make the Currituck Outer Banks of North Carolina the ultimate romantic retreat for couples. Situated on the northern edge of the Outer Banks, it is the perfect spot to recharge your batteries and your romance. Whether you are celebrating an anniversary or planning a spontaneous getaway, Currituck offers the perfect blend of relaxation and excitement for you and your significant other.
Spectacular Scenery – There is just something about Currituck and its surrounding beaches. From the moment you sink your toes into the sand you will know why vacationers have been enticed to visit here for ages. Promises of breathtaking sunrises over the ocean and sunsets over the sound will keep you coming back year after year. Relax on the beach with a glass of wine and a picnic lunch while listening to the waves lap the shore. Visit the historic Currituck Beach Lighthouse to take in the panoramic views. A memorable vacation awaits you on the banks of the Currituck Outer Banks.
Table for Two – What could be more romantic than a candle light dinner or oceanfront dining?
There are so many restaurants to choose from. Tempt your taste buds with fresh local seafood or mouthwatering barbeque. Treat yourself to the ultimate luxury and have a personal chef come to your beach home to prepare a special meal just for the two of you.
Outdoor Adventures – Constant breezes and miles of open water make Currituck the perfect spot for sailing, windsurfing, paddle boarding, kayaking and jet skiing. Active couples can pedal along miles of miles of flat bike paths. Get up close to wild Spanish mustangs on a 4X4 tour, or see if you can beat your significant other in a tennis match or a game of golf.
Romantic Retreat – You will have plenty of space and privacy when you book a vacation home. Spread out or snuggle up on the sofa together for a quiet night in. Full sized kitchens mean you can cook together and enjoy a quiet dinner on the deck followed by a dip in the hot tub. Multiple couples can vacation together with enough rooms to accommodate everyone in the group.
Alone Time – Everyone knows the secret to a healthy relationship is balancing time together and separately. In Currituck there is plenty of opportunity for couples to do their own thing. Enjoy a little pampering at a Currituck-area spa or browse the local shops, antiques stores, farmers markets or the popular Monteray Plaza and Timbuck II Shopping Plazas. You can also choose from highly-rated golf courses or go out on the water for some world-class fishing.
Local Libations – Currituck is home to two vineyards (Sanctuary and Martin) that are open to the public for wine tastings. Sip and savor their wines, talk to the winemakers and stock up on the vintages you like the best. Take a bottle back to your vacation home or bring some home as a souvenir from your trip. Craft beer connoisseurs will enjoy a stop at North Carolina's oldest microbrewery, the Weeping Radish Brewery & Restaurant.
Date Night – While Currituck is not known for trendy nightclubs and happening hot spots, there are options for a night out. Head to the latest blockbuster at Corolla Movie & Bistro or grab the blanket and watch the stars on a sandy strip of beach. Bring along that special bottle of wine that you picked up at a Currituck vineyard and taste the season while you enjoy the evening breezes.
Privacy – Leave the daily grind behind in favor of long leisurely walks on the beach. The uncrowded shores of Currituck's Corolla are made for couples seeking solitude. With plenty of tucked-away spots, it won't be hard to find a stretch of sand to call your own. Stroll hand-in-hand along the shores at dusk and steal a smooch as the sun goes down on another perfect vacation day.
For more information about a couple's getaway to Currituck Outer Banks, visit visitcurrituck.com.