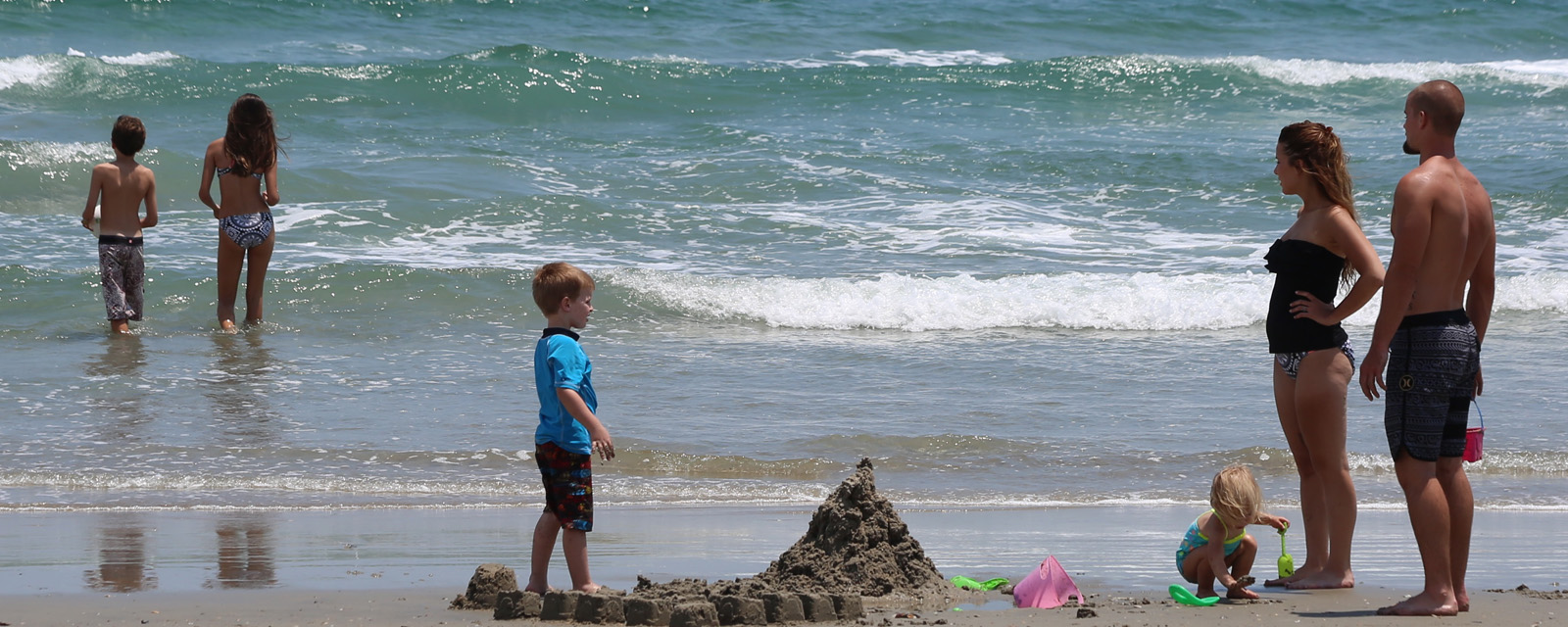 Vacation together, naturally, in North Carolina's Currituck Outer Banks.
You will treasure many photos of your children. The mussed-hair, gap-toothed school photo. The black and white staged studio image. That group shot with your youngest perched on your knee. But the most prized photographs are often the candid ones. His surprise the first time a wave washes up on shore and touches his toes. Her wide-eyed excitement watching a crab scamper across the sand. Those smiling faces about to dig into a platter piled high with fresh local shrimp. Her determination to get a kite airborne. His pure joy watching wild horses gallop. Those contented faces snuggled in hammocks.
Opportunities for creating and capturing photogenic moments and special memories abound in Currituck, which includes Currituck's mainland and the pristine beaches of Corolla. Surrounded on three sides by water and marshes, Currituck Outer Banks is a secluded retreat with acres of unspoiled nature.
Visit in May and June before the majority of schools let out for the summer, and you'll beat Currituck's busy season rush. That means you can find off-season rates on accommodations before the seasonal increase kicks in. It also means you and your family can be the first to leave footprints in 2017.
The wide flat beaches of Currituck Outer Banks gently hug the ocean while waves roll in like soft kisses. As if it were a parent protecting a child, a sandbar helps break waves farther from shore so those that reach it are calm and rhythmic. The pristine beaches are the perfect place to toddle towards the water for the first time. Build a sand castle. Look for shells. Splash in the surf. Spread out a towel and relax while gazing at the horizon. And don't forget to grab the flashlight in the evening to search for ghost crabs scuttling on the sand.
If water-based adventure is your goal, the diversity of available water sports will get hearts pumping. Swimmers of any age might enjoy a surfing or sailing lesson or the chance to try stand-up paddleboarding. The whole family can kayak or paddle together. Teens and tweens might go parasailing, jet skiing or kite boarding. Not quite old enough to participate? Little ones always adore chasing waves.
It's not only about the beach. Swimming suits aren't required for every beach adventure. Rent a bike to ride along the beach on a variety of paths that weave through some of Currituck's most picturesque landscapes. On some routes you can even hop off to browse local shops, art galleries, and even fruit and vegetable stands. Or go four-wheeling on a 4×4 beach tour. If you're lucky, you'll spy some of the famed Corolla Wild Horses that have called this area home for nearly 400 years. Corolla Adventure Park also offers climbing opportunities for all skill levels, featuring nine obstacle circuits 12 to 50 feet in the air with a total of 60 different obstacles and zip lines.
If land-based sports are your more to your liking, you can play tennis on a variety of indoor and outdoor courts and even take a private lesson or attend a clinic to improve your skills. Is golf your game? Tee off for 18 holes of championship golf a wide variety of landscaping; Currituck has four of the most beautiful and challenging courses on the East Coast, three of which are located on Currituck's mainland.
Still more opportunities for family time are available in Currituck Outer Banks. Challenge each other with friendly miniature golf or bumper car competitions. Climb the 220 steps of the Currituck Beach Lighthouse, which was built in 1875 and still serves as a beacon to ships and is even still managed by on-site lighthouse keepers. Watch for birds at the Currituck Outer Banks National Estuarine Reserve, which boasts 965 acres that span from ocean to sound and is a popular part of the North Carolina Birding Trail System. Take the ferry to Mackay Island National Wildlife Refuge where you will find 20 miles of canals and creeks open for walking, kayaking, biking, fishing and wildlife observation. Head to the Outer Banks Center for Wildlife Education at Currituck Heritage Park for lessons on crabbing, identifying insects, and other topics so intriguing your kids won't notice they're educational. The Center also offers several informative displays, an extensive duck decoy collection, and an entertaining 20-minute film on the history of fishing and hunting on Currituck Sound.
Whatever you do, odds are you'll work up a hearty appetite. In Currituck, most restaurants are family-owned and operated. From delis to diners, barbecue to seafood, there's a menu to suit any craving and any budget. Fresh local seafood is always a favorite, but you'll also find steaks, pizza and classic Southern coastal dishes as well as ethnic cuisines including Italian, Chinese, Mexican and Japanese.
This is a place to call home, literally. There's only one hotel chain, Hampton Inn, in the area. All the remaining accommodation options are local inns, lodges and beautiful vacation homes. From lux condos to quaint cottages to spectacular mansions, take your pick among beachfront retreats that can accommodate several generations or families. Whatever number of bedrooms you need, from two to 24 or some number in between, there's a space sized to fit your needs. Enjoy the comforts of an adopted home with perks like private pools and hot tubs, gourmet kitchens, outdoor grills, gracious porches, and comfy gathering areas for sharing stories, playing a board game or watching a DVD. From your seaside porch at sunset, you might gaze out and see dolphins jumping from up the blue-gray water to touch the orange-pink sky.
Just remember to bring your camera to document the memories your family builds together.
For more information about a family getaway to Currituck Outer Banks, visit www.visitcurrituck.com