Mild temperatures, fewer crowds and off-season savings make spring an excellent time to bring your dog with you to the beaches on the Currituck Outer Banks.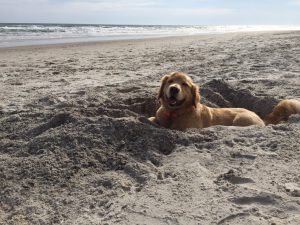 Dogs are natural beach lovers. Just like the ocean, they remind us to relax and enjoy the present moment. It's hard not to smile when you see a dog scampering down the wet sand to catch a ball. We all need to make time for ourselves to play in the sand.
If you're bringing your dog with you to the Outer Banks, make sure to plan accordingly so you can take full advantage of all the relaxing opportunities that await your beach vacation. Consider these tips from the helpful staff at our local animal hospitals – Moyock Animal Hospital and Eastern Shore Animal Hospital – to keep your four-legged family members safe and healthy.
No fleas, please!
The first thing you'll want to do is check your dog's vet records to make sure flea and tick medications and vaccinations, such as rabies, are up to date. Many beach house rentals accept pets. Rental agency staff recommend placing your dog on a good flea and tick preventive medication weeks before heading to the Outer Banks. Your dog will need to wear a collar with their current rabies tag while visiting.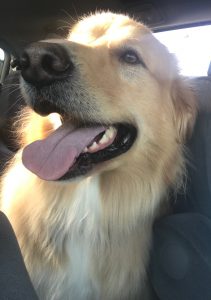 Did you say, "Go for a ride?"
If you're traveling for several hours by car, make sure your dog has everything he or she needs for the road trip. Keep extra water and a bowl with you. Locate rest areas before you start your trek. Have a plan for where you want to stop, take a bathroom break and stretch those furry legs. Always keep your dog on a leash and carry a disposable bag with you to clean up after your pet. It's a good idea to keep with you whatever supplies you need to clean up after your pet wherever you go during your beach vacation.
A leash on love.
It's the law to keep your dog on a leash in Currituck County. Other beaches in the Outer Banks have different rules. When you're in doubt, using a leash will keep you on the right side of the law. Look for signs posted before you decide to unleash your dog.
Playing in the water is great exercise for everyone. If your dog likes to swim, make sure they stay close to shore. Riptides pose a threat to everyone, including dogs.
If you're on the northern beaches of Currituck County, be sure to keep an eye out for the area's herd of wild Colonial Spanish mustangs. Keeping your dog on a leash makes it easier to maintain the required distance of 50 feet.
Dogs dig the shade.
During spring, dog owners don't have to worry too much about the heat on the beach. However, if it does get hot out, make sure you enjoy the beach in the morning and evening when it's cooler and easier on your dog.
"The heat is something you always have to consider," said Laura Hill, a vet assistant at Moyock Animal Hospital. Darker-coated dogs are especially sensitive to the heat, she said. If you have your dog groomed, avoid shaving them before a trip to the beach. Just like humans, dogs can get sunburned. Ask your vet for advice on sunscreen products that are safe for dogs. You can also bring an umbrella or a sun shade that's big enough to cover you and your pooch while listening to the calming crash of ocean waves.
Lick this. Not that.
Water bowls and fresh water are a must at the beach. Drinking too much salt water can make your dog seriously ill. If you see your dog trying to lap up salt water to quench their thirst, discourage it quickly. Offer them fresh water repeatedly to keep them from sampling the sea.
"A little lick isn't going to hurt them," said Hill who specializes in patient education and outreach. "But if they drink it, they're going to be in trouble. Salt water can cause major problems."
If a dog ingests too much salt water, they may have diarrhea, vomiting, dehydration and need medical attention.
Some say dogs are smarter than people. However, it's not usually the case when it comes to eating things they find on the beach. Don't let your dog eat sand, seaweed or any sea creatures they discover. (Don't let any humans in your care do that either.)
Play hard, go home – to your beach house.
Remember to bring some beach toys for your dog. Your selection can really depend on your dog's preference, Hill said. If your dog likes to catch things you throw, bring a soft flying disc to toss their way. Choose smooth balls rather than anything covered in fleece or a fuzzy material, which will pick up sand. Bones and rawhide sticks are best left off the beach.
"Stay away from chew entertaining," Hill said. "Otherwise, they're going to be sanding their teeth."
Don't worry. Beach happy.
The best way to wrap up a day at the beach is a good rinse. Be sure to remove any sand spurs – a prickly flowering weed – that might be tangled in your dog's coat.
With so many beach houses that accept pets, it's no wonder families vacation year after year on the Currituck Outer Banks. Search our database to find the best rental for your beach vacation.