A great strategy for finding the perfect beach house for your fall vacation starts with deciding where you want to stay.
Oceanfront beach houses and semi-oceanfront rentals both offer spectacular views year-round. On the Currituck Outer Banks, you can find a variety of beach houses overlooking the ocean or offering views of the Currituck Sound. Figuring out where to stay all depends on which amenities are most important to you and your guests.
Make the beach your daily playground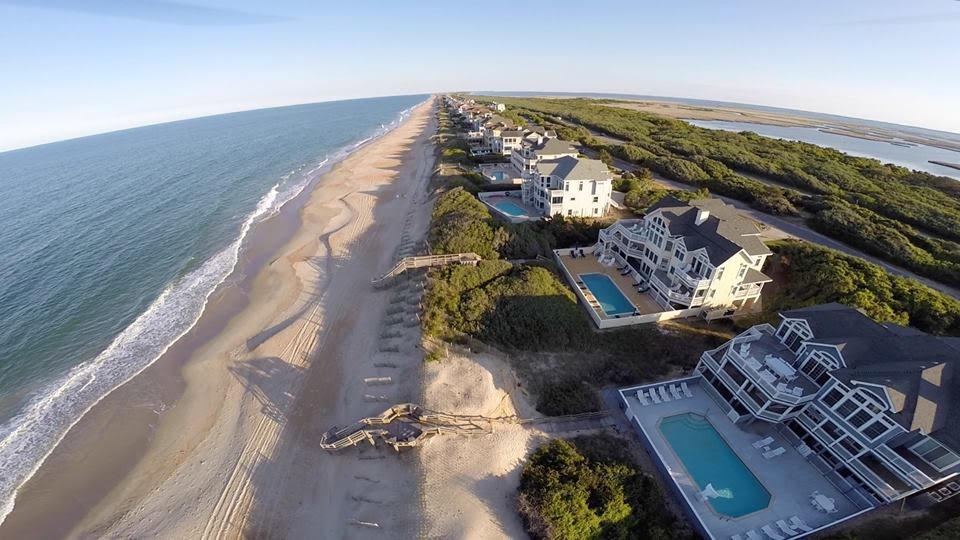 With access to miles of pristine beaches, it's obvious why so many families opt for an oceanfront beach house. Within minutes, you can be on the beach to witness diving pelicans and frequent dolphin sightings. Fall's warm weather and lack of crowds makes autumn one of the best times to rent a beach house on the Outer Banks.
If you've never stayed on the Outer Banks, check out different rental agency websites to start your search for the perfect beach house vacation rental. You can find interior home photos, a list of amenities offered and a booking calendar.
Most oceanfront beach houses have several levels with panoramic ocean views, decks perfect for sunbathing and screened-in porches for quiet reading and conversation. Nestled next to the protective dunes, oceanfront rentals are as close to the ocean as you can get without the waves entering the yard.
Not only does the proximity to the ocean make it easier to trek back and forth from the beach, but you'll be able to listen to the waves all night long if you leave a window cracked open. Make sure to set your alarm early so you can wake up, grab a cup of coffee and watch the sun rise over the waves while you take your morning walk.   
Semi-oceanfront, oceanside homes – all the luxury for a little less
Semi-oceanfront and oceanside beach houses have their own advantages, too. By not being right on the ocean, you can often rent a beach house with all the luxuries you desire within your budget. Need a pool, hot tub, elevator and theater room? Semi-oceanfront and oceanside homes can be the perfect solution to meet everyone's needs.
The time it takes to get to the beach from a semi-oceanfront home will depend on how many houses away you are from the closest beach access. If you're considering a semi-oceanfront beach house, look on a map of the neighborhood to calculate a home's distance to the beach. Think about your guests as well. If you're traveling with small children, consider renting some equipment to make it easier to haul everything you need for a relaxing day at the beach.
Book your beach house early for the best fall vacation
If you know exactly where you want to stay on the Currituck Outer Banks, you may be able to book your beach house more than a year in advance. Many rental companies start taking reservations for the next season in September.
Booking early not only gives you peace of mind, it also allows you to plan your beach house vacation more effectively.