While we would love to have all of you in Corolla this spring for a fun-filled vacation, we realize it's not yet possible to welcome new and returning friends. Since visitors are unable to come to the Currituck beaches right now, we'd like to bring the best of our area to you.
"Relax" By The Shore
We're known for our beautiful, tranquil beaches. They're especially popular in the summer, though we also like to get in long walks in the spring and early fall when the weather is nice. If you're missing the gentle roar of the Currituck surf, you can get your beach fix through any of the live webcams positioned in Corolla.
Choose from views from atop The Pilothouse at Whalehead Beach (courtesy of Corolla Classic Vacations) or from Corolla Light Resort. Twiddy & Company also offers a livestream of the shore via YouTube. Expand your browser window, find a favorite chair, and savor the sights. Who knows, you may just see some of our Wild Mustangs playing in the surf.

What a relaxing scene! Turn the video around to see the lighthouse in the distance.
"Zoom In" For A Close-Up
Working from home and using Zoom to connect with co-workers? Show them what it's like to be here. Click and save any or all of these Currituck backgrounds and put yourself in a beautiful picture postcard!
Take A Virtual Tour
You can experience the rich, historical heritage of Currituck County from your living room. Our YouTube channel features many immersive, 360-degree tours of Corolla.

See all of Historic Corolla Park from the harbor!
Meet the Horses
Getting back to the horses, we know many are concerned about their welfare during this time. By law, people cannot come within 50 feet of these protected horses, and as they are quite self-sufficient we believe they will be fine.
In the event of emergencies, the Corolla Wild Horse Fund is on hand to make sure our horses thrive. Watch for their Facebook Live updates to see how the horses are faring.
For a dose of daily inspiration, follow our Facebook page for up to date photos and videos of our favorite places in the county.

Learn more about how our horses live and play.
Try a Taste of Currituck
With more people cooking at home, we want to share our favorite recipes in hopes that you will add a taste of Currituck to your table.
Jill Landen, curator for Whalehead in Historic Corolla and manager of Historic Corolla Park, tells us her grandmother's Bran Rolls are a holiday staple but can be enjoyed year round. "They are great for the main meal but also toasted with jelly the next morning."
1 c. Kellogg's All-Bran cereal
1 c. sugar
½ teaspoon salt
3 pkts. Yeast
5 c. flour
1 c. solid Crisco (or substitute another shortening)
1 c. boiling water
1 c. warm water
2 eggs
Pour 1 cup boiling water over sugar, bran, Crisco and salt. Let it stand for a few minutes. Dissolve yeast into warm water in a separate bowl. Add flour and then eggs to the bran mixture. Add yeast to first bowl. Cover and refrigerate overnight. Rollout and shape rolls with round cookie cutter. Fold one edge partially over the other to almost make a half moon. Place rolls in greased pan and let rise for 2 hours. Bake in a 350 oven until light brown. Dough freezes well if you do not want to make them all at once.
Print & Color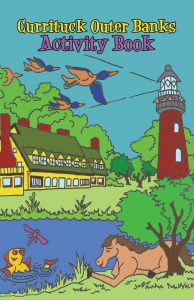 Usually the first stop for families coming to Currituck are our Visitors Centers, where you can find information on restaurants, shops and attractions. Kids will find a free coloring activity book there, too. Now, we've made it available online in PDF for your children to print out and enjoy.
When it's time to revisit your travel plans, be sure to have a Currituck Visitors Guide on hand. Send us a request, and opt-in to our newsletter for updates on events in Corolla and on the mainland. We hope to see you soon.
Please visit the Currituck County government website for COVID-19 updates as they affect our area.