Holidays are a time to give thanks for the year's blessings. This year, as you look for a way to reconnect with loved ones while enjoying a holiday getaway, consider starting a new tradition in Corolla, North Carolina. Spacious oceanfront accommodations, secluded beaches, and affordable rates are just a few advantages to celebrating Christmas and the New Year here.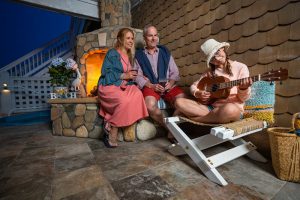 'Tis the Season To See Corolla
Nestled in the northern Outer Banks in Currituck County, Corolla is known for miles of pristine, windswept shorelines and moderate temperatures during the winter months. Rates on our beachfront vacation homes are much lower now than during the peak season, and you'll find there is plenty of room for multiple generations to stay under one roof without feeling crowded.
Many of our available beach rentals come with all the comforts of home, plus extra amenities that add a touch of holiday magic to your trip. You can book a home with cozy fireplaces or a large porch for nightly stargazing, a media room for nights of Christmas classics and hot cocoa, and a gourmet kitchen for cooking a fabulous family meal and other holiday treats.
Here are our Top 5 Reasons to Spend Christmas at the Beach.
Explore a Different Winter Wonderland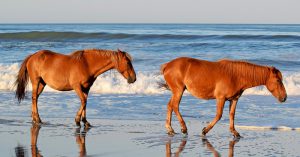 On days you want to venture outside, you can experience the natural beauty of the area. Book a private 4×4 tour and watch the famous Wild Mustangs, which are descended from the horses of early Spanish explorers, play in the dunes and surf. Lace up your hiking shoes and explore the Audubon Sanctuary at Pine Island, where you spot over 100 different species of birds and 350 species of plants. 
In Historic Corolla, you can step back in time and see how the rich and famous of the 1920s celebrated the holidays. Whalehead's Christmas Candlelight tours feature live piano performances and traditional carols. On weekends through Christmas Eve, Corolla Christmas Village brings festive lights and cheer to the historic village.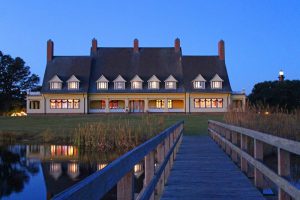 After the gifts are opened, stay a while longer and ring in the New Year in Corolla!
Plan Your Holiday Now!
Create the memories that will soon become holiday traditions for you and your family. Download your FREE Currituck Outer Banks Visitor Guide today or call 1-877-287-7488 for more information.