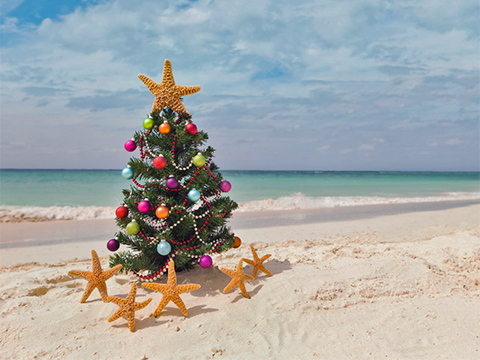 The number one selling song of all time is Bing Crosby's "White Christmas" – and for good reason. Just hearing this legendary crooner's voice makes us reminisce about Christmases gone by – the smell of pine from a freshly cut tree, priceless memories of family and friends laughing and enjoying each other's company or a fresh blanket of powdery snow covering the ground on Christmas morning.
But what if you could exchange the snow for sand this year and spend Christmas at the beach? It does have its advantages.
Kids can still play in the "white stuff."
Who doesn't like to make a snow angel or build a snowman for Christmas? And who can forget those epic snowball fights against those second cousins who came to visit for the first time in like…ever. Well, kids young and old can just as easily play in the beachy "white stuff" – sand – and have just as much fun! And the great thing about playing in the sand during the holidays is that it won't get in your boots and freeze your tootsies off. Not to mention there is no shoveling required. Sand between your toes? Just a quick dust off will do. And if you do get cold, just relax in the hot tub. Woohoo!
Santa does deliver to the beach.
We know that jolly old St. Nick knows everything about you already – whether you're sleeping or awake – whether you've been bad or good. He also knows exactly where you are on Christmas, so why not be at a beautiful beach home with family and friends? And luckily for those enjoying a beach Christmas, Santa loves delivering to the beach – actually, he prefers it! It makes sense if you think about it – he gets a break from the cold weather and the reindeer get to play some "reindeer games" in the surf instead of struggling with the snow. Not to mention that Santa loves breaking out his red Speedo with white fluffy trim from time to time.
Start a new holiday tradition.
During the summer, most kids are used to swimming and sunning at a local pool or swimming hole, so summer beach vacations can get to feeling a bit ordinary. But there's something special about leaving a foot of snow behind and trading that for miles of secluded beaches during the winter months. It's different – memorable. And the best family traditions always begin with a memorable and fun event, so heading to the beach for Christmas certainly fits the bill.
Leave the crowds behind.
Many of us fight crowds the entire Christmas season. We fight hordes of fellow shoppers at the mall and shopping centers, we fight traffic to and from Uncle Bob's house, and sometimes our own homes are so crowded that we have to ask, "Who are those people and tell me how we're related again?" Spending Christmas at the beach gives you the opportunity to get away with family but without all the busyness that typically comes with the holiday season. And since holiday beach vacations are in the off-season, you'll feel like you have the entire beach to yourself – no crowds, no distractions, less stress – everything one hopes for in the holiday season.
Enjoy a true Southern Christmas experience.
Something magical happens when you combine Southern hospitality with the holiday season. Conversation flows cheerfully, freshly-baked pies and desserts taste that much richer, and the warm, sweet welcoming spirit we enjoy during Christmas is evident to all who visit the quaint town of Corolla, North Carolina and surrounding areas in Currituck County. There are many great events to be enjoyed during your winter beach vacation, such as the ever-popular "Christmas in Corolla" held in Historic Corolla Park at Whalehead, the restored historic house by the sea. Step back in time to what Christmas Eve was like in the 1920s and enjoy special candlelit tours, wine samplings and a dazzling display of Christmas lights that you do not want to miss!
Black Friday specials all off-season long.
It's a simple formula really – beach + winter = savings. December in the Outer Banks is considered the off-season, so rates on amazingly beautiful beach homes are amazingly low. Most rental and lodging companies offer great specials during this time of year, with prices up to 70% off normal peak season rates. Here's a quick example of a typical vacation rental home during this time of year:
Oceanfront beach home
6 bedrooms, 5.5 bathrooms
Pet-friendly
Private pool and hot tub
Fireplace (to hang your stockings with care)
Wi-fi (to share your photos and make all your friends jealous)
Only $1,200.00 for the week!
See current rental and lodging special deals here.
Ready to plan your beach Christmas getaway? Start by requesting our free visitor's guide or browsing Outer Banks rentals and lodging businesses. And have a beachy Christmas!