You could put on layers and layers of warm clothing, drive around town until you find a decent parking spot, and elbow strangers for space at the buffet table while you count the minutes until midnight. Or, you could gather close friends and family together in one place, order in a delicious feast complete with locally-sourced treats, and celebrate the coming of the New Year in comfort with the people who matter most to you. Which sounds better?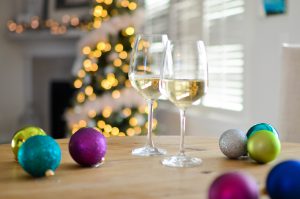 We will admit that we are partial to celebrating all holidays right here in the Corolla Outer Banks. Whether it's fireworks for the 4th or a candlelight tour of Whalehead Club at Christmas, a holiday spent near our beautiful shores guarantees a lifetime of memories. With our off-season happening in the winter, visitors have the opportunity to spend a cozy New Year's vacation without spending a Times Square budget.

We're Still Open!
Even though Currituck is in the off-season, it doesn't mean the entire county has closed until spring. Some restaurants are year-round and offer to-go and delivery meals, some local personal chefs and grocers can accommodate your culinary needs where available, and you can still see the horses in winter (you still also have to abide by the county ordinances if you encounter them on the beach). You can prepare a New Year's menu featuring Currituck wine for a midnight toast, too.
Choosing the Right Vacation Rental
Say a number of your closest friends and/or relatives are up for spending a week of their winter holiday together. All that's left to do is to book the right cottage or beach home for your stay. Winter rates are less expensive for many homes, and you have your choice of staying in the 4×4 beach areas or closer to the Currituck sound. Bring enough people for your destination holiday, and the cost per person per night equals an enjoyable and affordable visit.
While searching the upscale amenity options of our many rental homes, you're sure to find what you want for your New Year's vacation. Choose a spacious kitchen to prepare a gourmet end of year dinner, a screening room for a binge watch to cap the year, or a game room with billiards and poker tables for an all-night tournament with friends. Of course, you can't go wrong with a large living area with HD TV to watch everybody in Times Square shivering the minutes away until 2023.
Best of all, every Currituck night comes with a gorgeous view of the sky and surf. We can't guarantee you'll see a shooting star for a wish, but you won't know unless you book your trip.