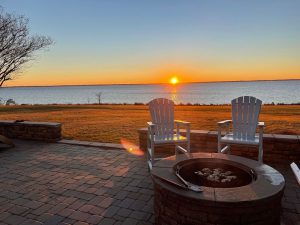 A family oyster roast is a great way to introduce everybody in your party to fresh, local seafood. You may have enjoyed oysters back home in a variety of ways, from stews to raw bar to fried po-boys, but preparing them at home gets the whole family involved. It takes work to get some shells open, but once you experience the flavor of an oyster you cooked yourself it won't be long before you're planning the next one.
In Corolla, many of our beach rental homes come with outdoor grills perfect for the vacation oyster roast. With the right equipment and ingredients, you can create amazing memories with your loved ones this fall and winter.
Hungry yet? Here's how to get started.
Where To Find Oysters in Corolla
Once in Corolla, check our local seafood shops for the fresh catches. Oyster season in North Carolina runs October through March, and our vendors provide the best oysters harvested in the region. Be sure to call ahead to any of these Corolla and adjacent markets for availability.
Roasting and Shucking
Got oysters? Now it's time to assemble everything else required for a successful and delicious roast:
Oyster knives and thick gloves (for your protection) are a must. The ideal oyster knife will have a handle for firm gripping and a short double-edged blade for easy prying into the shells. You may want to pack your own or call ahead to any of our seafood markets to see if any are available for sale.
You'll need a large metal tray or sheet metal to fit over your outdoor grill. The oysters will roast directly on the tray, so be careful not to burn yourself on the hot metal!
Clear a large table to use as your shucking stations. You'll need the room, depending on how many oysters you roast. Keep large trash cans handy to dispose of the shells after shucking.
Don't forget the saltines and condiments! Roast favorites may include lemon wedges, cocktail sauce, hot sauce, horseradish, garlic aioli, melted butter… anything you want.
On average, a bushel of oysters will feed four to five hungry people. Your seafood vendor may also recommend the right amount to buy for your roast. Clean your oysters, too, before you roast them. You want to get as much sand and debris out of the way so you can enjoy the flavor of the meat.
When your grill is set, line up the shell on the tray. Oysters may take anywhere from eight to ten minutes to cook this way, and when the shells open it's time to remove them from the grill for shucking.
To shuck an oyster, place the tip of the knife into the shell's hinge, twist and pry the shell open. Move your knife along the top shell to make sure the oyster is separated before you discard that shell. After cleaning the blade, use the knife to pry the oyster from the bottom. Roasted oysters may be easier to open than uncooked ones because, but you still want to be careful that you do not cut yourself.
Hey, What Are Those Things?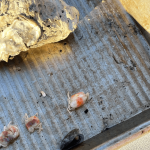 At a seafood restaurant, you'll get your oysters cleaned and prepared to your liking. Shucking them yourself, you may find a surprise inside that isn't a pearl. Inside some oysters are hidden tiny little crabs, called pea crabs. They are also a sign that your oysters are fresh. Your first instinct might be to toss them in with the shells, but it's actually considered good luck to find these critters in your dinner. Pea crabs are edible and quite delicious. They taste like regular crabs and you don't have to remove any shells. Just pop them in your mouth.
What About All These Shells?
Do not leave your can of discarded shells out with the trash. Oyster shells are important to the ecosystem in the Currituck Outer Banks. They are used to help clean the estuaries and they are important in repopulating the oyster harvests. After you've enjoyed your roast, look up the oyster shell recycling site nearest your beach rental and arrange for a drop-off.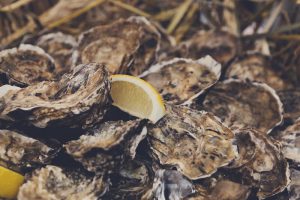 No Corolla vacation is complete without a night of fresh local seafood. From oyster roasts to steamer pots, you'll find everything here for an amazing family dinner on your deck.