Corolla (pronouced: "Kuh-RAH-Luh") is one of the most popular beach vacation destinations on North Carolina's Outer Banks. Its 24 miles of unspoiled shoreline is a unique treasure in these modern times, as are the distinct and charming communities dotting the area. Corolla is the kind of place where folks wave at each other, and the vibes are always good.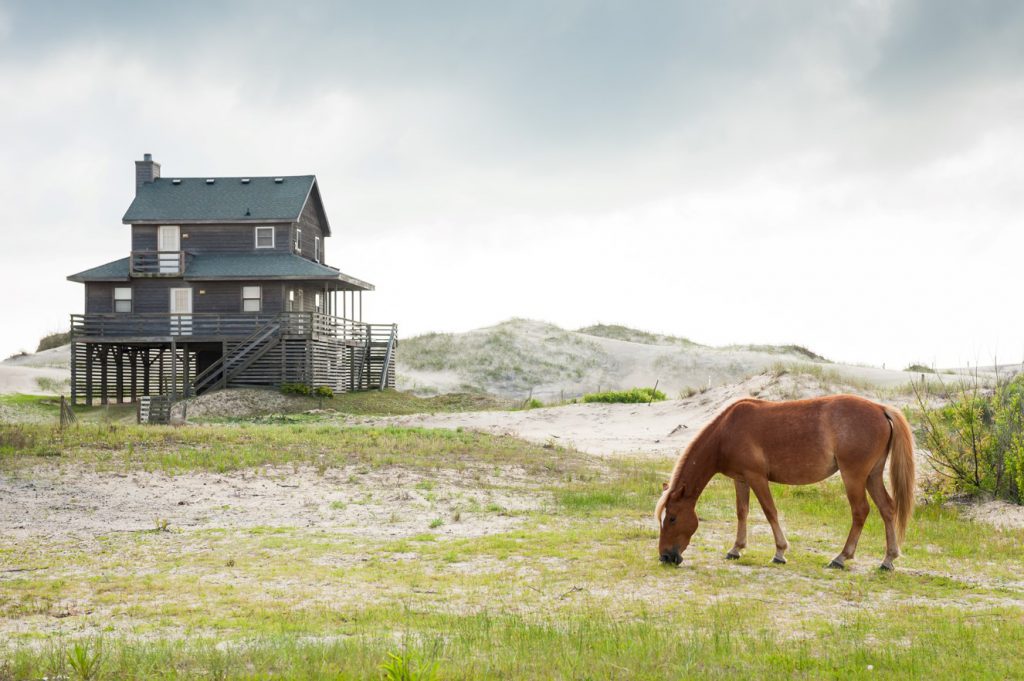 Notably less commercial than many other seaside locales, here you'll find breathtaking natural beauty abounds. Storied sites like the Currituck Beach Lighthouse, the Whalehead mansion, and the Currituck Maritime Museum, as well as eclectic shopping, dining, and entertainment opportunities have also made this quaint coastal community a sought-after family vacation paradise.
This hidden beach trove is known for many things, but above all its windswept remote beaches and the one-of-a-kind wild Spanish mustangs.
You'll feel like a local in no time thanks to the Southern hospitality and laid-back coastal attitude. We love visitors and we love showing off our beautiful Currituck Outer Banks home.
When you visit Corolla you'll find that every inch of the Outer Banks is just as beautiful and pristine as you'd imagined. Kids of all ages are free to frolic on your own beach throughout the mornings and chase ghost crabs into the tides all night.
Lounge on the sand away from the crowds at more urban beaches. On the Currituck Outer Banks, you can truly listen to the surf, and doze off to the ocean's song. Here, you can simply relax and unwind.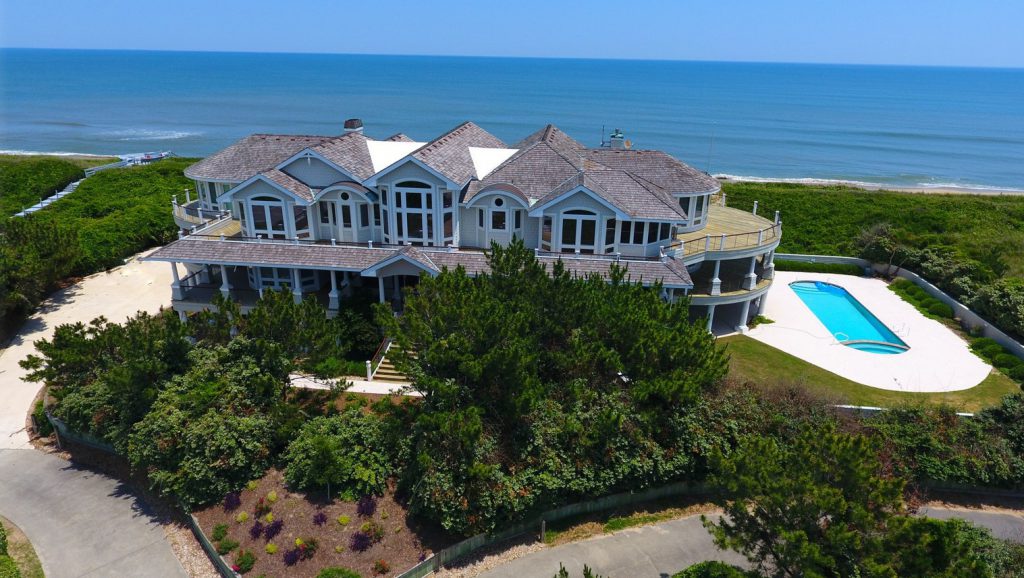 Vacationers love Corolla because you can do as much – or as little – as you want in this tucked-away coastal gem. Many visitors choose to stay in one of the many luxurious beach homes on the Corolla 4×4 beaches, which extend from the northern end of Corolla to the Virginia/North Carolina state line at the community of Carova, North Carolina.
Stay once at one of our rental homes, and we'd say it's safe to say you'll be back. Lots of visitors have a standard 'vacation home,' that they return to each year. Families have returned, generation after generation, to celebrate, reunite and just relax in our large and luxurious rental homes. 
The small-town atmosphere that embodies Corolla also comes with an upscale selection of shopping and dining experiences. Seafood and authentic North Carolina barbecue are visitor favorites, and with a great selection of unique family-owned shops, you're sure to find that perfect gift or souvenir to take home with you to remember your stay.
Corolla also has a very mild climate, which means it's a great place to enjoy outdoor activities such as kayaking, surfing, fishing, golfing, and others almost year-round.
Things To Do in Corolla
See the Corolla Wild Horses
The Corolla wild Spanish mustangs have roamed Currituck's beaches since the 1500s, arriving with early Spanish explorers. When they were forced to leave the area due to resistance from locals, they also abandoned their livestock and left their horses behind. Not native to the area and extinct in their original habitat, this species is unique to the Outer Banks and the only examples of their kind still in existence.
In 2010 the North Carolina General Assembly designated the Colonial Spanish Mustang as the official state horse.
Corolla 4×4 Beaches
Just north of Corolla where the famous NC-12 ends, lies twelve miles of pristine 4WD beaches and more than 7,000 acres of wilderness, just tucked behind the dune line. Nothing but sun, sand, secluded beach rental homes, and wild Spanish mustangs as far as the eye can see.
There is something special about Corolla, something that separates it from the rest of the Outer Banks: the 4×4 beaches. The 4WD area of Corolla, Outer Banks allows you to take your 4WD vehicle on the beach. Drive up and down the shore, and keep an eye out for the roaming wild Spanish mustangs that frequent these beaches!
The beach access is open year round (with some limitations), and there is no fee to enjoy the beach driving.
Climb the Currituck Beach Lighthouse
The Currituck Beach Lighthouse is a treasured piece of maritime heritage in Currituck County. Visitors can climb the 214 steps to the top for spectacular 360° views, with the Atlantic Ocean on one side and the tranquil Currituck Sound on the other.
The Currituck Beach Lighthouse is a 162-foot, red-brick beacon that has been shining its light in Corolla since 1875. Visible for 21 miles, the beam protects the northern section of the Atlantic Ocean off the North Carolina coast.
The distinguishing characteristic of the Currituck Beach Lighthouse is it's unpainted exterior, which allows you to see the approximately one million red bricks used in it's construction. It is also the last major brick lighthouse built on the Outer Banks of North Carolina.
Tour the Whalehead Club historic mansion
Whalehead in Historic Corolla is a beautifully-restored historic home initially completed in 1925. Guests can now tour this 24,000 square feet Art Nouveau masterpiece and delight in its original Tiffany fixtures, custom-designed Steinway piano and collection of original and period furnishings.
Whalehead is an architectural treasure that exudes history while delving into the 1920s lifestyle of its matriarch and patriarch, Edward Collins Knight Jr. and his wife, Marie Louise Lebel Bonat Knight.
The Knights shared a passion for hunting waterfowl, but Mrs. Knight was not allowed admittance into the all-male hunt clubs. So her loving husband constructed the majestic, canary-yellow, 21,000-square-foot "mansion by the sea," where the two of them could be adventurous on their own terms.
Watch A Sunrise or Sunset
Breathtaking sunsets, secluded beaches, and wild horses make Currituck OBX one of the most sought-after vacation destinations in the United States. There's nothing quite like a sunrise over the Atlantic Ocean on Currituck's Outer Banks, NC. With secluded vacation rental homes dotted along our coastline, this is the kind of beauty that visitors to the area wake up to each morning.
The Outer Banks was voted 5th by the readers of USA Today for "Best Places To Watch A Sunset In North America" in 2013.
Stroll the Historic Corolla Village
Although most of the isolated villages that existed on this stretch of coast in the past have disappeared or been somewhat modernized, the Historic Corolla Village remains intact.
Providing valuable and unique insight into decades of history, allow historic Corolla to whisk you back in time. Stroll down sandy streets lined with wooden signs for restored shops hosted by friendly merchants and visit a simpler time. Tour the historic Whalehead mansion while you're in town, and snap a photo of the view from the top of the Currituck Beach Lighthouse.
The village is home to many unique businesses, including the Wild Horse Museum.
Shop Barrier Island Style
Shopping is unique in Corolla. Many of our businesses are small, locally-owned and operated. The kind of places where you're sure to find an eclectic mix of gifts, souvenirs, artwork and apparel.
Check out the shops on the mainland, TimBuck II, Corolla Light Town Center and the Historic Corolla Village (where the shops are housed in renovated historical homes). Find the perfect piece of handmade coastal artwork, the cutest souvenir beach t-shirt or a funky piece of jewelry to commemorate your trip.
Dine at Family-owned Restaurants
While visiting Corolla, you will find that can't-get-it-anywhere-else fare that is usually so elusive. Enjoy family friendly restaurants with fresh, local flavors like our famous North Carolina barbecue (vinegar-based sauce on shredded pork), and no beach vacation is complete without lots of fresh, locally caught seafood.
How about surf and turf cooked to perfection with a side of southern hospitality? No matter what cuisine you are looking for (American, Italian, Mexican, or Chinese), we've got it. Visit Corolla, and bring a big appetite.
Stay and Play Outer Banks Golf
Lush fairways, impeccably maintained greens, and some of the East Coast's most beautiful courses make Currituck the perfect destination for golf enthusiasts everywhere.
Kilmarlic Golf Club was rated by Golfweek as the #14 "Best Courses You Can Play" in North Carolina for 2013.
Outer Banks Weddings
With breathtaking ocean and sound views, warm coastal Carolina breezes and spectacular sunsets, Currituck's Outer Banks is the perfect setting for your destination wedding and dream honeymoon.
US News & World Reports listed the Outer Banks as one of the "Best Affordable Honeymoon Destinations in the US" for 2013.
Where to stay in Corolla
Beautiful vacation rental homes ranging in capacity between 2-20 guest bedrooms are what Corolla is known for. Visitors rent homes typically for a week or more, staying on the oceanfront, oceanside, or Currituck Sound.
We've noticed that sometimes more than one family will travel together, sharing a beach home. We couldn't be happier that our humble home is bringing friends and families together. Folks meeting up for family reunions will often rent homes side by side, playing neighbor for the week. We love seeing our communities swell and grow with our seasonal visitors, and look forward each year to seeing friends from summers past.
The convenience of renting a home in Corolla is what keeps families returning year after year. Amenities can include wifi, heated pools and private hot tubs, game rooms, and – most important – easy beach access.
Homes on Corolla's 4×4 beaches near Carova are especially popular, not only for their extreme seclusion but also for their close proximity to the Corolla wild horses, who often times may stroll right through your backyard during your stay!
Corolla hotels are also popular, as well as bed and breakfasts right on the beach.
Learn more about Corolla rentals and hotels and motels.
Corolla Recognition
"10 Under-The-Radar Beaches in the US" by Fodor's Travel Intelligence – Carova, NC (#1)
"#1 Favorite Beach in the US and Caribbean" by Coastal Living – Daily Catch Reader's Choice – Carova Beach, Corolla, NC
"Best Family Beaches on the East Coast" by Fodor's Travel Intelligence, 2013 – Corolla, NC
"America's Most Secluded Beaches" by US News & World Report, 2011 – Carova Beach (#6)
"Top 10 Secluded Beaches" by Yahoo! Travel, 2010 – Carova Beach, North Carolina
"8 Best Secluded Beaches in North America" by Mother Nature Network, 2012 – Carova Beach, Outer Banks, NC
Corolla Outer Banks Visitor's Guide
The best way to start planning your vacation is to request our free visitor's guide. You can have a free guide mailed to you, or view our digital guides online.  You can even request a free MORE discount card with deals on rentals and lodging, shopping, restaurants and attractions.