Kids are returning to school, the weather is cooling down, and the month is coming to a close. While we prepare to file away another amazing summer in the memory banks, it doesn't mean the opportunities to enjoy a Corolla vacation have ended for the year. If you weren't able to join us for the cornhole tournaments or the weekly wine and craft beer tastings on the Whalehead lawn, you can still book a stay in a vacation home and celebrate the change of season on our beaches.
Why book a fall vacation to Corolla and Currituck County? The "shoulder" season here is a great time to visit. Rates are lower, and the beaches are less populated. The weather is still nice enough to lay out on the sand and dip your toes in the ocean. While some businesses and eateries close for the season, many remain open through the fall. If you need more reasons to choose a relaxing stay in Corolla later this year, we have ten!
The Wild Horses Are Here!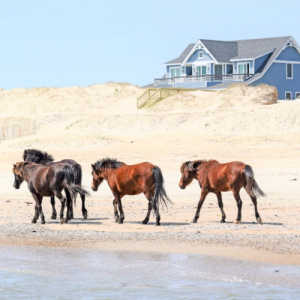 Our beautiful Wild Mustangs roam the shores and dunes all year. The off-season is a great time to glimpse these creatures in their natural habitat. Book a guided sightseeing tour and don't forget your camera!
Fall Is Great For Hiking & Biking
If you crave adventure while on vacation, pack your hiking shoes and rack up your beach cruiser! Currituck is a bike-friendly destination and home to many walkable nature preserves. Whether in Corolla, the mainland, or Knotts Island, you will find breathtaking scenery and wildlife as you walk or pedal our paths.
Bulls & BBQ Return!
Our popular Bulls & BBQ event returns to the Currituck County Rural Center on November 4. If you love rodeos, live music, award-winning barbecue and family-friendly activities, this is a must-attend. Tickets will be available soon and we have sold out in the past, so if you plan to visit us in early November we hope to see you there.
Visit Historic Corolla
Historic Corolla is home to Whalehead, a restored 1920s mansion turned museum, the Currituck Maritime Museum, Historic Corolla Village, and the Currituck Beach Lighthouse. Spend the day walking the lush ground, explore the quaint shops, or climb the lighthouse for the one of the best views of the county.
Sample Wine & Spirits
Currituck's wine, craft beer, and spirits trail continues to grow. This fall, toast your vacation at any of our favorite drinking establishments. Enjoy mainland sunsets at the Sanctuary Vineyards tasting room, sample from the self-serve taps at Whalehead Brewery, and try a craft beer or other specialty beverage from the recently opened Blue 42's Brewing Barn, next to Powell's Roadside Market.
Explore our Farm Markets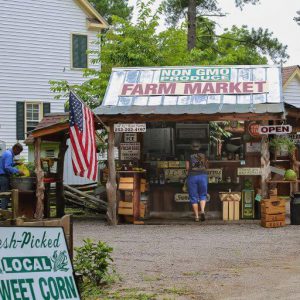 Speaking of roadside markets, fall colors and flavors bloom at the many farm marketplaces on the Currituck mainland. Each one offers a variety of jarred preserves, home-baked breads and desserts, and fresh seasonal fruits and vegetables. Pick up some treats to enjoy in your beach rental on the drive into Corolla, and stop again on the way home!
Create New Fall Traditions
What comes to mind when you think of Fall? Apple cider? Head over to Morris Farm Market and make your own. Ghost stories? Find a spooky good read at Island Bookstore. Pumpkin spice lattes? Check out the Fall drink and treats menus at some of our favorite coffee shops and bakeries.
Work On Your Golf Game
Look no further for the perfect fall golf vacation. Currituck County is home to six beautiful courses. Bring your clubs and spend a day walking lush grounds and working on your swing.
Savor Amazing Local Seafood
There's no shortage of delicious seafood, fresh from our waters. Our restaurants and local markets provide succulent crab and fish, seafood bisques, and oysters during season. Rent a beach vacation home with a grill, and you can put on an oyster roast for your family and guests while you're here.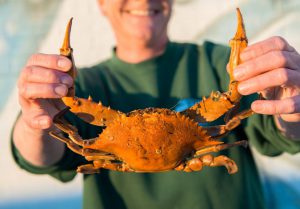 There's Room For Everyone
Invite the whole family to Corolla this fall, and we mean everybody! Aunts, uncles, cousins, grands, and honorary family members are welcome on our beaches. Need a vacation home with ten bedrooms? We have them. With many options on Vacation Home Rentals, Hotels and Inns, find the right amenity for your next Corolla getaway.
Once you're here, be sure to download the free Currituck OBX mobile app for updates on local events and more great ideas for your stay. We guarantee you will "fall" in love with Corolla and the Currituck Outer Banks.