This fall season will be full of color and flavor — turning leaves, pumpkin spice and everything nice. When the summer crowds thin away and the temperature cools, it's the perfect time to explore the Currituck mainland and create new fall traditions with your loved ones. All along Caratoke Highway (US-158), from Moyock to Jarvisburg, many seasonal farmers markets beckon you to stop and savor local delicacies and even pick up a few gifts for the coming holidays.
Currituck Farm Market
6032 Caratoke Highway
Poplar Branch, NC 27965
252-564-5066
One of the newer farm stands to explore is Currituck Farm Market on US-158 in Poplar Branch. Here, you can enjoy a wide selection of local fruits and vegetables, as well as delicious county ham, pies, jam, local honey and a petting zoo featuring a few goats, pigs, and chickens.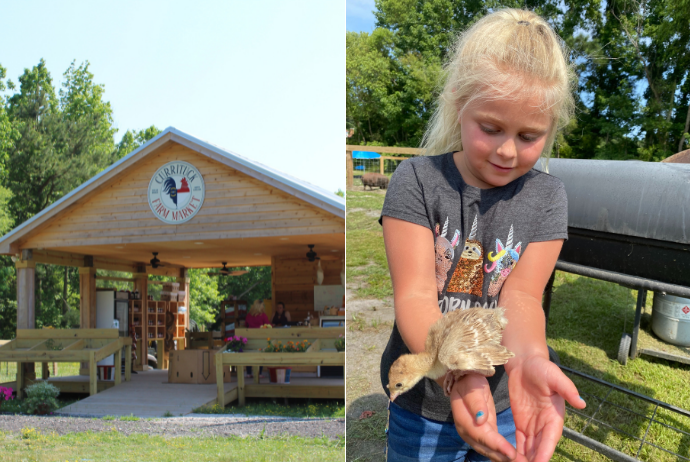 ---
Grandy Greenhouse & Farm Market
6264 Caratoke Hwy, Grandy, NC
252-453-2658
Website | Facebook
Grandy's premier market is one of the closest on the mainland heading toward Corolla, and a great place to find a variety of seasonal fruits and vegetables. Browse shelves of jarred homemade salsa and pickled favorites, and browse their selection of wines from all over the state. Step into the back of the building, and the aroma of fresh baked pies and sweet breads is sure to tempt you into bringing home dessert. Can't wait for a treat? Stop by Allie's Frozen Yogurt stand for a soft-serve cone or a "flurry" made with fruits currently in season.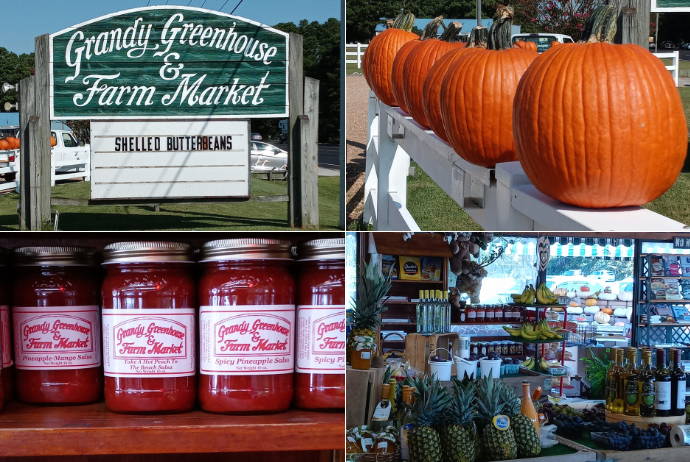 ---
Morris Farm Market
3784 Caratoke Hwy, Maple, NC
252-453-2837
Website | Facebook
When you see the line of tractors along US-168, it's time to stop. Morris is one the largest farm markets in Currituck, and one might easily spend the afternoon here. Aside from the colorful displays of fresh produce, you'll find a wide selection of bulk and baked goods and home decor gifts. Treat yourself to a cider float or barbecue from the Coinjock Marina food truck, too. There's plenty of seating to enjoy lunch, and if you come on the weekend there may be live music!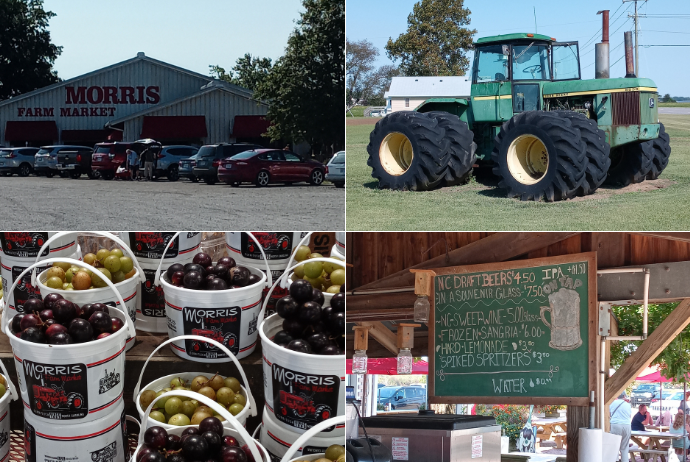 ---
Moyock Farm Market
107 Oak St, Moyock, NC 27958
252-435-6449
Facebook
Moyock Farm Market is a great place to stop year-round but especially in the fall for seasonal gourds, greenery, mums, pumpkins, corn stalks, wheat straw and so much more local flavor. You can also find fresh eggs and produce, and limited edition treats like eggnog and custard.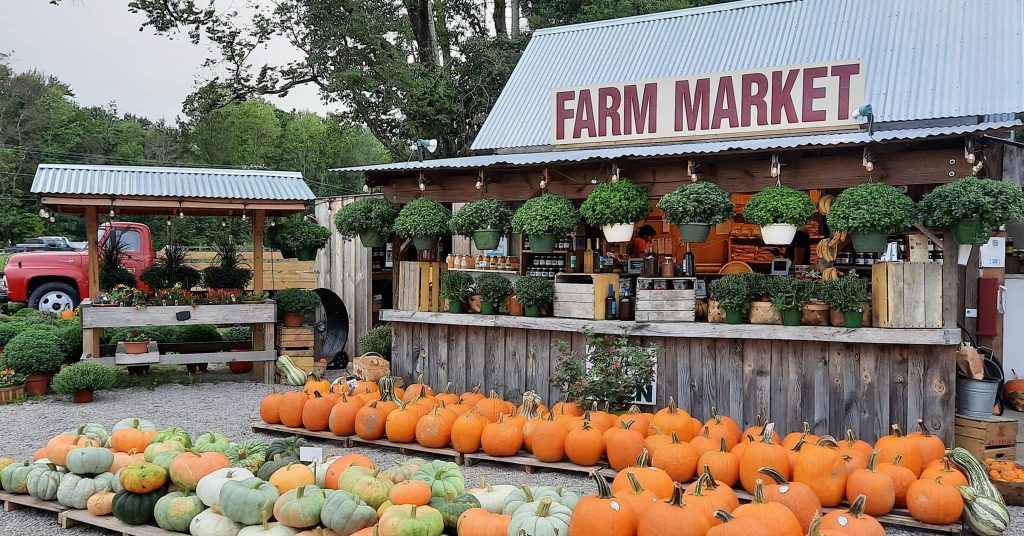 ---
Powell's Roadside Market
2138 Caratoke Hwy, Moyock, NC
252-232-2547
Facebook
Look for the multiple signs of friendly faces along the highway, each advertising the delicious treats Powell's offers. Whether you're craving candy and homemade fudge, or sweet fruits and jarred preserves, you'll find it here. Enjoy a snow-cone if the weather permits, and check back closer to Christmas when trees come available.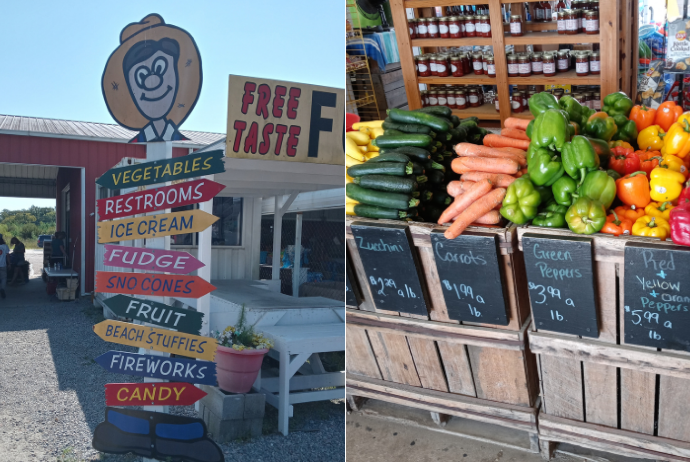 While you're out hunting for that perfect carving pumpkin or apple pie, keep an eye out for other popular mainland stops. Sanctuary Vineyards continues with wine tastings and pick-up parties for wine club members, and Weeping Radish Farm, Butchery and Brewery remains open serving up the best in "farm to foam" selections and homemade sausage and other pub favorites. Keep going and you will find the new farm to bottle experience of Buffalo City Distillery.
To ensure the best possible fall experience during your tour up and down the mainland, be sure to check out the various websites and Facebook pages listed above for current operating hours and announcements of any closures. Fall in love with the taste of Currituck.