Every day on the Corolla and Currituck beaches, you will discover treasure. When the tides push the water over the sand, they often leave behind a few souvenirs, but some beach finds originate from other places. As you gather your family for an extended summer vacation, keep this scavenger hunt list handy and see how many items you spot on our shores.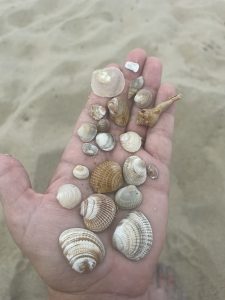 Sea Shells & Sand Dollars
Like on most beaches, shells are prevalent throughout the Corolla and Currituck shorelines. The further you walk along the 4×4 beaches, where it is less populated, the more plentiful are the shell beds. Common shells found in the area include the tiny and colorful Coquina clamshells, which range from red to yellow and dark orange, and the ridged Calico scallops. If you're lucky, you may pick up an intact whelk, which can grow as long as a foot, or a whole sand dollar.
Low tide is the best time for shell hunting.
Sea Glass
Shards of broken glass from bottles, pottery and jars may spend years churning in the ocean before they wash ashore. Discovered on sand, they are frosted in appearance and textured, with their edges turned smooth. Sea glass bits are not as common as shells, so if you happen upon a colorful speck in the sand during low tide don't hesitate to grab it. Sea glass may be fashioned into jewelry or make great mementos on their own.
Hoof Prints
If you see deep, hoof-shaped impressions in the wet sand, it's a sure sign the Wild Mustangs are near. Book a guided horse tour during your stay for the best chance at seeing these beautiful animals in their natural habitat. As you find prints, take note of the number and size. Our herd has welcomed a number of foals this year, and their tracks will be close to their dams'.
Ghost Crabs
They're tiny, almost translucent, and they're quick as lightning. Ghost crabs skitter up and down our beaches throughout the day, but when the sun goes down it's a great time to look for them. Many of our gift shops sell special ghost crab "hunting kits," which feature lighted nets for a popular catch-and-release activity.
Turtle Nests
Peak sea turtle season happens in late Spring here, but visit in the summer and you might come upon the remains of an early nest. Every year, Loggerhead turtles settle along the Currituck beaches for nesting. Volunteers from N.E.S.T aid the hatchlings in their trek to the ocean. Baby turtles may hatch through the summer as well, so be mindful of them during your stay.
Have you found anything unusual while strolling the Corolla and Currituck beaches? Be sure to tag us on Facebook or Instagram when you share your finds. Download our free mobile app, too, for more ideas on what to see and enjoy while on your Currituck Outer Banks vacation.