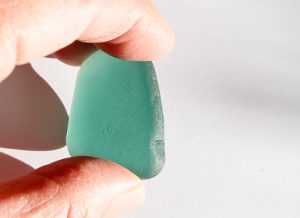 You'll want to watch where you step when you enjoy a relaxing walk along our shores. The cool waves of the Atlantic lapping the coastline feel great on the feet, but looking down at the sand wherever you are in Corolla may yield treasure — a colorful fragment of beach glass or sea glass.
What Is Beach/Sea Glass?
Beach glass and sea glass look identical, but there are slight differences between the two. Both appear as shards of discarded glass — scraps of broken bottles, pottery, and jars — undergone years of weathering in churning water and sand. The wear gives the glass a beautiful frosted look and smooth edges.
Where sea glass is found mainly along beaches bordering salt water, beach glass is common on shores near fresher water, where the result is a less frosted appearance. Nonetheless, both terms have been used to describe what you could find on the shores of the Currituck Outer Banks. Nicely formed pieces of this glass may have been rolling in the open water for as many as fifty years, even longer, and are therefore treasured by beachcombers.
If you plan to visit the Corolla and Carova beaches later this fall or next year, the best time to hunt for a free beach glass memento is during the low tide when shells and other objects have washed in from the ocean. Milder temperatures in the fall especially make beachcombing an enjoyable activity during this time.
Be prepared to spend some time checking the beach, as the glass isn't as prevalent as it has been in the past. Don't forget your sunscreen, even in cooler weather.
A few things to remember as you search:
The most common colors of beach glass are dark brown, green, and white – the glass is likely to come from broken beer, soda, and wine bottles.

Beach glass has a frosted look and texture, and is opaque when you hold it up to the light. 

Any glass shards found with rough, pointed edges and a shine are not likely to be beach glass. These, of course, should be placed in the nearest trash can.

As of this writing, our county remains under Phase 2.5 restrictions. Social distancing for your safety is still highly recommended.
Once you've found a fragment or two, what next? Depending on the size and/or shape, you can have your beach glass fashioned into jewelry (if you come up empty on the beach, though, a number of local gift and jewelry shops have ready-made earrings and pendants for sale). Some people collect multiple pieces in dishes or clear jars for display. You could also keep a shard with you as a lucky charm.
For more great tips on hunting for beach glass, Corolla Village Inn has a great video.
For questions on visiting Corolla and the Currituck Outer Banks, please contact us.
Photo: Getty Images