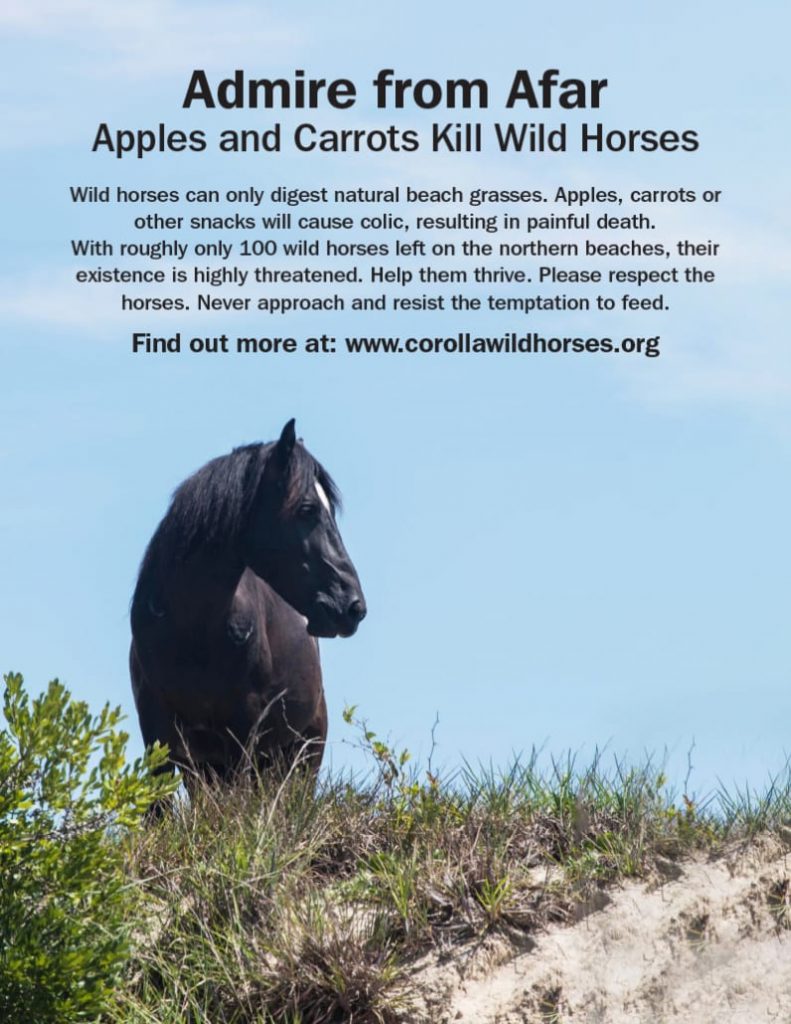 All through the lockdown period and re-opening phases in Corolla and the Currituck beaches, our Wild Mustangs have stayed busy enjoying their favorite activities. As they explore the dunes and play in the surf, we are thrilled to see many more horses in the herd continuing the legacy of their ancestors. 
The Corolla Wild Horse Fund, dedicated to the safety and preservation of our wild horses, works to name new arrivals and trace parentage as they are discovered. CWHF is also undertaking DNA research to create a detailed family tree of all the horses. We can't wait to see an extended family tree linking these beautiful animals together, and hope to add many more descendants of the original Spanish Mustangs in the years to come.
Whether you plan to visit our stretch of the coast this summer or fall, or perhaps next year when you're ready to travel, you can help us keep the horses safe and healthy.
Related: Meet the Foals of 2020
Once you're settled in your beach vacation home, keep these important points in mind:
Admire our horses from a distance. It is against state law to come within 50 feet of the Wild Mustangs. Though these animals share space with human visitors, they are not domesticated or tame. If you approach and try to physically engage with one, you not only threaten their safety but your own. The Mustangs need room to stay cool in the summer and to exercise.

DO NOT leave out food for the horses! Last month, the herd lost a beautiful colt when he ate a discarded apple that lodged in his throat. This was tragic yet preventable. The Wild Mustangs subsist on a diet of beach grains, and have done so for generations. They cannot digest foods one might give to a farm horse, like apples or carrots. If you picnic at the beach, make sure you seal away all foods and don't leave any behind.

Leash your pets. Dog owners love Corolla and the Currituck beaches for our pet-friendly accommodations and attractions. Nonetheless, it's the law to keep your furry friends leashed and more than 50 feet away from the Mustangs. A loose dog running up to a horse poses a number of risks, from bites to causing a stampede. We know dogs love to explore the shoreline, but it's important to rein them in to keep the horses safe.

Watch where you drive. Currituck County allows 4×4 vehicles on the beach to access homes and other spots in the remote northern areas. Here, one is most likely to see the horses at play. That's why we ask drivers to mind all motor regulations, not to speed, and keep watch for horses, especially our foals. 
With around 100 wild horses remaining in the county, these beautiful creatures are the most loved residents of the Currituck Outer Banks. They deserve to thrive for generations, and only with your help and vigilance can we strengthen the herd. Visit the Corolla Wild Horse Fund to learn more about our horses and for other ways to preserve their legacy.