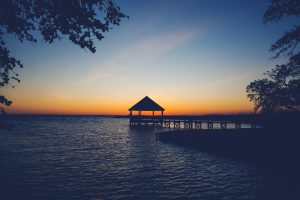 Updated: August 20, 2021
Fall vacations promise colorful changes. In Corolla and Currituck County, visitors see the best of both worlds in our secluded shores and the autumnal shades of Historic Corolla Park. This season is one of the best times to rent a beach home and relax with your loved ones. Fewer people on the beach means a greater opportunity for a socially distant vacation, and the cooler weather brings our Wild Mustangs out into the open more for exercise and play.
You may wonder, with summertime over and the off-season in full swing, what is there to do once you're here? Many visitors prefer to do nothing but pull up a chair and watch the sun rise, set, and rise again. If you crave a little more activity, we suggest adding the following to your fall vacation itinerary.
Climb the lighthouse. For the best view in Corolla, you need only climb 220 steps. The Currituck Beach Lighthouse is open to the public through December 1. From the observation deck, you can enjoy a panoramic view of Historic Corolla and the Currituck Sound, as well as our famous beaches. You may even spot some of the Wild Mustangs frolicking below!
See Whalehead in its holiday finery. Candlelight Christmas tours at Whalehead begin November 26. Our popular holiday tour features a live performance on the original one-of-a-kind Steinway piano and a look at the newly designed Starkey room exhibit. Tours are limited and sell out quickly, so please be sure to register in advance.
Sail the Currituck Sound. The water may be cold, but in Fall the temperatures in the area are still pleasant enough to accommodate boating and kayaking. If you're not bringing marine transportation, several rental companies offer paddleboards, paddle boats, kayaks and other equipment for a fun excursion, guided or solo.
See the Wild Horses at play. If you don't have a 4×4 vehicle to access the beaches where the Mustangs roam, you can still book a tour. In the fall, tours are more limited, so it's best to book in advance for your trip and check the area tour companies for their current policies.
Explore the new Currituck Maritime Museum. Heritage and local lore intersect at Historic Corolla Park's newest cultural asset. The Currituck Maritime Museum, a 10,000-square-foot self-interpretive, family-friendly exhibit experience, focuses on several restored wooden boats that have defined Currituck maritime history through the years, as well as exhibits focused on fishing, lifesaving stations, lighthouses, the boat-building industry, decoy carving, weather and more.
At the end of the day, have a seat on the deck of your beach vacation rental and let the gentle roar of the ocean lull you into total relaxation. Leave the e-mails and texts for another day. 
For more ideas on how to enjoy your time here, download our visitors guide or new Corolla OBX app.