With summer coming to an end and children returning to school, this is the time for those who missed out on our peak season to consider a Fall getaway to Corolla and the Currituck mainland. As we head into the final months of the year, we welcome outdoor enthusiasts to our beaches, biking and hiking trails, and especially our golf courses.
The Currituck Outer Banks inspires thoughts of hammocks, lighthouses, fishing and glorious, sun-filled family vacations. For those looking to put an extra charge into their Currituck stayover, there's no better place than on any or all of its golf venues. While The Currituck Club headlines the list as being the one nearest to the ocean, the road into town willingly delivers top-notch golf as well. That's because several highly regarded layouts line Highway 158 with one of them – Kilmarlic Golf Club – even providing a refuge for families and golfers of families to stay and play with its neighborhood of golf cottages.
"The golf resurgence continues and the Outer Banks boasts a very appealing golf product these days," says Bryan Sullivan, the director of golf at Kilmarlic. "The whole island continues to do well with rentals and our golf cottages are no exception. We feel very fortunate."
"We see golfers booking their visits around the availability of our golf cottages and other oceanfront accommodations," Sullivan adds. "It's nice to see the return of some Canadian golfers and we're responding to package inquiries from as far as Michigan and Ohio along with our traditional markets."
Highway 158 through Grandy and Powells Point, in addition to Kilmarlic, features two other golf courses known as the Carolina Club and The Pointe. Together, this trio of popular, upscale layouts provides an inland diversion to the truly ocean- and sound-side adventure golfers will discover at the Rees Jones-designed Currituck Club.
The first mainland golf course you will reach while traveling south into the region is the Carolina Club. It is best known for its signature island green par-3 7th hole that highlights an outstanding 7,000-yard championship design featuring wetlands, water, and bunkers galore.
Next on the approach to the Outer Banks is Kilmarlic. Originally destined to be a private operation, this outstanding venue shifted gears over time and has evolved into the ultimate resort destination with a challenging and newly updated Tom Steele-designed layout, golf cottages, clubhouse dining, and other amenities.
Rounding out the trio is The Pointe, the course located closest to the Wright Memorial Bridge spanning the Currituck Sound as it laps up against the true Outer Banks. The golf at the course features perfect lies on immaculate fairways and greens that are considered among the finest along the East Coast.
"Over the past year, we've made a lot of improvements at both of our courses with new bunkers and tree work that have been well received with tremendous feedback," says Keith Hall, owner of Carolina Club and The Pointe. "A new bulkhead has been added in front of The Pointe's 16th green, which adds an aesthetic appeal and makes for an even better photo opportunity."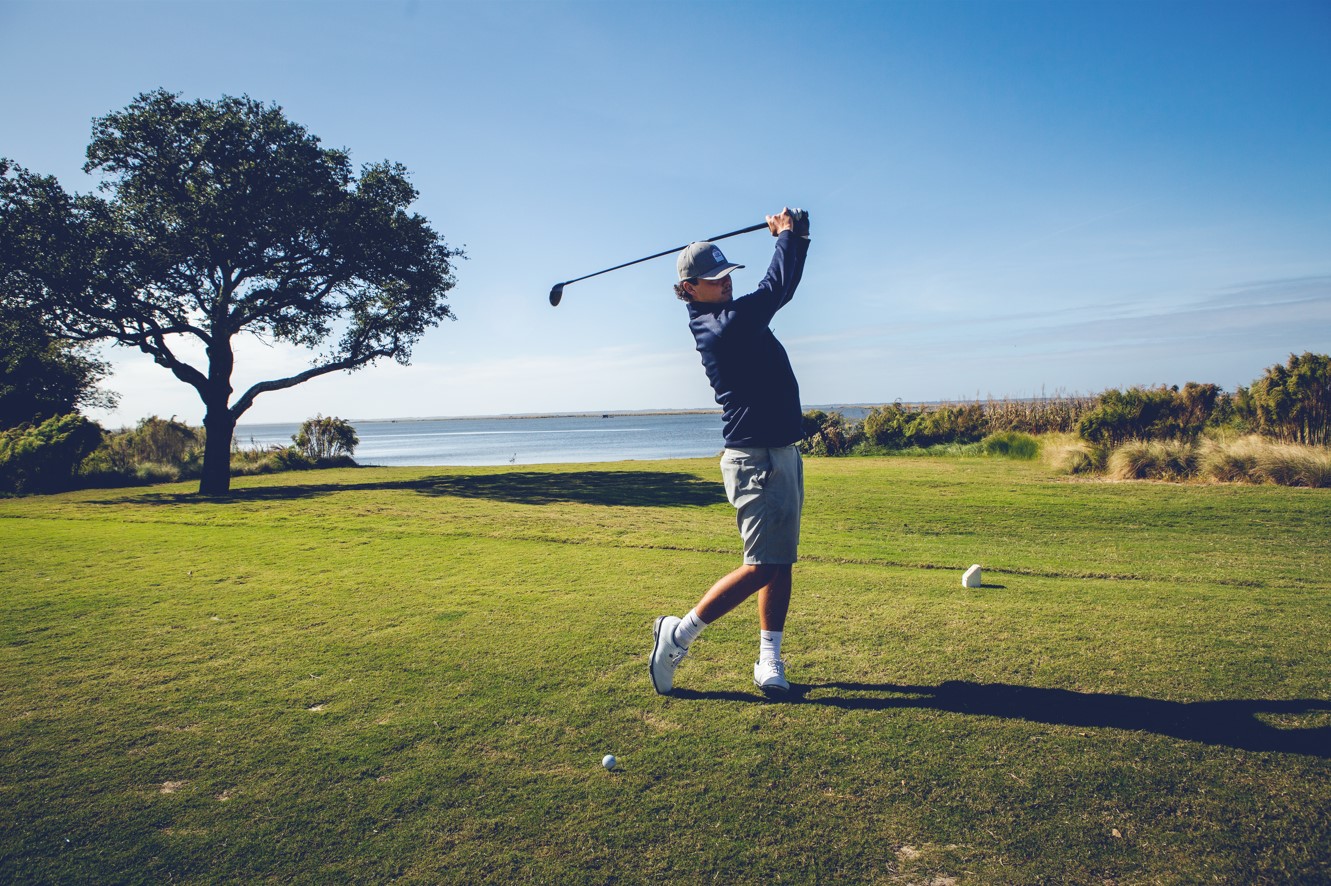 For players looking to make their way all the way to the Atlantic and the beautiful Corolla beaches, The Currituck Club may be the sanctuary for them. A big-league, big-name-designed venue, it opened in the summer of 1996. While early sportsmen bagged waterfowl at such grand places as the Currituck Shooting Club, today golfing guests shoot for birdies at this outstanding facility. One of the best things Jones did at The Currituck Club was to set it up so that golfers would face a different challenge every day due to the fact that the wind changes daily.
Also consider adding to your Currituck golf experience with a visit to a pair of fun, family-friendly courses where players of every skill level will find a challenge. Holly Ridge Golf Course, an 18-hole track in Harbinger – that also offers a conveniently lit driving range for those ambitious folks looking to get in a few extra swings after dark – is an affordable way to enjoy a round and opportunities to work on all aspects of your game.
Eagle Creek Golf Club & Grill in Moyock is another affordable par 72 Currituck offering. Since 1999, Eagle Creek has been welcoming players of all skill levels and ages. Generous landing areas line the fairways and allow some margin of error from the tee, especially for those occasional, casual golfers.
Golfers traveling to the Currituck Outer Banks looking for a little time on the links have many choices for customizing a dream vacation. Private beach home accommodations and cottages, delicious seafood, and gorgeous oceanfront views make the trip extra special.
Download our free visitors guides today for more information on Corolla and the Currituck Outer Banks. Once you're here, be sure to load our free Currituck OBX mobile app for information on where to eat and what else to see on your Fall golf getaway.