Currituck and the Corolla beaches have officially switched to fall mode. This is a great time to visit. The summer crowds have returned to work and school, and the influx of families gathering to celebrate destination holidays is still a few months away. You might need to pack a windbreaker or light sweater, but you can still enjoy the great outdoors in Corolla. 
Our beaches remain open year round. Enjoy leisurely walks along the shoreline and savor the serene dune and ocean views. If you want a change of pace, however, we recommend you explore two of our best-kept secret hiking spots.
Audubon Sanctuary and Center at Pine Island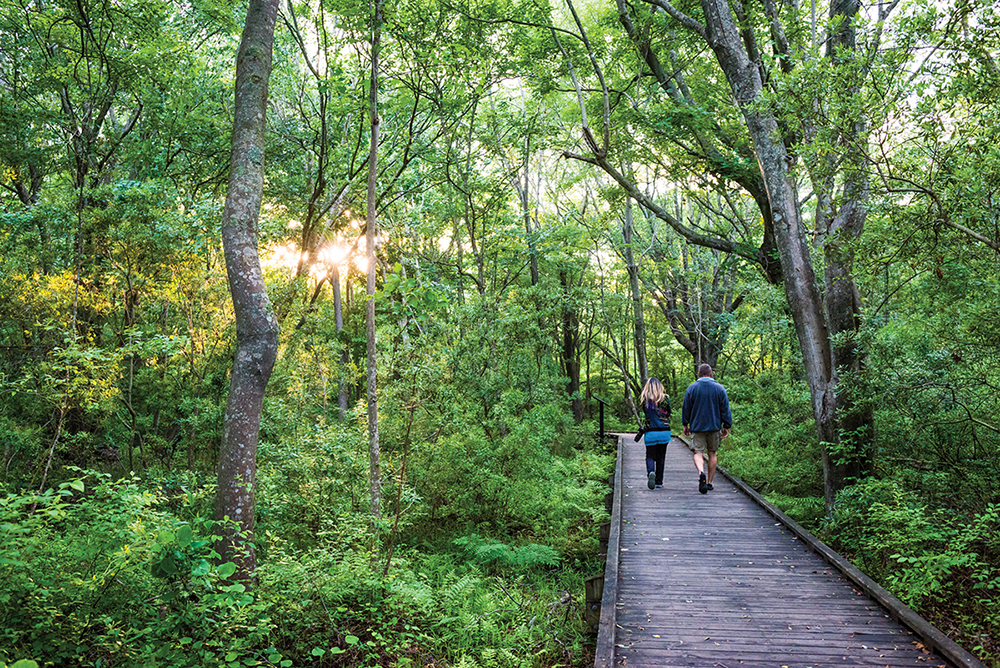 This 2,600 acre parcel of land in the southern part of Corolla was the first Audubon center established in North Carolina, over a century ago. The 2.5 mile-long nature trail takes hikers through the expanse of marsh and upland maritime forest. Have your camera handy also for the more than 170 species of birds that visit and nest in this area. You might snap a few loons, egrets, terns, ospreys, or swallows flitting through the air.
The Currituck Banks Reserve
The Currituck Banks National Estuarine Reserve is a protected nature preserve in Corolla, stretching nearly a thousand acres. Breathtaking thickets of trees, bushes, and marsh connect the oceanside of the Currituck Outer Banks with the freshwater of the sound. The reserve features a raised, handicap-accessible boardwalk trail where visitors can perhaps spot any of the many species of wild animals that call our county home. At the end of the trail, the forest opens up to an amazing view of the Currituck Sound.
Keep an eye out as you walk the trail. You might just spot one of our Wild Mustangs exploring the space for comfort in the shade. 
This video preview of the Currituck Banks Reserve, and many others, are also available on the Simply Corolla channel, streaming now on Roku and Amazon Fire TV. Subscribe to see more videos showcasing our awe-inspiring remote beaches, legendary wild horses, iconic historical sites, eclectic restaurants and shops, family-friendly events and spacious accommodations. If you're planning a visit this fall, be sure to download the Corolla OBX app or visitors guide and stay informed of seasonal events on the mainland and in Corolla.