Corolla and the Currituck Outer Banks were made for destination holidays. Here, the soft sands where our Wild Mustangs play replace the snow. Spacious beach vacation homes accommodate multiple generations gathering for a celebration. Holiday traditions come alive with a beachy twist, and now is the time to book your stay.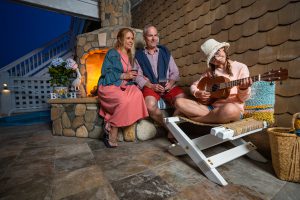 Winter on the shores of Corolla offers moderate temperatures, room to breathe, and lower rates. Plan a Thanksgiving feast with extended family and friends, or join us for some of our favorite year-end events and a few new activities we can't wait to share. 
8th Annual Corolla Christmas Craft Village
Friday, November 24 
Our holiday shopping season begins with this popular annual outdoor fair. Local and regional artisans set up on the lush lawn of Whalehead offer a wide selection of unique art, handmade gifts, delicious treats and other unique treasures. Activities for the kids include pony rides, a petting zoo, and photo ops with Santa and Mrs. Claus. See the full list of this year's vendors.
Whalehead's Candlelight Christmas Tours
Friday & Saturday Evenings, November 24 through December 16
Come see Whalehead in all its holiday finery! Reservations are open now for the popular Candlelight Christmas Tours. Visitors will see this beautifully restored 1920s Art Nouveau mansion as its original owners, the Knights, decorated it for Christmas. Enjoy traditional holiday music on the bespoke Steinway piano and receive a special treat at the tour's conclusion.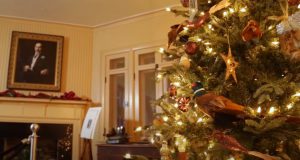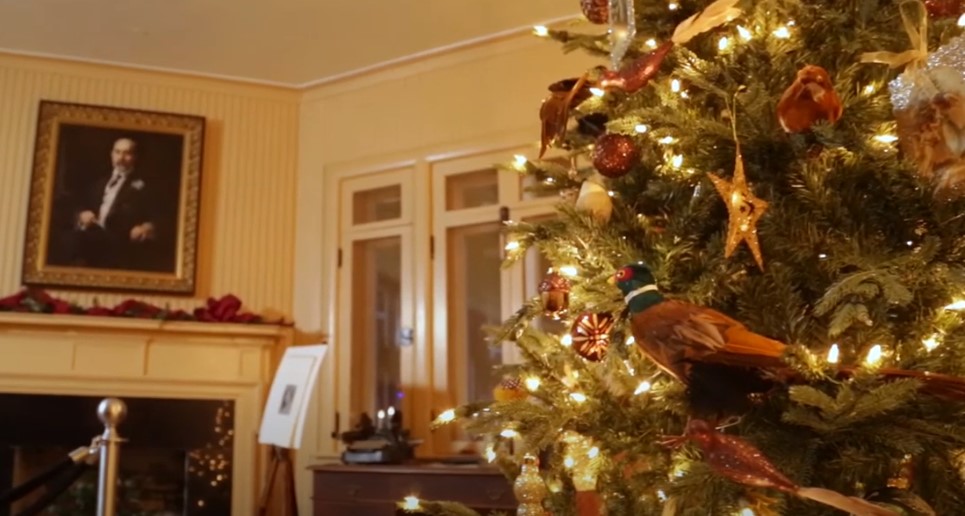 Admission for these tours is $20.00 per person and reservations are required. Tours are limited, sell out quickly and are non-refundable. For details or to reserve your tour in advance, please call 252-453-9040.
Ice Skating at Historic Corolla Park
November 24 through December 31
We are thrilled this year to offer free ice skating on a special rink to be set up between the Currituck Maritime Museum and the Outer Banks Center for Wildlife Education. Skaters of all ages are invited to glide on a smooth surface of synthetic ice, called Glice, in the heart of Historic Corolla. Skates of different sizes are available and the rink is ADA accessible to accommodate wheelchairs. You can bring your own skates, too, provided that they are hockey-style.
Our rink has a maximum capacity of 76, with a suggested skate time of up to one hour. Skaters are admitted on a first come, first serve basis, and all skaters must submit a waiver before entering the rink.  See hours of operation, rink rules and download the waiver.
Corolla Village Christmas
Friday & Saturday Evenings 5:00pm to 8:00pm, November 24 through December 30
What's Christmas without holiday lights and a cup of your favorite hot beverage? Corolla Village Christmas offers this and much more. Now in its third year, this event transforms the shops and landmarks of Historic Corolla into an enchanting holiday wonderland. Plan your family's Christmas photos under the many sparkling lights, enjoy snacks at the food trucks and The Kind Cup coffee shop, and shop for last-minute stocking stuffers.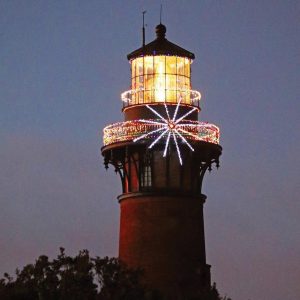 As you plan your Thanksgiving, Christmas, or New Year stay in the Currituck Outer Banks, be sure to download our free Currituck OBX mobile app so you can keep track of other happenings around Corolla and the Currituck mainland. Many shops and restaurants stay open year-round, and you can still enjoy our hiking and biking trails and the wild horse tours. Create a new tradition this year with your family on our beaches.