Destination holidays continue to trend high, with travelers booking vacation rentals and reserving other necessities for their winter vacations. Here in Corolla, our beach homes provide the perfect setting for multi-generational families and longtime friends to connect and celebrate the season. This year promises to be our best yet, with so many family-friendly activities scheduled in Historic Corolla and beyond. When you come to our beaches for the Christmas holidays, there's still much more to do to enhance the holiday spirit.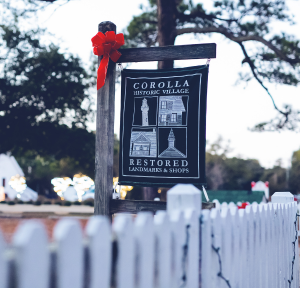 Deck the Halls
Some of the available beach rentals may come decorated for the season. If not, check with your rental company to see what holiday decor is allowed. You may be able to set up a small Christmas tree with some ornaments from home, or improvise a tree design with Christmas lights. If your rental agency allows live trees, you can purchase one from any of the area lots open in December. Afterward, various organizations collect them for use in fortifying the dunes in the 4×4 beaches.
Flameless candles, scented pine potpourri and cinnamon brooms, holiday wreaths and an advent calendar also add to the holiday atmosphere of any vacation home. Christmas stockings are easy to pack, too, and with so many shops and boutiques in Corolla and mainland Currituck you will fill them in no time! 
Enjoy the Beaches
Corolla weather is typically pleasant year round, which means you can enjoy long walks on the beach you're here. With fewer crowds in the off season, you'll have more room to move, and you may even spot a few of our Wild Mustangs coming in from the dunes to refresh themselves in the surf. Don't forget, too, that wild horse tours operate in the winter, and seeing these beautiful creatures live is perhaps the best gift experience you can give yourself.
Play Reindeer Games!
Holidays with the family are all about togetherness. Many vacation homes on the Currituck Outer Banks provide recreational amenities like game rooms and private theaters. Bring along some of your favorite board games, and plan a marathon of your favorite holiday movies. Head out to the beach during the day and collect shells to decorate as tree ornaments. Later on,
grab a flashlight and hunt for ghost crabs on the sand after dark. To entertain younger children, create an Advent scavenger hunt, where they have to find a specific item on the beach everyday before Christmas.
Prepare Holiday Treats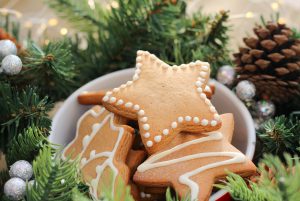 Spacious kitchens in our available rentals are perfect for holiday baking. Get the kids to help with making pumpkin pie, fudge, cookies, gingerbread houses, Rice Krispies squares… whatever the recipe, it's certain to yield amazing memories. Don't forget to leave a plate out for Santa on Christmas Eve.
Pose For Holiday Postcards
You'll find many beautiful backdrops for your holiday photos, from our pristine shores to the elegant Whalehead in Historic Corolla. Come before December 1, and you can pose at the top of the Currituck Lighthouse before it closes for the season. You can also hire a local photographer who knows the best spots in the county for family portraits you'll want to display year round. 
Once you've confirmed your reservations for Thanksgiving and Christmas, be sure to download our free Currituck OBX mobile app and stay updated on local events and deals. Cap off the year with an unforgettable trip to Corolla and the Currituck mainland and celebrate the best of the season with the people you love!