Turkey or ham? Stuffing or mashed potatoes? Pumpkin pie or pecan? Maybe you'd like a slice or scoop of everything on your holiday plate. Book your Thanksgiving or Christmas vacation in Corolla this year, and you can savor the flavors of the season with a Currituck Outer Banks twist.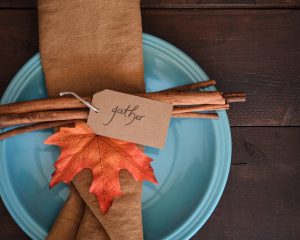 Fall and winter holidays in Corolla and the Currituck beaches are known for their beautiful Fall skies and breathtaking ocean views. Our spacious beach homes provide the ideal setting for multi-general gatherings, where children and grandparents bond and cousins become great friends. Pose for next year's postcards in Historic Corolla with Whalehead or the Currituck Beach Lighthouse in the background, and gather everybody for an unforgettable Wild Horse tour as the main family gift.
When you're ready to eat, many local restaurants remain open in the off-season to serve you.
Everyday Meals & Snacks
When you prefer somebody else handles the cooking, Corolla's finest eateries have you covered. Download our free Currituck OBX app to stay updated on business hours and specials during your stay, so you don't miss out on your favorite meals.
These restaurants are scheduled to close during the holiday season, so be sure to eat there while you can!
The following restaurants are scheduled to stay open through the year. Check their websites and social media for any changes in hours of operation.
Hungry for the Holidays
Will it be a traditional turkey dinner or authentic Carolina cuisine on your table this year? This is the time to reserve your family Thanksgiving and Christmas feasts.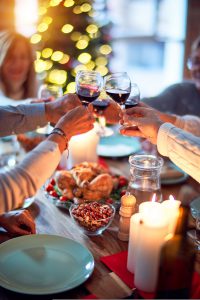 BJ's Carolina Cafe – BJ's annual Thanksgiving buffet runs from 11am to 3pm and features traditional entrees and sides plus local seafood and vegetables dishes. Reservations are required because seating is limited and fills up quickly. Call 252-491-5222 to reserve your table.
Currituck BBQ Company – While their mainland restaurant is closed Thanksgiving Day, you can order smoked or fried turkeys, smoked ham, and a variety of sides to pick up on the preceding Tuesday or Wednesday. See their Facebook page for the complete menu and call 252-453-6618 to place your order.
Harris Teeter – Order ahead at the grocery store for all ingredients needed for the perfect holiday dinner. Choose the Corolla, NC location when you order online and take note of pickup times for Thanksgiving and Christmas.
Outer Banks Boil Company – Craving a seafood boil for the holiday? Outer Banks Boil Company will be open November 18-24 (but closed Thanksgiving Day) for Thanksgiving pickup orders and December 27-January 1 for New Year's orders. Check out their menu of signature boil pots and add-ons, plus Carolina BBQ and slaw! You can also call them at 252-453-6578 to order.
Sooey's BBQ – Order family style meals of pork and chicken BBQ, ribs, seafood and more for Thanksgiving and Christmas. See their website for current to-go and catering menus.
Southland Restaurant & Catering – This mainland favorite is now taking orders for their to-go Thanksgiving dinners. View the menu and order online by November 16.
Whether you celebrate with a large family dinner in the comfort of your beach vacation rental or opt to dine out, you and your loved ones will find plenty here to satisfy your appetites. Download our visitors guide today and book your beach rental now for an unforgettable fall or winter getaway!
*Photos from Unsplash