Schedule of Events:
Friday, November 24, 2023 – 8th Annual Corolla Christmas Craft Village
Friday & Saturday Evenings November 24 through Dec. 16, 2023 –  Whalehead's Candlelight Christmas Tours
Friday & Saturday Evenings 5:00pm to 8:00pm (November 24 – December 30) Corolla Christmas Village
Dates and Times are Below (November 24 – December 31) Ice Skating in Historic Corolla Park
Whalehead's Candlelight Christmas Tour
Fridays and Saturdays, 5:00pm – 6:00pm — November 24 – December 16, 2023 (All Dates are Sold Out)
Please reserve your spot early as these tours fill up quickly.  Whalehead in Historic Corolla

Update: All dates for the Candlelight Christmas tours are sold out.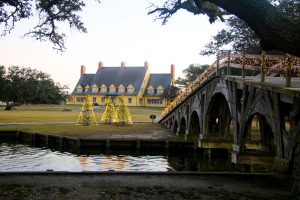 Step back in time to the 1920's décor and customs taking place during Mr. and Mrs. Edward Collings Knight, Jr.'s time in Corolla. The Whalehead mansion is beautifully decorated in the tradition of the times with greenery, Christmas trees, music, luscious food, fruit, candy and nuts. This special tour will feature a live performance on the original one-of-a-kind Steinway piano – custom designed for Mrs. Knight – along with a few traditional Christmas carols. Tour participants will explore this magnificent mansion including the newly designed Starkey room exhibit. Guests will also enjoy a holiday treat at the conclusion of the tour.
 Admission is $20.00 per person and reservations are required. Tours are limited, sell out quickly and are non-refundable. For details or to reserve your tour in advance, please call 252-453-9040.
Tours begin promptly at 5:00pm. 
---
8th Annual Christmas Craft Village
Friday, November 24, 2023 (11am-4pm)
Whalehead in Historic Corolla Park
1st Friday after Thanksgiving annually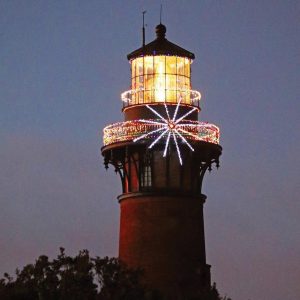 Start your holiday gift shopping on the grounds of Whalehead in Historic Corolla Park. Enjoy arts and crafts, fine arts, handmade cosmetics, baked goods and other unique treasures from local artists and vendors. The 8th Annual Christmas Craft Village is a one-day outdoor show that also includes additional fun to help you get into the holiday spirit. Take in the sights of Historic Corolla Park… Santa and Mrs. Claus will also be in attendance to hear Christmas wishes and provide an opportunity for photos. Kids will get to enjoy free pony rides and a petting zoo. There will also be food vendors for those hungry for more than a hot beverage. Ring in the holiday season in Corolla!
Food Vendors:  Outer Banks Kettle Corn, On the Spot Creamery, and STAG's Soulshine Kitchen
Crafters:
• Lofty Designs
• Dragon Rings Jewelry
• Moku Makana (Island Gifts)
• Pat's Crafts
• Hymrick Mullis
• The Crafty Duck/Outer Banks Box
• LA NEIGE Home Décor
• Panning for Pearls
• Heather Donis Designs
• Ignite Life
• Windswept Creations
• STAG's Sauce Co., LLC
• Sea Gypsy Handcrafted
• Susannah Sakal – Art
• Wanda Roberts
• Hippy Dippy Goat Soap Co.
• VR Pottery OBX
• The Cutting Edge
• Sandy Toes Jewelry
• Coastland Photography
• The Salty Sailor Apothecary
• Carole Schultz
• OBX Creative Souls Photography
• Cosmic Candles & Creations
• BS Stitch Studio 1
Mary Maveline Originals
• Coastal Pickling Company
• The Glass Woods
• Fairy Positive LLC
• The Boho Peacock
• Claire's Cakes
• Salty Inks
• OBX Artful Collective
• Turtle Knits
• KakumaOBX
• The Real McCoy Honey
• S. J. Petals
• Rock Chakra
• Sweet Aloha
• Captain Mama Creates
• Angie's Creative Endeavors
• Borders Beach Shop
• Bracelets On the banks
• Shifting Sands OBX
• Island Stitches OBX
• Kathy Scott
• Blue Dazy Designs
• Maritime Flowers
• Rose Rast
• Made with Love OBX
• Maritoka Jewelry
• Seawitch Stitched
• Too Jam Good
• The Yellow Glass Co.
• Emily Holmes Design
• Art by OBX Jack
• Lather Unique Soap & Candle Co.
• Lola Claire Jewelry
• Wicked Cute by Kiki
• Anna's Creations
• Ephemera House
• Outer Banks Lure Company
• Coastal Art by Brent
• Sprouts Granola
• NRS Laser Works
• Shoppe Selah
• Newland Metal Works
• Witchen Willow
• Ivy Lola + Co.
• Wavelinks Permanent Jewelry
• Heidi's Creations 4 U
• Beaded Beauties
• Kris' Corolla Creations
• Thicket Styx
• Southern Heaven
• Cassidy's Coastal Crafts
• Sea Bling Jewelry
2023 Christmas Craft Village Vendor Concession Agreement
2023 Christmas Craft Village Application
For more information follow us on Facebook at @CurrituckOBXevents
---
Ice Skating in Historic Corolla Park
November 24 – December 31, 2023*
*Closed Sunday Dec. 24th
Days and Hours of Operation:
Friday and Saturday – 2-9 pm
Sunday – 12-6 pm
Additional Skate Days:
Tuesday – Dec. 19 – 12-6 pm
Thursday – Dec. 21, Dec. 28 – 12-6 pm
Location: Historic Corolla Park. Between the Outer Banks Center for Wildlife Education and the Currituck Maritime Museum, 1160 Village Lane, Corolla, NC 27927
FREE! No Charge.
Free Skating for up to 76 Participants at a time.
Be advised you may have to wait your turn.
Suggested Skating Time: 30 minutes – 1 hour
 Skates will be provided. You must wait for your skate size to be available for use.
You may wear your own skates as long as they are NOT figure skates with toe picks.
Only Hockey style skates.
Waiver: An adult must fill out and sign the waiver prior to entering the rink. It is recommended that you print, fill out and sign the waiver prior to coming to the Ice-Skating Rink. Forms will be available at the Ice-Skating Rink. Without a completed waiver you are not allowed to put on skates or enter the ice-skating rink.
The rink is ADA Accessible, and wheelchairs are allowed. Wheelchairs and its user must be accompanied by a companion.
Skating Rules:
Ages 11 and under must be accompanied by an adult (Age 21+)
The Skater acknowledges all responsibility for any risk of injury, property damage, or death.
For additional rules and policies please review the waiver.
Once you get off the rink you must take off the skates and get back in line before you reenter if you want to continue skating.
Please be patient and kind to other skaters.
Agree and obey the "Code of Skater Responsibility."
Use proper skating etiquette by allowing room between yourself and other skaters.
No pushing, shoving, or causing any sort of disorderly conduct that is unsafe to yourself or others on the ice.
It is at the discretion of the staff if an ice skater needs to be removed from the rink.
If staff requests your removal, you must get off the ice and return the skates or the local authorities will be contacted.
No bags, food, drinks, or additional items allowed on the ice-skating rink.
No Pets Allowed on Ice Rink.
No smoking, drugs or alcohol use allowed at this event.
Outdoor Ice Skating on Glice Synthetic Ice
Skating Rink Dimensions: 97'x42'
---
Corolla Christmas Village
Friday and Saturday Evenings (5:00pm-8:00pm)
Dates November 24 – December 30
Historic Corolla Village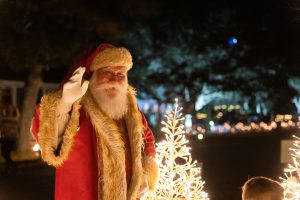 The 3rd Annual Corolla Christmas Village brings lights, floral delights, and holiday sights. Historic Corolla Village is transformed into a wonderland that delivers the holiday season spirit. Take a stroll through the sparkling village, where Christmas joy fills the crisp evening air. Each weekend features food trucks, delectable beverages at The Kind Cup coffee shop, and unique shopping opportunities at various Corolla Village merchants. Perfect for the entire family, there is no admission fee for this self-guided event.