Fall is a great time to visit Corolla and the Currituck beaches. When we think of fall, we think about cool temps, warm drinks and gathering together. It's a great time of year to share a Corolla vacation home with loved ones making memories and enjoying family traditions. Make the most of family time by getting outdoors. Climb the lighthouse, tour the Maritime museum, explore Historic Corolla park, rent bicycles and ride the greenway and don't forget a sweater. The cool fall evenings are perfect for walks on the beach.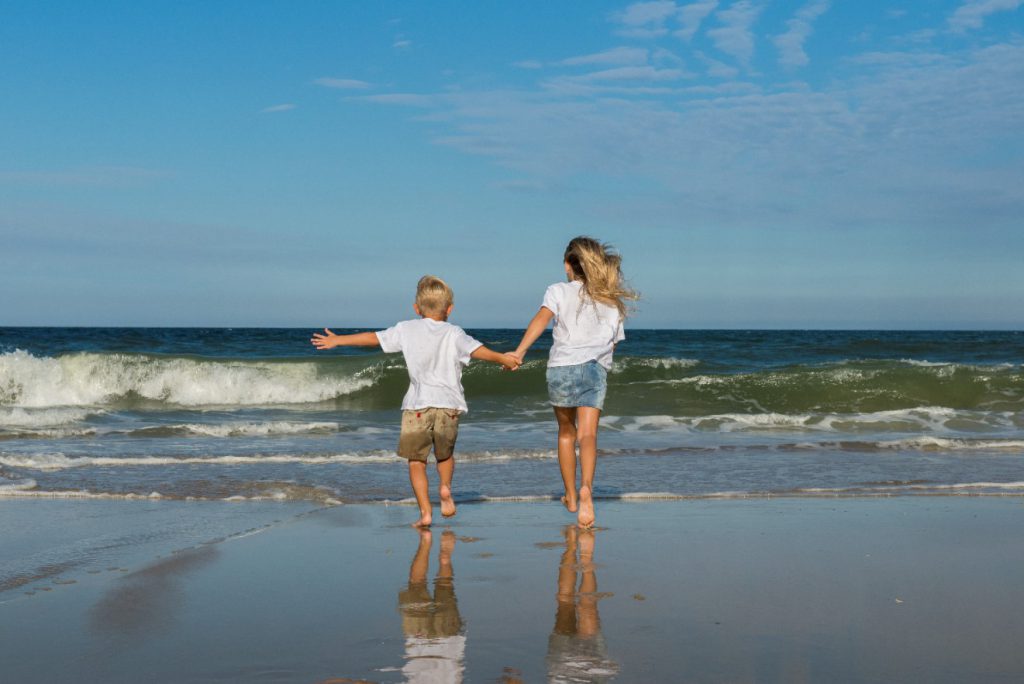 Here are a few more suggestions to keep your kids entertained beyond the beach house and our historic sites.
Try an activity new to the family. Visitors to our beaches love the wealth of outdoor opportunities we provide. Take the kids kayaking or paddle boarding on the Currituck Sound. Book a fishing charter and see if you can catch the night's dinner. Reserve a Wild Mustang tour. If you're feeling especially adventurous, you and your older children may want to take a hang gliding lesson.
Put on a scavenger hunt. Search and find games are popular on our beaches and in Historic Corolla. Prepare a list of various objects for your kids to "hunt," anything from unbroken seashells to elusive ghost crabs, and see how quickly your family marks off each item. Afterward, treat the winner, and all the runners-up, to ice cream at any of our favorite dessert spots.
Picnic in the park. With fall temps and opportunities to get outside and enjoy the beautiful scenery, pack the picnic basket and head to the park for the perfect family outing. While you're there, play a game of frisbee or fly a kite… Historic Corolla Park offers plenty of room to spread out. With the Historic Bridge and other picture perfect backdrops, it's the perfect opportunity to take a family photo… #selfie.
Let your kids choose the snacks. In fall, one can spend a leisurely morning and afternoon browsing the many farmer's markets on the mainland. Bring the kids along to pick a homemade pie or cake for after dinner, enjoy a scoop of ice cream, and shop souvenirs and gifts to take home.
Go geocaching. Like a scavenger hunt, Geocaching requires a GPS device to find the "treasures" other enthusiasts have hidden around Corolla and Currituck County. The official Geocaching website and app have all the information you and your family need to get started, plus clues on where to find the various caches in the area. Be mindful of the etiquette when you're hunting, and wear protective shoes in case you must walk rough terrain to find a cache's hiding place.
Unleash your kids' inner "influencer." Nothing builds cred on social media like amazing beach and nature videos. Share your Corolla vacation through your social accounts and kids involved as they point out the wild horses playing in the distant surf or introduce viewers to the panoramic views of the county from the top of the Currituck Beach Lighthouse. Don't forget to tag us on Instagram, Facebook or Twitter. We'd love to see your photos and videos!
Currituck in the Fall is a paradise of windswept beaches, gorgeous sunrises and sunsets, and fresh coastal cuisine. Download our latest visitors guide and plan your getaway, and don't forget to use our free mobile app when you're here and take advantage of special offers.