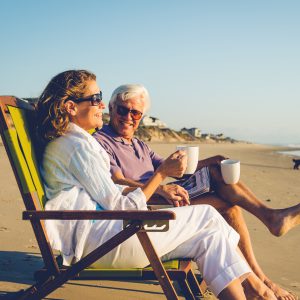 Winter, spring, summer, fall…these are the seasons by which we plan work and leisure activities. When you have vacation days to spare, you may want to think alternatively as you plan. You'll find those involved in travel and tourism recognize just three seasons:
Peak

– June through August, when the kids are out of school and international travelers take time off from work

Off

– November through March, when winter weather tends to influence holiday trips

Shoulder

– April through mid/early June and September through October, when busy destinations are either gearing up for or winding down from their peak seasons
Late shoulder season picks up in our area sometime after Labor Day. One doesn't have to check the calendar to know. Changes in weather and the number of people at the beach are two indicators of summer's end. It doesn't mean Corolla and the Currituck beaches are off limits until next year, though. We love the fall shoulder season and welcome everybody to wind down with us and savor cooler breezes, breathtaking views of the ocean and sound, and fun fall activities.
What's so great about autumn in Corolla?
The price is right. As you search for available beach rentals, note the difference in price between August and September. Costs tends to dip between summer and the big end-of-year holidays. If you can time it right, you can plan an affordable stay in a beautiful home with an ocean view. 
There's room to move. Corolla and the Currituck beaches don't empty completely when August ends, but you'll find it's quite relaxed. Many stores and restaurants remain open after peak – check our directories for hours – so you can celebrate a special occasion while you're here.
It's delicious! Fall brings the best of local food and wine. Watch our calendar of events for oyster roasts, wine tastings, and the annual Bulls & BBQ event at the Currituck Heritage Festival.
Did we mention the horses? The Wild Mustangs of Corolla roam the beaches year round. When the weather cools they adapt by growing shaggier coats, and you can still see them in the 4×4 areas when you visit.
Of course, you're welcome to enjoy our beaches any time of year. If you plan to wait out the peak travel seasons for your vacation, you can visit our site for ideas on enjoying Corolla and the Currituck Outer Banks in spring and fall. Download our visitors guides for more details on what to do and where to stay.
Events listed in this article may vary in date and time. Please follow Currituck Events on Facebook for updates on local events. 
Related: The Outer Banks in the Shoulder Season – A Great Time To Visit