If there's one thing that makes Currituck County a unique place to visit, outside of our wild Mustangs, it is the geography. Our county is comprised of three major landmasses: The Currituck Outer Banks featuring Corolla and Carova Beaches, the mainland bordering the Currituck Sound, and Knotts Island. Previously we talked about the annual peach festival that draws big crowds to Knotts Island every summer, and it occurred to us that people might wonder what else one can do there. 
If you're looking for a place to relax and get back to nature, a side trip to Knotts Island can complete your Currituck vacation. Here are five items to add to your Currituck bucket list.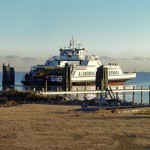 Ride the Ferry
A trip on the Currituck ferry is worth it for the view alone. If you're already staying in Currituck, you can enter from the mainland terminal off Courthouse Road (map), then have a seat on the observation deck and enjoy the 40 to 45-minute ride. Vending machines and restrooms are available for your convenience. The ferry provides a great alternative to driving into Virginia to reach the island.
If you're planning a day-long excursion, be mindful of the last ferry leaving Knotts Island for the mainland. Consult the current ferry schedule from the NC DOT website and follow them on Twitter to stay updated on schedule changes, which may happen due to weather or maintenance issues.
Take a Hike
Mackay Island National Wildlife Refuge is home to a host of birds, fish, reptiles, and other animals that thrive in wetland habitats. One could spend an entire day watching nature in action here, and the Charles Kuralt Trail is one way to see the best of the island. It's true the horses in Corolla are a popular attraction, but bring a camera and seek out some of our other natives, too.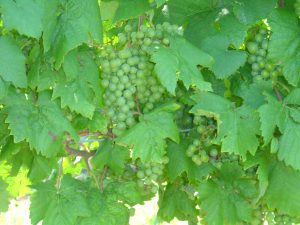 Pick Your Own
Knotts Island is famous for peaches, but that's not all you can enjoy fresh off the farm. At Martin Farm & Winery the PYO season stretches from May through October, and includes strawberries, grapes, apples, and pumpkins, depending on the season. Picking availabilities will vary according to crops and weather, so be sure to call ahead. 
Camp the Sound
If you prefer a night under the stars as opposed to a hotel room, RV and tent sites are prevalent on the mainland. On Knotts Island, Sandy Point Resort Campground offers a variety of amenities and proximity to local attractions and the ferry. You can bring your boat and launch from the campground, too.
Relax and Enjoy
Whatever you plan for a Knotts Island trip – a nature walk, a picnic at the Ruritan Park, a wine tasting – the view is nothing short of breathtaking. You'll create new memories and many Instagram-worthy photos with the sound and lush wetlands as your backdrop. Visit our Knotts Island section for more vacation ideas, and contact us for a free visitors guide to the Currituck Outer Banks. 
Related: The Best of Knotts Island

Related: Life's A Peach