When visitors come to Corolla and the Currituck mainland for the first time, they naturally have questions about what to see, where to eat and what to do beyond a day at the beach. These aren't the only things they ask of us, however. Corolla is a unique destination, home to pristine shorelines and Wild Mustangs. People coming here for spring and summer vacations want to know everything, and we're happy to tell them.
Here are just a few of the lesser known Qs in the Currituck FAQ:
How Do You Say "Corolla"?
Is it pronounced cah-RAH-lah or co-ROLL-lah? If you're local, you know the first answer is how we say it. We know the second pronunciation is common when talking about the car of the same name, but in plants, the term "corolla" refers to the collection of petals that strongly displays color and encircles the stamen and pistil of a flower. This version, cah-RAH-lah is the correct pronunciation of our wonderful destination.
Is Corolla an Island?
It may seem like Corolla is its own separate island given how visitors from up north have to drive down Highway 158, across the Currituck Bridge, then north on 12 to get here. In actuality, Corolla is more of a "spit" or peninsula bordered on either side by the Currituck Sound and the Atlantic Ocean. North of town sits the Currituck National Wildlife Refuge, where you are likely to see the Wild Mustangs.
Can You Really Drive on the Beaches There?
Yes! If your vehicle has 4-wheel drive, you can access the 4×4 beaches here. In fact, if you're renting any of the vacation rental homes on Carova Beach, you'll need to use the beach access lanes to get there. Please note, the rules for off-road driving and parking have been updated for the coming season, so check for current information on obtaining the proper passes.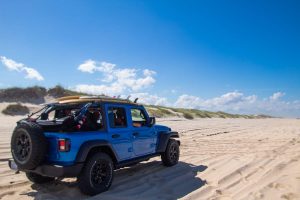 While 4×4 vehicles are permitted in certain areas, however, recreational all-terrain vehicles are only allowed if you are a resident of Corolla or if you own property in Corolla and have the right permits. Otherwise, leave your ATV at home.
Can We Have Bonfires on the Beach?
Fires of any kind are not permitted on the beaches, no exceptions. As such, overnight camping on Corolla beaches is also prohibited. If you wish to camp in the area, you can reserve spots at any of the Currituck-area campgrounds.
Can We Pet the Horses?
Our Wild Mustangs are beautiful, but they are also protected. To preserve the herd, which are descended from the horses of the original Spanish settlers, we are not permitted within fifty feet of the animals. If you are staying at a beach house on the 4×4 beaches, one or two horses may come close but please keep your distance! Also, do not leave food out for the horses. The horses feed on sea oats that grow along the dunes, and anything else introduced into their diet may either make them sick or present a choking hazard.
The Corolla Wild Horse Fund offers more tips on helping our horses stay safe when you visit.
Where can we launch our kayaks and paddleboards?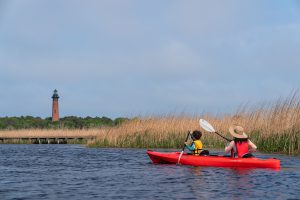 The best place to put-in is Historic Corolla Park. You can kayak and paddleboard the Currituck Sound, and take in the gorgeous scenery and spot all kinds of waterfowl and other wild creatures. If you don't have a kayak or board of your own, you can rent one while you're staying here.
What is the one "Corolla food" we have to try while we're here?
It's difficult to pick just one thing, because Corolla offers a variety of restaurants with amazing food. Here, you'll find some mouth-watering North Carolina barbecue. It's more vinegar-based as opposed to the thick sauces synonymous with other styles. Also save room for a helping of shrimp and grits, and be sure to have some oysters when they're in season.
For any other questions about Corolla and Currituck, our visitors guides have all the information you need. Download our guides today and start planning your dream vacation.