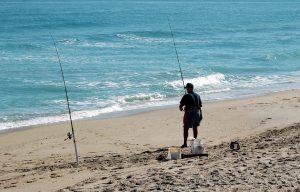 Give a man a fish, and he eats for a day. Teach a man to fish, and it's one more activity to enjoy on a Corolla vacation. The Currituck Outer Banks is a haven for outdoors enthusiasts, especially those who enjoy watersports and fishing. If you're looking for a relaxing week spent with a fishing pole in one hand and a cold drink in the other, now is the time to rent your beach vacation home and check your gear.
If you're coming to Corolla and the Currituck beaches for the first time and have the opportunity to fish, take advantage of it! Fishing is a great bonding activity to enjoy with your family, and a successful outing brings a delicious meal to the table and an amazing memory to cherish. As you prepare for your visit, be aware of regulations regarding shore and boat fishing in the area. We are happy to answer any questions at our two visitors centers in Moyock and Corolla, too.
For now, here are the main points to know before you get here:
You'll Need A Fishing License
Anyone over the age of sixteen fishing in public waters in North Carolina must carry a valid fishing license. Short-term licenses of ten days, for inland areas and coastal waters, are available to purchase online through the North Carolina Wildlife Resources Commission. You can also purchase one in person from select license agents in Currituck. 
Charter A Boat
If you want to fish the sound or the Atlantic Ocean and aren't towing a boat, charter an expedition for yourself or your group. Local companies are available year round to take you out into the water for a day of angling, and to offer pointers if you need help reeling in that big catch.
OBX Bait and Tackle

– Charters may provide bait and tackle and licensure needed for a fun day on the water. Expert crew can help you catch fish or trap shrimp and crab for a seafood boil.

Backwater Adventures

– Looking to catch a largemouth bass to mount on your wall? Backwater Adventures has over three decades of experience in fishing our waters. Book a charter for an exciting day of bass or light tackle fishing.

Corolla Bait and Tackle

– Charter a pontoon boat for offshore or inshore fishing. Surf fishing classes are also available if you prefer to keep your feet on the sand.
If you have specific questions about fishing in the area, like recommended bait and weights, or the best poles to use, don't hesitate to ask. Our local fishing experts are here to help you enjoy your experience.
Put-In Or Stay Ashore
Bringing your own boat? Great! In Corolla and the Currituck mainland, you have the option to fish from the shore or on the water. Popular areas to fish in our county include:
Knotts Island/

Mackay Island National Wildlife Refuge

: Fishing is open to visitors from March 15th through October 15th. Corey's Ditch Bridge is a popular fishing spot here, and shore fishing is permitted at the refuge impoundments.

Currituck Sound: Enjoy shore and boat fishing year round on the sound. Various saltwater and freshwater species such as catfish, sunfish, flounder and trout, may be found swimming in the waters. The Currituck Sound is also a great place to catch crabs. Put-in access is available in Corolla at

Currituck Heritage Park

and on the mainland

Sound Park

in Harbinger. 

Coinjock Bay: Put in at the Coinjock Boat Ramp near

Coinjock Marina

and fish the waters of the Intercoastal Waterway. You may be able to catch a variety of species like striped or smallmouth bass, trout, carp and perch.
For a detailed map of fishing spots in Currituck County, visit the official NC Wildlife site.
Preparing a fresh catch in your vacation beach home is a great way to cap off a day of fishing. Don't be discouraged, though, if you come away empty handed. Many Corolla restaurants offer delicious seafood dishes in season, including local catches. You definitely won't go hungry here.
Looking for more ideas for your summer vacation in Corolla? Download our latest visitors guide or our free mobile app.