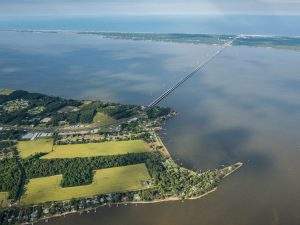 The sun is shining, the waves are gently lapping the shore, and the Wild Mustangs are playing in the dunes and the surf. April in Corolla and Currituck signals a reawakening. Seasonal shops and restaurants have reopened their doors, and several new businesses are debuting this year. If you are returning to our beaches this summer, we hope you will patronize all of these amazing, locally-owned spots. First time here? Then everything is new, and we can't wait to meet you.
What's New in Currituck
Since the close of last year's season, we've welcomed the following new accommodations and attractions to Currituck County:
The Wild Horse Inn
1196 Ocean Trail, Corolla
Close to Historic Corolla Village, The Wild Horse Inn features eight comfortable family-friendly suites, plus a lounge/cafe and spacious backyard and patio with a BBQ grill and picnic tables for outdoor relaxation. Reserve your room online!
Buffalo City Distillery
8821 Caratoke Hwy, Point Harbor
You'll find Buffalo City Distillery just before you reach the Wright Memorial Bridge on the mainland. Enjoy an informative tour of the spirits-making process and the region's Prohibition-era history as you sample their selection of farm-to-bottle whiskeys and vodkas. The distillery uses ingredients from local farms.
Wild Goose Wine Bar
793 Sunset Blvd D, Corolla
Wild Goose Wine Bar is the newest addition to our popular Timbuck II Shopping Village. They offer bottles to go, vintages by the glass, and tastings of up to forty different wines from around the world. If you want a snack to go with your glass, order any of their delicious gourmet food boards.
If you are arriving this summer, keep an eye out for The Event Boutique (opening May 25) and the Whalehead Brewery (opening this summer).
Currently Reopened for the Season
Re-openings for local businesses vary throughout Spring, but the following shops are serving customers now. If you're beating the summer crowds, be sure to stop by and pick up a few essentials for your stay. Be sure to check with area businesses for current operating hours:
The Corolla Village Market

The Island Bookstore

The Kind Cup

Spry Creek
Beach Books

Beef Jerky Experience

Cottage Shop

The Cotton Gin

Ella's Olive

The Fudgery

Gray's Outer Banks

Kitty Hawk Kites

Michael's Gems & Glass

Miss Kitty's Old Time Photos & GIfts

Mustang Sally's

The Mystic Gift

The Mystic Jewel

Nags Head Hammocks

Parrot Bay Trading Co.

Salt Coast Outfitters

Sound Feet Shoes

Try My Nuts
Corolla Light Town Center / Monteray Plaza / Elsewhere
Birthday Suits

Corolla Bait & Tackle

Corolla Surf Shop

Farmer's Daughter

Flying Smiles Kites

Freaky Boutiki

Just For The Beach

Life is Good

OBX Bait & Tackle

Ocean Threads Beachware IV
Beacon Seafood

Border Station

Built to Last

Boonie's Beer and Wine

Carolina Charm Plants and Gifts

Cast Stone Studio

Coastal Accents

Coastal Creations Seaglass

Currituck Sports

Diggers Dungeon

Flippers Convenience and Arcade

Grandy Greenhouse and Farm Market 

Harvey's Outdoor Furniture Outlet

Lammers Stained Glass, Gifts and Antiques

Morris Farm Market

Moyock Farm Market 

Nuts and Buds

Outer Banks Harley Davidson

Powell's Roadside Market 

The Rose Tree

Sanctuary Vineyard

Southland Trade Corporation

Tarheel Produce

Tobacco Barn

Weeping Radish Farm Brewery and Eco Farm

Westside Athletic Club
Agave Roja

Bacchus Wine & Market

Bernie's Brother

Big Buck's Ice Cream

Butcher Block

Chicken Coop Country Diner

Chill Spot

Corolla BBQ

Corolla Beer Garden

Corolla Breakfast and Lunch Bowls

Corolla Cantina

Corolla Pizza

Cosmos Pizza

Fat Crabs Rib Company

First Light

Giant Slice Pizza

Hunt Club Tavern

Island Smoothie

Juice Bar

La Dolce Vita

Lighthouse Bagels

Low Tide Bar & Grill

Lucky's Pizza and Subs

Mama Easley's Grub Hut

Metropolis

Mexikind

Mike Dianna's Grill Room

North Banks

Northern Lights Bakery

Northern Outer Banks Brewing Co.

Oceanfront Grille

Off the Wall Taphouse

Okinawa Sushi & Grill

Outer Banks Boil Company

Outer Banks Coffee

OBX Deli & Cheesesteak

Sundogs

Uncle Ikes

Urban Kitchen
If you don't see your favorite restaurant or shop listed, they may be opening again in the next month or so. In the meantime, you can download our free mobile app before your trip so you can plan your itinerary for your amazing Corolla vacation. See you soon!