One of the best ways to see the natural beauty of Corolla and Currituck County is on a bicycle.
Now that Spring is here, we expect to see many more bikes on the shoreline and designated
paths. Beach cruisers, road bikes, electric bikes and tandems are all welcome here!
Now is the time to book your beach vacation home and plan a dream summer trip. Biking in
Corolla is one of the many activities enjoyed as a family, and here you'll find the best places to
pedal and enjoy the warm weather.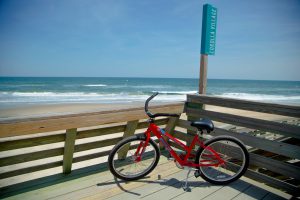 Where to Bike in Corolla & Currituck
Between Corolla, mainland Currituck County and Knotts Island, bikers of all levels have many
options for two-wheeled enjoyment. Beach cruisers are perfect for exploring the shores of
Corolla and Carova, but remember if you spot any of our Wild Mustangs on the beach please
stay a minimum of fifty feet away for their protection and yours.
If you're looking for specific bike paths with little to no car traffic, here are some of our favorite
spots:
The Corolla Greenway is a paved path for pedestrians and cyclists that runs alongside the
Ocean Trail (NC 12). The trail begins in the Ocean Sands area of Corolla and ends at
Whalehead Beach near Historic Corolla, and offers beautiful views of local greenery and easy
access to the beach, shops and other attractions.
The Wright Brothers Bikeway spans Currituck and Dare counties. For an epic ride, you'll
begin in Historic Corolla Village and continue south along the paved shoulders of NC-12. The
Currituck portion of the trail is 17 miles, and may be ridden round trip.
Out on the Currituck mainland, it's not uncommon to see long distance road cyclists pedaling up
US-158. NCDOT Bicycle Route 4 crosses into Currituck from Elizabeth City and into Sligo, too.
You can take this route all the way to the Virginia state line. Visit our mainland cycling page for
more paved cycling routes worth exploring.
If you're thinking of a side trip to Knotts Island, Mackay Island National Wildlife Refuge has a
number of trails suitable for cruisers and mountain bikes. Keep an eye out for deer and other
wildlife as you pedal past the lush landscape.
No Wheels? No Problem!
Say you're coming down to Corolla and your car isn't big enough to accommodate bicycles with
your other belongings. Several shops in the area rent bicycles and other recreational
equipment. When you come here and decide to try out our many bike paths, here's where you
can rent some wheels and bike safety equipment:
● Corolla Surf Shop – Along with surfboards and paddle boards, you can also rent beach
cruisers
● Just for the Beach Rentals – Rent a cruiser, tandem bikes, adult trikes, and cart
attachments for small children
● Kitty Hawk Kites – Rent beach cruisers from their Corolla location
● OBX Beach Toy Rentals – Rent beach cruisers for kids and adults
● Ocean Atlantic Rentals – Have bikes and equipment delivered to your rental; ask about
e-bike rentals, too
If you plan to rent, it's a good idea to reserve a bicycle in advance, as many businesses are first
come, first serve.
Observe Bike Safety
We want everybody who goes out on their bikes in Currituck County to stay safe. Children under
the age of sixteen must, as required by law, wear helmets. It's strongly recommended for adults
as well. Bike lights are also recommended so you are easily seen by people driving motorized
vehicles. For more information on safe cycling in the Currituck Outer Banks, the Outer Banks
Bicycle Pedestrian Safety Facebook page offers some good tips.
As you arrive in Currituck for your vacation, don't forget to stop by our visitors centers in Moyock
and Corolla for local maps to help you plan your cycling routes. With the beaches and our many
attractions so close together, it's easy to ride everywhere you want to go during your vacation.
We look forward to seeing you.