We love to talk about the serene and spacious Corolla and Currituck beaches, and how our shores are perfect for a relaxing summer vacation. Once you step into the warm waters of the bordering Atlantic Ocean or Currituck Sound, however, the fun begins.
If you enjoy recreation among the waves, don't wait another minute to book a vacation home in Corolla for your summer adventure. We welcome enthusiasts of all ages and levels of experience to enjoy their favorite watersports. If you're not able to bring your own boards and paddles, rentals are available along with tours and lessons if anybody in your group needs a refresher course.
Surf's Up!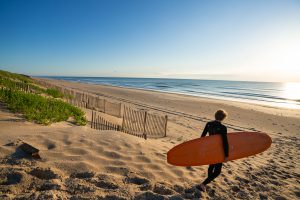 Corolla and Carova's beaches are great for novice and younger surfing enthusiasts, and anybody looking for a fun day on the waves. Like with other beaches, it's important to pay attention to local surf reports so you know the best time to head out into the water. Consult your preferred weather or surf report app, or check the lifeguard stations at the beach for current conditions such as water temperatures and weather warnings.
Skim the Surface
Skimboarding, or skimming, is another popular water sport on our beaches. It is similar to surfing, except that the boards used are usually thinner, smaller and do not have fins. Like with surfing, skimmers stand on their boards to ride waves back to shore. 
For equipment purchases and/or rentals for surfing or skimming, stop by any of the following shops: 
Sail Above the Sea
You won't spend as much time in the water while parasailing, because you'll be flying high above it! Parasail boats motoring across the Currituck Sound send participants anywhere from 500 to 1200 feet above the surface, offering amazing views of the Currituck Outer Banks and beyond. Corolla Water Sports and North Beach Water Sports are currently booking charters. Both companies provide USCG licensed captains and inspected boats for your safety.
Jet Across the Sound
If you are bringing jet skis to Corolla, you can launch at Whalehead, at Coinjock Marina, or the Carova Beach boat ramp. A mainland launch is also available at Sound Park. Such personal watercraft are permitted in the Currituck Sound, but not in the ocean. Waverunner rentals are also available through Corolla Water Sports and North Beach Watersports.
No matter how you enjoy the water, there's something for everyone in the family to enjoy on a Corolla summer stay. Boating, fishing, surfing, or simply playing in the surf… your vacation is what you make of it. Download our visitors guide today for more great ideas on how to spend your time here, and see you soon!