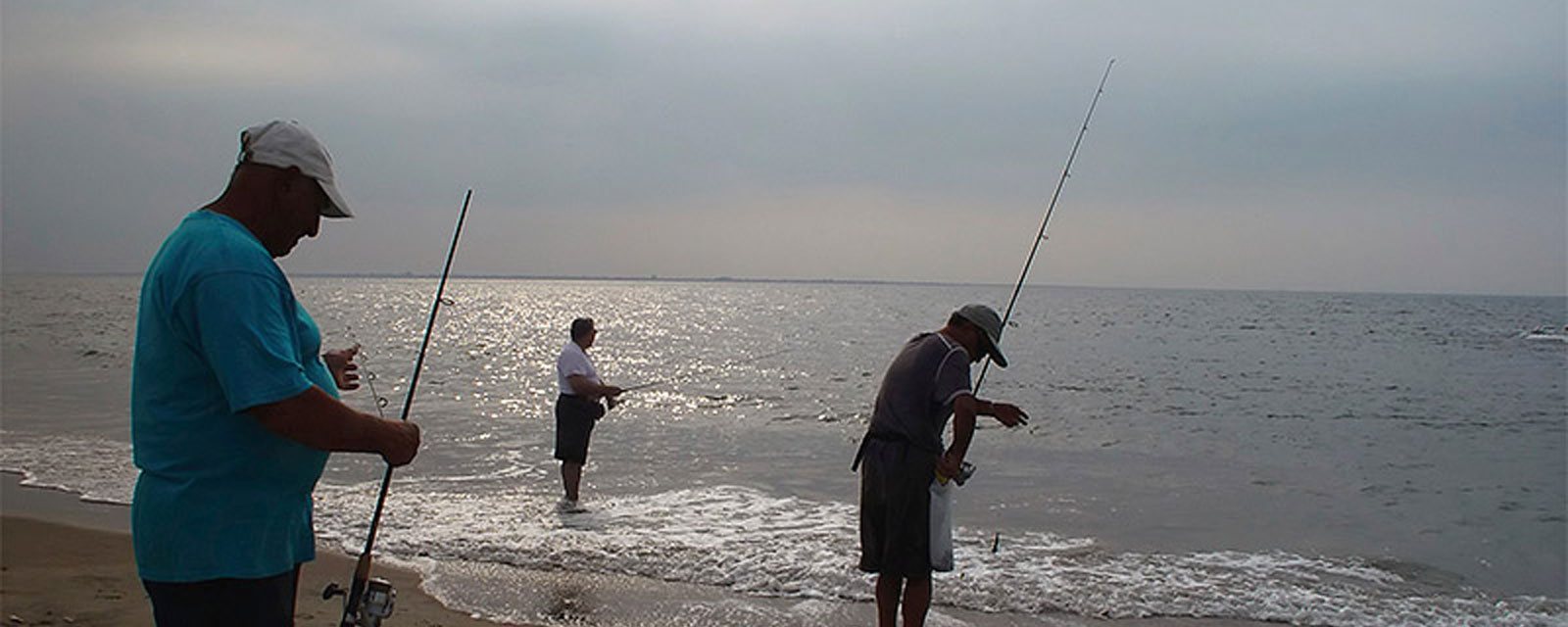 If you enjoy the thrill of throwing a line in the water or heading out on a hunt in hopes of bringing home the fish, deer, or waterfowl of your dreams, there is no better place to do so than in Currituck County. No matter if you are looking to reel in the catch of the day or get a little bit of relaxing entertainment, the Currituck Outer Banks has you covered.
Fishing the Currituck Sound
Watching the sunset or sunrise over the Currituck Sound while fishing for anything this beautiful body of water has to offer is an unforgettable experience. Depending on the season, striper, flounder, trout, bass, oysters, crabs, and more can be found in the area's beautiful waterways. The western side of Corolla and the Currituck Mainland offer various public docks that are great fishing destinations but there are multiple boat ramps for public use as well.
Surf Fishing the Beaches of Corolla
In addition to fishing the Currituck Sound, surf fishing the beaches of Corolla is an excellent tradition that locals and visitors alike have enjoyed year after year. Flounder, Blues, Spanish mackerel, Sea Mullet, Drum, Striper, and more can all be found just off the shoreline. Try your luck at reeling in dinner during your next visit to the Currituck Outer Banks.
Hunting
Hunting is a way of life here in Currituck County. The game in our area are just as diverse as the landscape that makes up the Currituck Outer Banks and Mainland. You can find yourself in a duck blind hunting waterfowl during one season and be tracking a deer through dense forest just a few months later. For the all-around sportsman, Currituck is for you!
Waterfowl
The waterfowl hunting in Currituck County is some of the best in the world, so it's no surprise that Ducks Unlimited's roots can be traced back to our beautiful area. There's nothing better than waking up early on a crisp morning to not only enjoy the diverse game available to hunt, but to take in the serene beauty of the marshlands that border the Currituck Sound, Albemarle Sound, North River, Coinjock Bay, and other various inland waterways that Currituck has to offer.
Many sportsmen who are in search of waterfowl enjoy taking post in the marsh blinds that are synonymous with Northeastern North Carolina hunting. From the blind you will be able to hunt puddle ducks such as teal, pintails, mallards, and black ducks. Diver ducks also frequent the area. Check out the NC Wildlife resources site to learn more about waterfowl hunting in North Carolina, as well as when waterfowl are in season.
Deer
In addition to waterfowl, White Tail Deer are a popular game of choice in Currituck County. Deer hunting season begins in mid-September and runs through the rest of the year. The dense forests of Currituck County combined with the wide open fields that make up the Currituck Mainland are fantastic for providing hunters with challenging, yet rewarding terrain.
In North Carolina, those looking to hunt or fish are required to have the necessary licenses in order to do so. Buy your license before your trip to Currituck to ensure there isn't anything standing between you and the great outdoors once you arrive! Visit Currituck and find out why our area has been a sportsman's paradise for decades!