Whalehead Weddings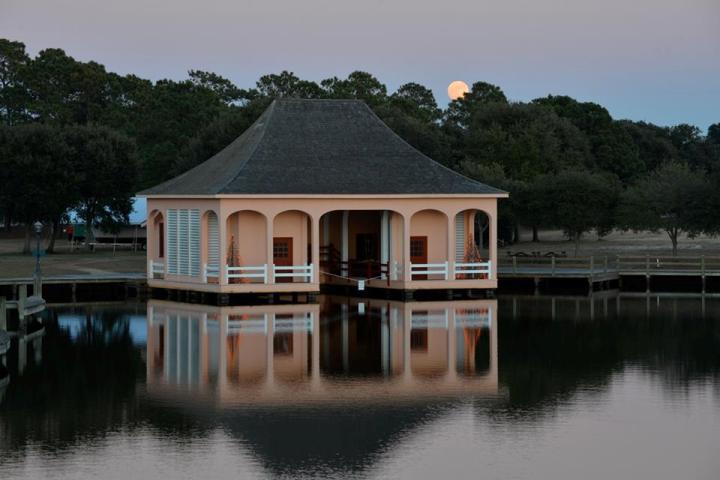 If you're looking for a special setting to say your I Do's, Historic Whalehead on the Currituck Outer Banks is one of the most beloved locations in the area to choose. The natural facets unique to Currituck OBX make for an undeniably gorgeous spot for your special day, and not to mention, if you're planning a destination wedding, it's a place your friends and loved ones would be happy to be "obligated" to visit. Here are a few features that should put Whalehead at the top of your list of possible wedding venues.
 The View!!
One of the most beautiful places to watch the sunset on the Outer Banks is from across the Currituck Sound, and the view at Historic Whalehead couldn't be more perfect. The panoramic landscape opens up from water to sky and allows visitors to take in all of the shades of the sunset spectrum as it dips into the sound. Plan your Currituck Outer Banks wedding at Historic Whalehead and enjoy one of the best backdrops nature has to offer!
Historical and Romantic Setting
The alluring 1920's Art Nouveau-style residence exudes history and romance in its very existence. The extravagant home was built by Edward Collins Knight Jr. for his wife, who loved hunting but wasn't allowed in any of the all-male hunt clubs in the area at that time. The 21,000-foot canary-yellow "mansion by the sea" was to be her own personal hunt club. This history and romantic value has attracted many couples to say their nuptials on the grounds of this magnificent home.
One-of-a-Kind Photo Ops
Everyone knows that couples want to capture their special day to cherish forever, whether through videography or photography. Historic Whalehead not only boasts an amazing residential structure, beautiful, manicured grounds, and unparalleled views of the sound and sky, but also gorgeous photo opportunities in front of the Currituck Beach Lighthouse as well!
Endless Design Opportunities
With so much to work with at Historic Whalehead, the sky is the limit with design options for your wedding and reception ceremonies. You will have open access to all parts of the grounds, and even some to the house itself. If you have in mind a wide-open ceremony by the sound, a back-dropped cozy wedding among columns along the porch of the main house, or scenic nuptials along the footbridge, the choice is obviously yours, and there are many beautiful scenes to choose from when making Historic Whalehead your wedding venue.
Need a few more reasons or resources to plan an unforgettable wedding at Historic Whalehead? Check out 10 Reasons to Get Married in Currituck, Outer Banks!