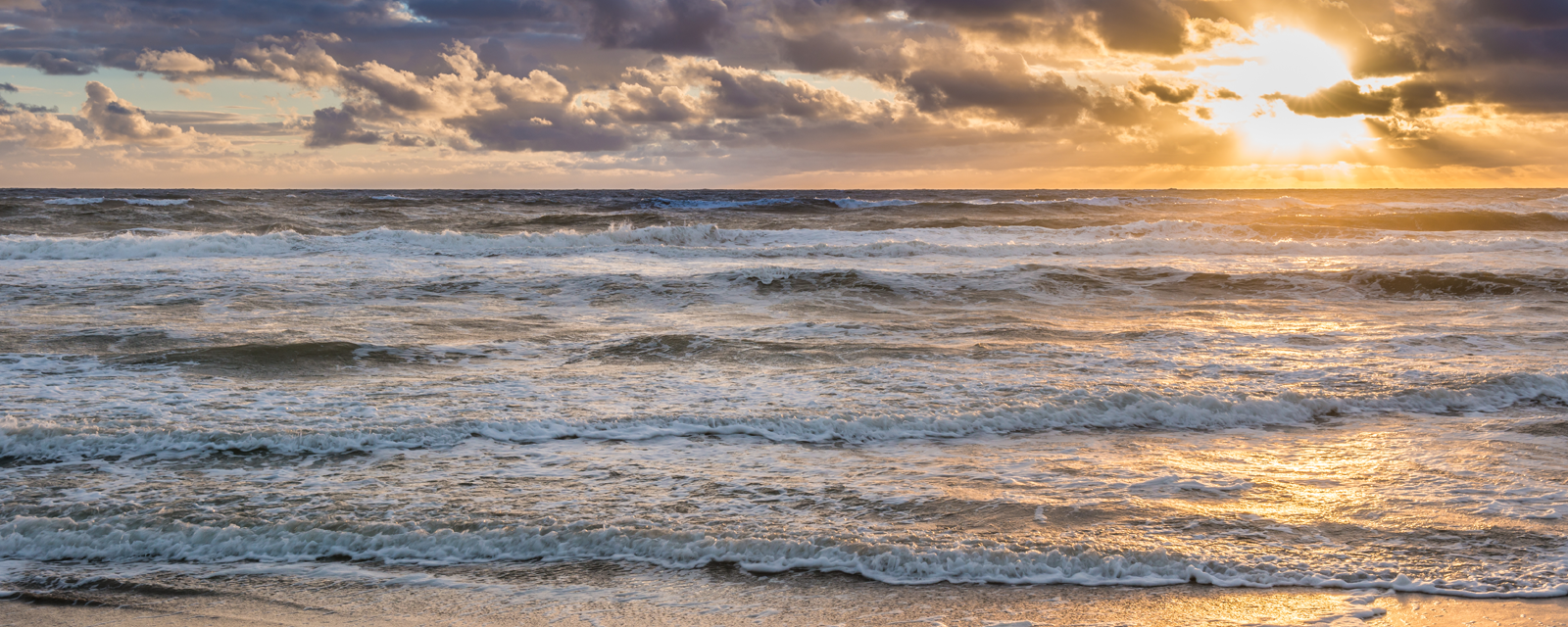 What's better than the beach in the summertime? The beach in the fall! There is perhaps no better time to enjoy the natural beauty of the Outer Banks than when the autumn months roll in. Summer's hustle and bustle is but a faint memory and the temperatures turn absolutely glorious. Pick your perfect vacation home rental at autumn's incredibly affordable rates and start planning your beach retreat. Can you see the sea oats swaying in the breeze and the golden sunset over the sound?
We've got all you need to know to make the best of the beach in Currituck this fall:
Reel in a Winner
It's the season for red fish come the months of September, October and November. Reel in your fill of these big fellas and see if you can catch one worth an Instagram brag. Local fishing charters will guide you to the goods whether you want to head out into the open seas searching for white marlin or sailfish or stay closer to shore in local creeks and marshes, which also boast Spanish and king mackerel, snapper and tilefish. Bring your own equipment or rent a rod and reel along with bait and tackle at area outfitters.
Water, Water Everywhere
While unlike the summer months, you may not need a dip to cool off, the water still feels great come autumn with a wide range of watersports to choose from. Get an excellent full body workout on a stand up paddleboard as you navigate through our scenic waterways or take a Jet Ski tour to get a speedy overview of Currituck and the surrounding areas. Enjoy the scenery with a peaceful kayak while keeping an eye out for dolphin or simply jump in the surf for a refreshing autumn swim.
Under Par
Come golf with the wind in North Carolina's No. 3 Golf Destination, according to Golf Advisor. Routed by Rees Jones, The Currituck Club rolls across diverse coastal terrain with sound-side views distinctly its own on the northern end of the barrier island. Located on the mainland and five minutes from the Wright Brothers Bridge, Kilmarlic Golf Club is nestled along the marshland of the Albemarle Sound and host course for both the 2004 and 2009 North Carolina Opens. Nearby, The Pointe Golf Club and The Carolina Club are a pair of the most immaculately manicured and impeccably conditioned golf courses around. Currituck offers a variety of fall golf packages.
On the Hunt
Waterfowl abound in Currituck and Corolla, and the fall weather makes it the perfect time to explore the great outdoors. Be sure to purchase a North Carolina hunting license with appropriate stamps for each game, including ducks, deer and black bear, before hunting in the area and gear up at local sports shops and outfitters. We have plenty of local guides who are happy to join you on the hunt, showing you the hot spots.
While you're outdoors, keep an eye out for our many bird species. Part of the North Carolina Birding Trail System, the Currituck Banks National Estuarine Reserve, located about a mile from the village of Corolla, is a 965-acre reserve filled with wildlife galore. Up on Knotts Island and home to many endangered and threatened species, Mackay Island National Wildlife Refuge is a popular spot for bird watching, bicycling, photography, fishing, and kayaking.
Festival Fever
When you're ready for some activity after a relaxing day at the beach, check out one of Currituck's biggest fall events. The Currituck Heritage Festival on September 17 mixes a Kansas City Barbeque Society nationally sanctioned cook-off with an evening rodeo for a one-of-a-kind experience. Other activities include an antique tractor show, live music and kids activities like a bounce house, bungie jump and rock wall. Plenty of food and drink vendors will be on hand to send you back to your vacation rental filled to the brim.
If you're visiting in October, don't miss the Mustang Music Festival October 7 and 8 at Whalehead in Corolla, a restored 1920 Art Nouveau-style residence. The two-day music festival features performances from a variety of bands, including Lettuce, Big Something, Ripe and Fruition.
Fall may very well be the best season to enjoy the Currituck Outer Banks with fantastic deals, gorgeous weather and unbeatable Southern scenery. Come join us!