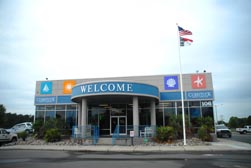 Road trips have that wonderful paradox of wanting to get to your destination as quickly as possible but also needing to take occasional breaks in order to preserve the sanity of everyone in your car – there's only so much car bingo you can play, after all. Fortunately, the drive to Corolla through mainland Currituck offers some amazing pit stops, so take some time to make new beach trip traditions along the way!
Farm markets. Stop in at Morris Farm Market for their famous peach cider, or let the hypnotic repetition of Powell's Roadside Market's farmer signs lure you in for some fresh produce or fresh handmade fudge. Farm markets are a great way to stock up on healthy fruits and veggies to eat while you're on vacation.
Weeping Radish Farm Brewery and Eco Farm. Yes, it's a brewery, but it's still a great stop even if you've got kids in tow. They've got a fantastic menu of farm-to-table food with local, hormone-free meats and local produce. Take a tour, enjoy a sit-down lunch or grab it to go, stock up on some adult beverages for the week, and let the kids watch the farm animals go about their farm animal business.
Digger's Dungeon. Whether you've got posters of Grave Digger plastered all over your walls at home or you are so blissfully unaware of what a monster truck is that you're relying on context clues to figure out what the heck we're talking about right now, Digger's Dungeon is a must-see. Located right off the highway in Poplar Branch, NC, you really can't miss the giant monster truck by the side of the road. Stop by, take a gander at the various incarnations of Grave Digger over the years, and grab some photos. During the summer, you can actually take a ride on a real live monster truck – what kid (or kid at heart) doesn't want to ride a monster truck over top of a school bus?
Sanctuary Vineyards. With guided tours and special events, spending a little time at the vineyards is a great way to spend some time and dodge the traffic on check-in day. They regularly offer free live music and fun events – just make sure you have a designated driver. While you're here, take some time to check out The Cotton Gin for great gifts, jewelry and housewares.
Speaking of shopping, there are some fantastic stores along the drive to OBX. If antiques are your cup of tea, the drive down Caratoke Highway might be the best part of your trip. There are also some great shops like Beach Bums and Rose Tree that offer truly unique gifts… including gifts for yourself (because let's not kid ourselves here, we all know how it works).
Currituck Rural Center. If your kids and/or your dog are going stir-crazy in the car, this stop is a must. With a dog park and playground, you can wear everyone out so that they'll fall asleep for that final stretch of driving. You can also stretch your own legs on the nature boardwalk or have a lovely outdoor picnic with your farm market goodies.
Finally, don't miss the Currituck Welcome Center in Moyock at the NC/VA state line! The Welcome Center has tons of information and is a great place to help you start planning your vacation activities for the week. Whether you want to know where the best place is to kayak or where the best place is to score some local seafood, we've got you covered… AND THERE'S FREE COFFEE!