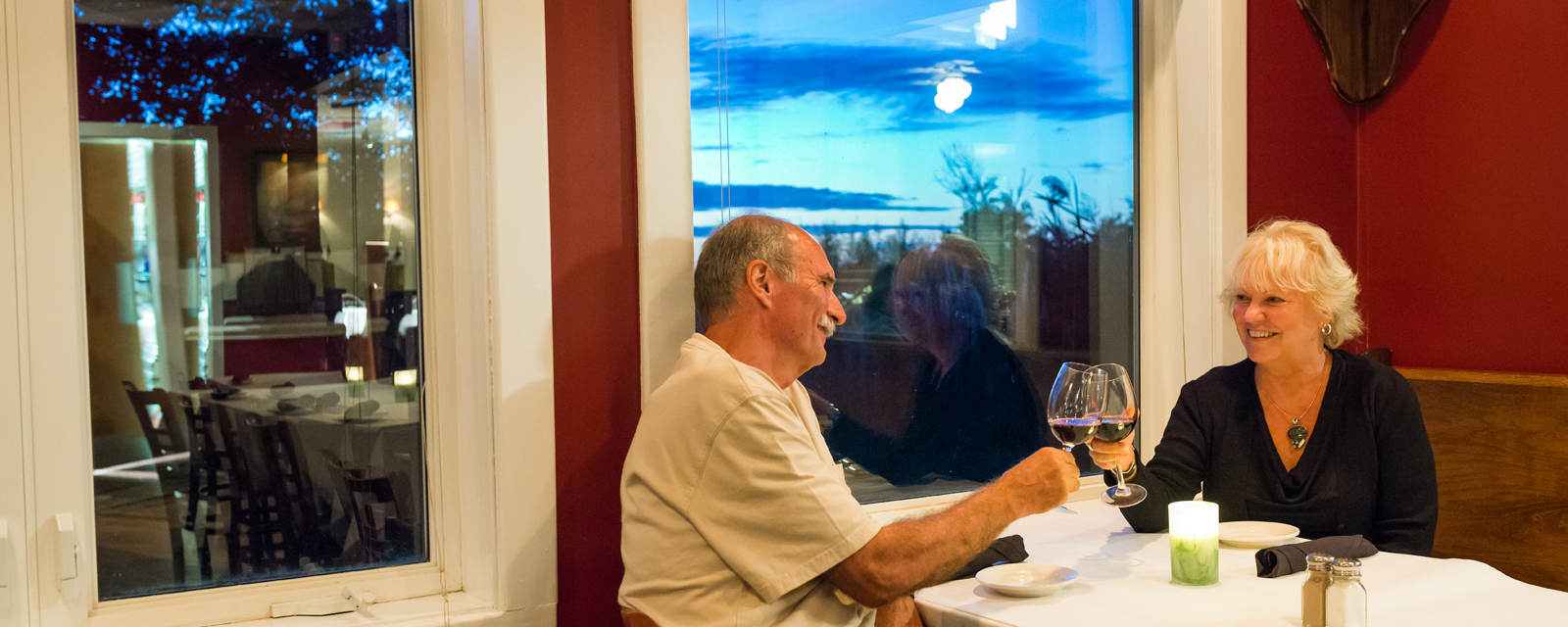 Home to beautiful farmlands, salt marshes and pristine beaches, Currituck County is a secret gem to North Carolinians. Its award-winning restaurants are another harbored local treasure. Many of the top restaurants in Currituck are staffed with dedicated chefs who pride themselves on using local ingredients and North Carolina flavors. So dig your toes into the sand, build up your appetite and get ready to see what the fuss is all about. Here are some of the top places to eat and drink in Currituck.
Weeping Radish
About: In 1986, Weeping Radish in Grandy opened its doors, making it the oldest operating brewery in the state. At the time, less than 100 breweries were active in the United States. Weeping Radish isn't exactly an unknown entity anymore, especially after being featured on Food Network's Diners, Drive-ins, and Dives. The restaurant takes pride in its farm-to-table methods, using only all natural ingredients to serve its diners.
The atmosphere: Weeping Radish is housed in a farm-style building with a white picket fence surrounding it. Murals on one side depict the countryside with images of roaming livestock. The interior complements the exterior, with wooden tables and chairs, mounted deer heads and large paintings of Bavarian farmers on the walls.
What to eat and drink: First and foremost, the pub is a laid-back spot to enjoy a pint of Red Ale, Black Radish, Corolla Gold and other brews. For food, try the Bavarian pretzels or order sausage, hamburgers or schnitzels. Also, save room for the homemade pies.
Pro tip: Plan to stop at Weeping Radish's newest feature, the butchery, where guests can pick up fresh cuts of meat and sausages to take home.
Sanctuary Vineyards
About: For local wine, head to Sanctuary Vineyards in Jarvisburg. After seven generations (more than 150 years), the Wright family continues to impress people in the region with its delicious wine made fresh from its vineyard. Outer Banks Magazine recently featured the vineyard, highlighting the unique gem the winery is, most notably its ability to make it for many years.
The atmosphere: If you see a bright red building surrounded by gorgeous farmland and vineyards, you're in the right place. Head inside to the wine tasting room, where you can try local varieties. The winery also has a large, bright indoor event space.
What to eat and drink: You'll notice most of the wine are inspired by the Currituck region with names like Wild Pony White, Wright Brothers Reserve, Shipwreck and The Pearl. Expect to spend a few hours at the vineyard; you'll be given a long list of wines to try out and plenty of time to enjoy each at your own pace. Light fare like bread and cheese is offered.
Pro tip: Sanctuary Vineyards is always hosting a new, fun event like prom for grown-ups, the Big Curri-Shuck (all-you-can-eat oysters) and the Crabdaddy Seafood and Wine Festival.
Pass the Salt Cafe
About: Get a taste of local flavors at Pass the Salt Cafe in Currituck. The name is derived from the biblical text "salt of the earth," and you can see some of that theme throughout the cafe. This is historic Currituck's go-to spot for satisfying lunches and delicious desserts.
The atmosphere: Housed in a light-yellow cottage, the café has bright airy rooms, a brick fireplace and an insistent smell of fresh apple pie. It's like visiting your favorite aunt's beachside cottage.
What to eat and drink: Diners have a wide range of North Carolina flavors to choose from like shrimp and grits, fish tacos (caught from local water), buffalo fries, salad and burgers. The restaurant has gorgeous pastry options for dessert, as well as ice cream during the summer months.
Pro tip: Check the restaurant's Facebook page when you're in town for delicious daily specials.
Currituck BBQ
About: Currituck BBQ in Barco is the region's most popular and mouthwatering venue to get your ribs and brisket. The restaurant specializes in hickory-smoked and slow-cooked meats including pork, chicken and beef, and it was recently ranked among the best places for BBQ in the region.
The atmosphere: This incredibly laidback joint beckons diners with neon, hog-shaped sign. Pull up to the yellow cracker-style house and let the smell of hickory-smoked meat pull you in.
What to eat and drink: Order a plate of brisket, ribs or pulled pork with a side of mac n' cheese and hush puppies, and select from six sauces to coat your meat in. The sauce flavors include North Carolina BBQ, Carolina Mustard and Sweet Brisket.
Pro tip: Make sure you stop by the United States map on the wall and pin in the location you hail from before leaving.
Mike Dianna's Grill Room
About: For upscale dining, head to Mike Dianna's Grill Room in Corolla, where the servings and large, the wine list is impressive and the views are amazing.
The atmosphere: This is a romantic spot, where tables have white tablecloths and water views (from inside or on its outdoor deck). Live music plays during dinnertime.
What to eat and drink: This is a seafood spot where you can order crab cakes, oysters or yellowfin tuna, but there's also an impressive collection of beef on the menu including New York strip steaks and specialty burgers.
Pro tip: Sunday brunch is a good time at Mike Dianna's, where you can try fried oyster sandwiches, Mike's famous crab cake sandwiches and chicken biscuits.
For more dining ideas in Currituck County in North Carolina's Outer Banks, check out all our options here.