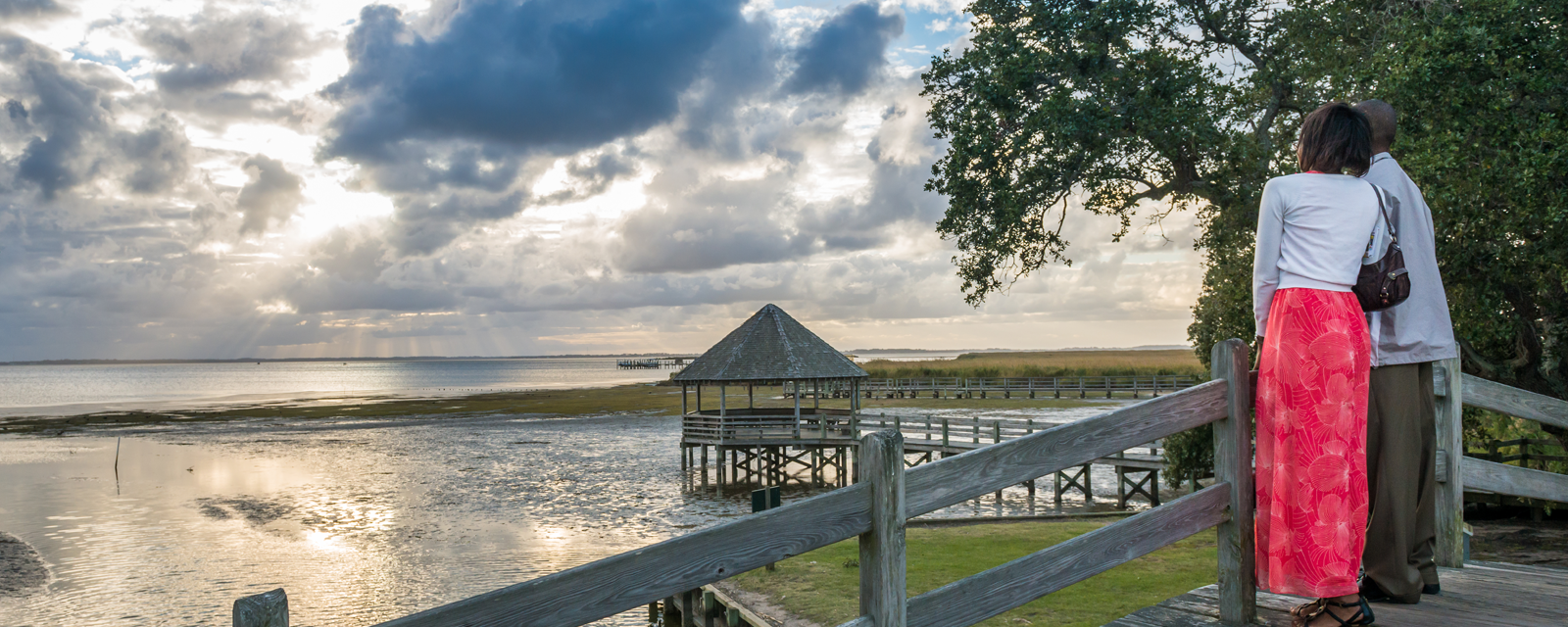 The crowds of summer are long gone with only the sound of sea oats blowing in the breeze accompanied by the occasional bird call. Dolphins frolic freely in the ocean and wildlife come out from hiding. Stately mansions with wide-stretching balconies overlook the lapping waves and the locals mill about with their characteristic Southern friendliness. It's autumn in Currituck, the northernmost of North Carolina's Outer Banks barrier islands and the best time of the year for couples to steal away for some quiet time together.
Autumn Beauty
While the rest of the country may be cooling down, the Outer Banks is still warm and sunny. With daytime highs in the low 80s in September and the low 70s in October, it's just perfect for enjoying the beach, the pool at your gorgeous vacation home and our many outdoor activities.
Fall is a wonderful time for a 4×4 tour to see our area's iconic wild horses. Imagine you and your loved one hand in hand as Spanish mustangs gallop along stretches of picturesque Atlantic Ocean beach with nothing between you but pristine natural landscapes.
Seasonal Savings
Considered off-season, fall brings amazing rates on vacation rental homes and activities. Expect prices for the wild horse 4×4 tours to be deeply discounted from summer rates and many other tours, rentals and even restaurants and shops also follow suit.
Couples can score a deal on one of Currituck's many beautiful vacation homes, upgrading the size of your rental and choosing a house with amenities that cater to romance. Can you picture yourself in a luxurious mansion with pool and hot tub, bedroom balcony and gourmet kitchen? It's a steal during autumn compared to our busier months.
Fall Festivals & Events
Autumn brings a variety of fun festivals and events to the Currituck's Outer Banks. The Currituck Heritage Festival Bulls & BBQ Edition on September 17 at the Currituck Rural Center in Powells Point includes a Kansas City BBQ Society sanctioned cook-off, a rodeo, live music, exhibits about Currituck history, and lots of vendors.  The Mustang Music Festival is another can't miss experience in Historic Corolla Park on October 7 and 8.  The 2-day music festival brings national and local acts and supports a great cause!
Un"Wine"d
Be sure to spend some time touring our area vineyards and sampling wine to find your favorite bottle as a take-home souvenir. If you arrive during harvest, you may just get to see workers picking grapes by hand. Sanctuary Vineyards in Jarvisburg is open year round and offers free wine tastings. Stop by on Thursday evenings for their acoustic music series that runs through September or visit their tasting room at the Cotton Gin in Jarvisburg on Sundays for a romantic hayride, live music, wine and burger pairings.
Toast 30 Years of NC's Oldest Microbrewery
In 1986 The Weeping Radish Farm Brewery & Eco Farm opened its doors on the main highway in Grandy. At that time there were less than 100 breweries remaining in the United States, now there are thousands again with North Carolina boasting more than 120. Each week, make a reservation to enjoy 11 am Tuesday Beer and Brat Tours and 11 am Wednesday Brewery Tours – all hosted by owner Uli Bennewitz.
Get Active in Autumn
If you're a couple who enjoys the outdoors, adventure and burning lots of calories, Currituck has some great options. Rent a bike and cycle along the ocean and seeing area sites like the Currituck Beach Lighthouse or don your running shoes and hit the Corolla Greenway or an even more challenging run along the beach. Bring your golf clubs and play the award-winning links at Carolina Club, Currituck Club, Kilmarlic or The Pointe.
Tennis aficionados may be able to play a set at a free court in your vacation home's neighborhood or rent an indoor clay court. Currituck is also a fabulous place to kayak as you navigate area waterways keeping an eye out for dolphin, birds and other sea life.