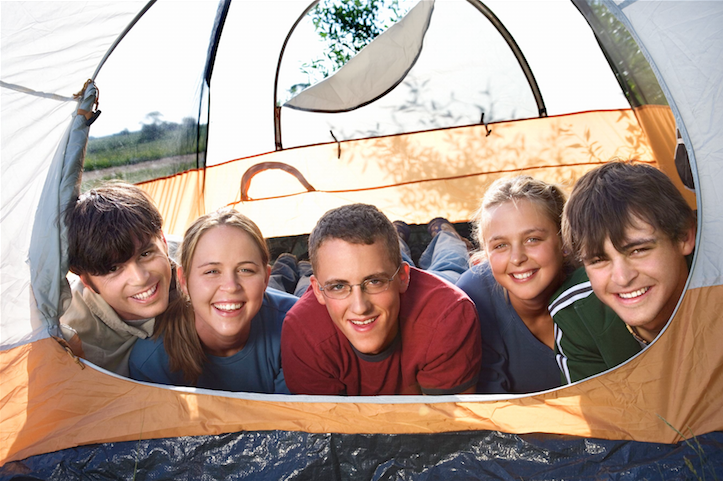 Looking to add a little adventure to your vacation this year? If you dream of sleeping under the stars, roasting your own food over an open fire and watching the sun rise over the ocean, you may have cabin fever.
By cabin fever, we mean you need to get out of that cabin and into a tent. Try something new and liberating this year: try one of the many beautiful campgrounds in Currituck, and unleash your family's wild side.
There are plenty of options when it comes to camping –- tent, cabin or RV. Select the style of abode that suits your family, and gear up for an unforgettable vacation! Here are our top 
five reasons to stay in a campground during your Currituck Outer Banks vacation:
1. Freedom.  When staying at a campground, there are no noisy neighbors above you (except the birds) and nobody below you to complain about the pitter-pattering of loud children's feet.
Bells Island Campground
in Currituck has 22 acres to explore, so book your campsite and get started right away!
2. The wild is calling your children, let them answer. Outside voices are for outside, so let the kids run, jump, climb and yell themselves hoarse at the Hampton Lodge Camping Resort in Coinjock. They might even wear themselves out before bedtime!  Once the kids have explored the entire campground, take a trip over to the new 
Currituck County Rural Center
(the 
CCRC
) for some fishing or kayaking (bring your own poles, bait and kayaks). There are lots of fun things to do right outside your tent flaps.
3. Grab a ball and play. 
Sandy Point Resort Campground
 on Knotts Island features both volleyball and basketball courts. Challenge the family to a friendly boys vs. girls game, or join in with other campers for an impromptu tournament!
4. Camping creates closeness. There are no distractions out there in the woods. Leave the electronics in the car for once, and actually connect with your loved ones. Bring a book and have family story time once a day, pack a craft kit and spend some time making jewelry or art, make s'mores over the fire at night! There are tons of ways for your kids to have fun without technology — they just don't know it yet.
5. Happy campers. One unique aspect of campgrounds is the sense of community among residents. Even though it's temporary, and the "homes" are made of nylon and held up by rope, fellow campers are neighbors. Reach out, make friends, keep things fresh and fun.
There are lots of 
campgrounds in Currituck
. Find one that's perfect for you, and start a new tradition in the great outdoors. Nature is calling!