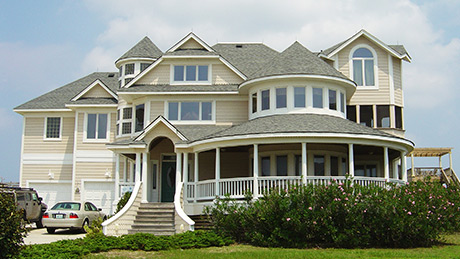 The Currituck Outer Banks thrive on diversity and variety. The animals which roam the sandy shores of Corolla range from as tiny as a ghost crab to as large as a wild Spanish mustang, and attractions can be as small as a seashell or as large as the Currituck Beach Lighthouse.
As you may expect, the choices in rental houses are just as varied and wide-ranging. There are homes available in every size, with the number of bedrooms ranging from 2 to 12 to 24. When you find the perfect rental home for your loved ones, many visitors find that they like to return to the same house year after year. This makes planning and packing that much easier, and the house itself becomes a backdrop to your family's traditions and memorable moments.
Even if your family tree is still growing, there are houses available with plenty of space for everyone. Be sure to do a head-count before making any arrangements. Besides confirming that everyone has a place to sleep, you can gauge how crowded the place will feel on a rainy day and select a more accommodating home as needed.
If your family needs constant entertainment, keep an eye out for rental homes that feature an in-house game room. Even the most energetic wild child can burn off some energy by playing endless rounds of ping-pong or pinball. Release the kids into the untamed territory of the game room, and take some time for yourself. If you've got teenagers in tow, check out the Wi-Fi situation before selecting your rental home. Many include wireless internet access, but not all.
Maybe your ideal vacation is getting the grandparents to take the kids for a weekend so that you and your spouse can take some time to recharge and reconnect. If a romantic couple's getaway is what you're seeking, check out vacation rentals or hotels with hot tubs and private swimming pools. Your sweetie will thank you, and you may just get out of dishwashing duty for a week after you return home!
If anyone in your family needs special accommodations, just ask! There are rental homes available with handicap accessibility to accommodate every member of the family, so that everyone can enjoy a comfortable stay.
No family vacation can be complete without every member of the family. That's why there are lots of pet-friendly rental homes in Corolla, as well as tons of pet-friendly activities. Check out the Inn at Corolla Light for low pet rates, and then head down to Jarvisburg to the doggie coffee bar to make some four-legged friends.
Whatever your priorities in selecting a rental home, we've got the perfect location for you. If you enjoy late-night walks on the beach or adore waking early to watch the sunrise, a home near the oceanfront may be the one for you. Not a morning person? Sound-side rental homes offer access to glorious sunsets over the water. Check out our listings to discover which homes are nearest your favorite destinations.
Proximity to restaurants and shopping and ease of access to the beach are important considerations, but no matter your preference, there is a vacation rental home for you! Find great rentals in Corolla; big or small, quietly secluded or right in the thick of things.
The perfect beach house is out there, waiting for you and your family to fill its rooms with energy and laughter. Check out our list of Vacation Rentals to find your dream vacation house in Corolla!