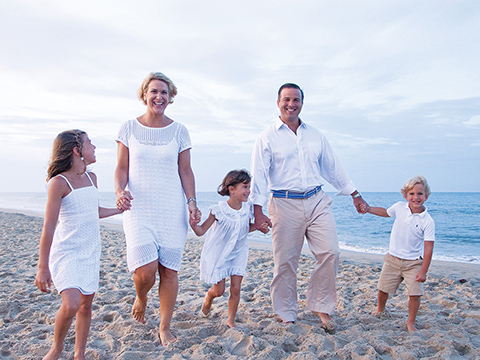 There's nothing like that sweet sense of freedom you feel when driving to the beach for vacation. The sun shining on your face, the breeze blowing through your hair, your favorite song playing on the radio and your loving family and friends all around. Taking a vacation to the Currituck Outer Banks can feel as refreshing as cool aloe vera smoothed over a sunburn…
… you did remember to pack the aloe vera, right?
Don't stress – you are on vacation, after all. To help you avoid that "oops, I forgot ______" moment on this year's Currituck vacation, we've compiled this handy list of items to absolutely, positively, never ever forget to pack. You're welcome!
Before you begin packing, check to see what amenities may be provided for you at the rental home. Some provide sheets, towels, a full kitchen, books, and baby items, but some may not. If you don't see what you need on the list, ask the rental company if it is provided. You may want to bring it with you, or there are rental companies that carry baby items, beach essentials, bikes etc. that may be more practical than trying to carry everything in the car.
Things to pick up once you arrive: Trash bags, paper towels and toilet paper, plastic utensils and paper plates, sodas and beverages and any perishable food items you will need.
Doggie Bag: Bringing the family pet along this year? Don't forget to pack for him as well!
You will need: Food and water dishes, plastic baggies, collar and leash, and whatever else your pooch needs to feel comfortable.
The Basics: Unless you're planning an epic shopping trip, everyone should bring clothing.
You will need: Flip Flops, two bathing suits per person, undies, tank tops, shorts, one pair of jeans, a sweatshirt, workout wear (if you're into that), warm-weather pajamas and cooler-weather pajamas (just in case), and one presentable outfit for dining out.
Electronics: Because even on vacation, there are rainy days.
You will need: Camera, flashlights, tablet or laptop, chargers for all of your gadgets and gizmos. Don't forget extra batteries, you never know when you'll need them.
Comfort: If you like to sleep with a special, snuggly pillow or white noise machine, bring it!
You will need: That special pillow or blanket that seems to transform any surface into a luxury mattress, a few choice books or magazines, playing cards and whatever else you might need to relax and sleep soundly.
Toiletries: These are important, unless you want to share the house with someone who hasn't brushed their teeth all week.
You will need: Toothbrushes, toothpaste, deodorant, shampoo & conditioner, soap, moisturizer, aloe vera gel for sunburns, hair brush/comb and towels – for the beach and the bath.
Don't forget any individual needs: Prescription medications, eyeglasses or contact lens with solution, feminine hygiene products, razors and shaving cream, hair ties and clips, blow dryer, a curling iron and flat iron, and any other beauty products you may want. If your vacation rental has a washer and dryer, you may want to bring laundry detergent and dryer sheets so that you can wash clothes while you're there.
Bedrooms: These may vary from rental to rental, so find out if linens are provided (or play it safe and bring your own anyway).
You will need: Pillows, sheets, a laundry bag or collapsible hamper for dirty clothes, hangers for wet bathing suits.
Kitchen: It's a great idea to plan out the entire vacation in meals. Create a schedule detailing what you will make for each meal, and try to determine when you will eat out ahead of time. This makes grocery shopping easier, and you can bring some things from home.
For example: Bring coffee from home and pick up the liquid creamer once you've arrived. By pre-planning meals this way, you can avoid spending extra money on duplicate groceries that you'd just have to lug home at the end of the week.
The Beach: There are very few things you really need to bring to the beach, since the fun is just waiting there for you already. As long as everybody is hydrated and adequately covered in sunscreen, the good times will just keep rolling.
Beach bag with all the essentials: Sunscreen, bottles of water, lip balm with SPF, snacks and/or lunch, cooler, sunglasses, sun hats, plastic bags for trash, hand sanitizer, books and/or magazines, playing cards and toys for the kids. Extra towels are generally a good idea, too.
The most important things to bring are your loved ones and your vacation mindset – after all, it's no fun if you're stressed out! Anything that's been left at home can easily be replaced in one quick stop at the store.
So keep calm, and pack on.