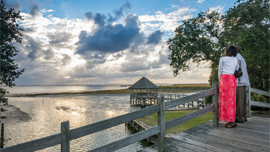 When Mother Nature decides to be a fickle mistress and dump buckets of rain on one of your beach vacation days, it can be frustrating to say the least. The beach day plans get derailed, everyone starts going stir crazy, and that game of Monopoly devolves into the biggest family feud since the Hungry Hungry Hippos debacle of 1998. 
First of all, give up on Monopoly. Nobody needs that kind of drama on vacation. If you've exhausted your beach rental's cache of DVDs, there are plenty of rainy day activities to do in the Currituck Outer Banks.
Clearly the rain is a sign that you should go shopping. This is a great opportunity to check out one of our great local shops for unique souvenirs, knick-knacks, or extreme-advance-planning holiday gifts for your mother in law. There's also no time like the present to buy that Currituck OBX hoodie.
Enjoy a blast from the past with our historic sites. From Historic Corolla Village to Whalehead, from the Currituck Beach Light Station and its grounds to the Currituck County Historic Jail and Courthouse, Currituck is a history buff's paradise. Even if you're not a history buff, trying to figure out how a family of twelve survived in a tiny house with one bathroom will help keep things in perspective.
Check out the Outer Banks Center for Wildlife Education. It's free, it's fun, and there are age-appropriate activities for the whole family. Learn about sea turtles, watch the staff feed the fish in the 8,000 gallon aquarium, practice archery, or work on your nature photography skills. Some activities may require a reservation. They also offer great activities when it's not raining—check it out!
Hit the spa. Drop the kids off at a movie and go get a massage and a mani-pedi, or leave them at the beach house with Dad… just hope they don't play Monopoly while you're gone.
With all of the cool shops and fun activities Corolla has to offer, the rain doesn't have to ruin your vacation. Even if you don't feel like venturing out of your cozy vacation rental, it still gives you a day to soak your sunburn in some aloe vera, order a pizza or two, and watch some of those random DVDs with that family of yours.