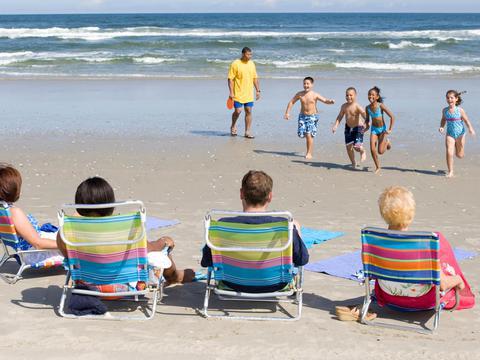 Every year thousands of families look forward to their annual beach retreat to Currituck County. Currituck's beaches have a unique way of bringing family members of all ages back on an annual basis. The warm summer breeze and the wide variety of activities the area has to offer create the perfect destination for family reunions. Read below to find out exactly why Currituck County is the perfect family reunion destination.
Large Vacation Rentals
One of the most well-known Outer Banks beach towns is Currituck's Corolla. Corolla has proven to be the perfect host for family reunions of all types in major part because of its wide variety of large vacation rental homes. No matter how big or small your family is, there will be a vacation rental that will suit its needs. Not only will you be able to find the perfect size house for your family, but your family will also have options when it comes to where in Corolla they want to stay.  Love watching spectacular sunsets? Sound side homes in Corolla are an excellent choice in addition to the popular oceanfront communities. No matter the size of your family or where they want to stay when in Currituck's Outer Banks, there is a vacation rental that is the perfect option for your loved ones!
Family Dining Options
Getting the entire family together for evening meals during the summer is the source of great memories for years to come. Currituck has a seemingly endless list of Outer Banks dining options. There is even a wide variety of local caterers that will be happy to serve your family excellent food while you all enjoy the beautiful Currituck scenery right inside your vacation home. When it comes to restaurants, Corolla truly has it all! Waterfront dining, NC Barbeque, fresh, local seafood, and gourmet cuisine are popular favorites in the area. However, the town also boasts multiple Mexican, Italian, and other classic options that will keep your family coming back for more.
So Much to Do
Currituck County can easily entertain people of all ages and interests. Its natural landscape is perfect for watersport lovers, fishermen, hunting enthusiasts, shoppers, and those who simply enjoy spending time outdoors. The best part about the activities available in Currituck is that many of them are available just footsteps from your family's vacation rental. If the watersport lovers in your family want to enjoy a morning of surfing or body boarding, all they have to do is make the short walk out to the beach. Likewise, those who are looking to find that unique Outer Banks souvenir to bring home can walk or ride bikes to the convenient shopping locations around town. Your family's vacation home will act as the perfect "basecamp" to help your loved ones enjoy all of their favorite things to do in the Outer Banks and Currituck.
Did We Mention The Beach?
Last but not least. Currituck County's beaches are some of the most scenic and tranquil on the entire east coast. They often remain uncrowded and many of Currituck's beach accesses have an active lifeguard on duty. This means that parents can have peace of mind knowing that there will be a second set of eyes watching their children as they enjoy the water.
Currituck County is the ideal host for your family reunion. The well-equipped, large vacation rentals available combined with the endless shopping, dining, and activity options make this beach destination simply unbeatable!