How would you describe your family's holiday feasts? Do you prefer the traditional fare of turkey and stuffing, cranberry sauce and pumpkin pie? Perhaps you like to shake things up at the Thanksgiving table with seafood or all vegetarian dishes. Maybe turkey isn't to your tastes, and you scroll your phone looking for that one pizza delivery spot open on Thanksgiving. Whatever your crave this season, when you gather the family for the fall holidays in Corolla we are happy to help satisfy your appetites.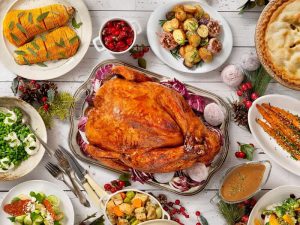 One advantage to renting a vacation home in Corolla or Carova Beach is that there's plenty of room for extended relatives and friends. Over the years, we've welcomed many multi-generational families to our beaches for the fall and winter holidays. Among the amenities included in our beach rentals are contemporary kitchens for cooking and/or staging big dinners, and spacious dining areas where everyone can sit together and give thanks. Once you've booked the perfect house for your stay, next comes planning the big holiday dinner. While Corolla offers a remote setting for your fall or winter vacation, you do have options.
Traditional Dinners
Holidays in Corolla are what you make of them, and when it comes to Thanksgiving at the beach there's no limit to your imagination. Some families driving in for the fall break may bring their own food from home to prepare, while others arrange for meal pickups in the area:
BJ's Carolina Cafe (7069 Caratoke Hwy, Jarvisburg, NC 27947) will be open Thanksgiving Day! Their holiday buffet runs from 11 a.m. to 2 p.m. and features turkey and all the traditional sides, plus fried local flounder, pork tenderloin, and Virginia ham. Reservations are required, call 252-491-5222. BJ's is also taking orders for turkey, ham, and sides to go.
Currituck BBQ Company (4467 Caratoke Hwy, Barco, NC 27917) is taking orders for fried and smoked turkeys, smoked hams, and assorted sides. Pick up times are Tuesday and Wednesday; they are closed Thanksgiving Day. See the current holiday menu on their Facebook page and call 252-453-6618 to reserve.
Harris Teeter (601 Currituck Clubhouse Dr, Corolla, NC 27927) is taking orders for complete holiday dinners and a la carte side dishes to heat and eat! You can order online, be sure to select the Corolla store, and pick up on November 16-24, 2022 for Thanksgiving and December 16-24, 2022 for Christmas.
Outer Banks Boil Company (785 Sunset Blvd., Corolla, NC 27927) is taking online pre-orders (or call 252-453-6578) for their seafood boils, for those looking for something different. Check out their menu and choose from a variety of shellfish and sides. They also offer Carolina BBQ! Please note they are closed Mondays and will be closed on Thanksgiving, but you can pickup your order on the day before.
Simply Southern Kitchen (8627 Caratoke Hwy, Harbinger, NC 27941) has a Thanksgiving takeout menu featuring sliced turkey and ham, cornbread and biscuits, traditional sides and delicious pies. Call 252-491-8100 to reserve your meal.
Sooey's BBQ (807 Ocean Trail, Unit B, Corolla, NC 27927) proudly serves locals and visitors year round, Thanksgiving included. Check out their website for more information and contact them at 252-453-4423 for their current catering menus.
Southland Restaurant & Catering (141 Caratoke Hwy, Moyock, NC 27958) will not only offer Thanksgiving to-go, but will be open on Thanksgiving Day from 8 a.m. to 4 p.m. for pick up. Order online for a single turkey meal to go or dinner for the family. You can even pick up some of their famous fried chicken for the holiday!
Create new holiday traditions on the shores of Corolla this season. There's still time to book your holiday stay for Thanksgiving and/or Christmas! Check out our online visitors guide for more information on what to see and enjoy in Corolla and the Currituck Outer Banks.
*Food shopping and catering options are subject to availability. Please contact the vendors for delivery/pickup information and pricing.