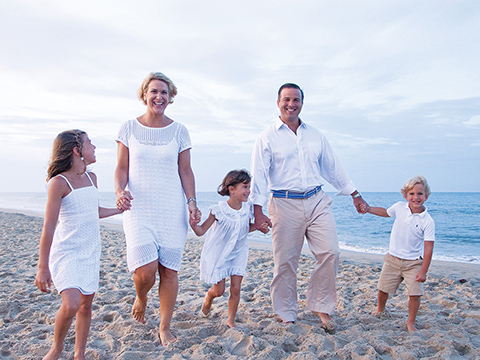 Sigh. Where did the summer go, again? It seems like yesterday the kids were running out the front door of the school singing, "No more teachers, no more books…" and now you're fighting to get them out of bed so they don't miss the bus. Everyone's sharing pictures of their pumpkin spice lattes on Facebook. Heck, your neighbor may be doing his best Clark Griswold impersonation and putting up his Christmas lights already.
Why let summer slip away without a fight? Here are nine great reasons to hold on to summer for just a little bit longer. But you can still have your pumpkin spice latte… those things are amazing.
9. Great fishing
If you love fishing, then there's no better time to visit the Outer Banks than the fall months. With water temperatures still in the lower 70s in September and upper 60s into October and November, the crowds have left but the fish haven't. Stripers, bluefish and red drum are all plentiful here in the fall months. Ever been surf-fishing? Fall is a great time to try it out. Feel more comfortable with a charter? We've got that covered. Get great advice from our local tackle shops and fishing charter companies and turn that fish story into the catch of a lifetime.
8. Shopping discounts
The Currituck Outer Banks mainland and beaches are a highly seasonal destination for the most part. That means as the summer season draws to a close, merchants are preparing to close up shop for the winter months and are eager to get rid of excess inventory. With a variety of eclectic shops and quaint marketplaces, fall is a great time to find discounted souvenirs, handmade North Carolina crafts, or even that perfect Christmas gift.
7. Romantic getaways
With busy schedules, it can be tough to find time to spend with your significant other. Adding kids to the picture makes it even more of a challenge. Don't you think it's time grandpa or grandma spent some great quality time with the grandkids? Fellas, if you can't remember the last time you surprised your honeybun with a romantic getaway, a last-minute escape for a week or weekend is sure to earn you some major brownie points. And ladies, share this post on your Facebook page, tag your man in it, and tell him he'll especially like #7 (hint, hint).
6. Sunrises and sunsets
Outer Banks sunrises and sunsets are simply magical. Readers of USA Today voted the Outer Banks as the "5th Best Place to Watch a Sunset" in North America, and for good reason. So what makes a sunrise or sunset so brilliant in the first place? Scientists will tell you it's the fact that since sunlight must take a much longer path through the atmosphere in the morning and evening, the blue spectrum of light scatters leaving amazing oranges and reds. All we know is, sunrises and sunsets are 65% better when experienced with your toes in the sand.
5. Warm weather
The dog days of summer are gone, but the wonderful beach weather stays at least until Halloween. And unlike beaches to the north, the ocean waters stay warm enough for swimming even into November. With average high temperatures in the 70-80 range and lows in the 60-50 in September and October, Mother Nature sure doesn't act like summer is over in the Outer Banks. Sure, the nights can get chilly, but what better excuse is there to get that favorite sweater out and cuddle on the beach with your sweetie?
4. The Corolla wild horses
The iconic Corolla wild Spanish mustangs have made the shores from Corolla to Carova their home after being essentially abandoned by explorers on our beaches almost 500 years ago. Seeing pictures of the wild horses is one thing, but seeing them in person is truly unforgettable. The official state horse of North Carolina, these wild horses are really not so different than you and I. They take walks on the beach as a family, the young ones like to frolic in the surf, and they love to relax and sun themselves as well. Why not join them this fall? You can learn more about the Corolla wild horses here.
3. No crowds
If you've ever been to a crowded beach, you probably didn't like it. Bumping into everyone with your beach umbrella and cooler full of (root) beer as you fight your way out to the only vacant spot you can find, working so hard to keep track of your kids and your stuff that you forget to have a good time…. Well, you can forget about that in the Currituck Outer Banks in the off-season. It is essentially your very own private beach in the fall. If you look up secluded beach in the dictionary, there's a picture of Corolla, NC in the fall. Come see for yourself.
2. Up to 70% off accommodations
Taking a week-long vacation or weekend getaway to the Outer Banks costs less in the off-seasons, which include spring and fall — you can save up to 70% on lodging. For example, an oceanfront vacation rental home that sleeps eight typically costs around $4,000 for a week in the summer, but might rent for $1,200 per week in the fall season. That's only $171 per night! Why the difference? Economics 101: When supply is high and demand is low, consumers win. Check out Corolla vacation rentals here.
1. You don't want summer to end!
Just because the calendar says its fall doesn't mean you have to agree, right? The great news is there's still time to keep summer going. Get started planning your fall vacation by requesting a free visitor's guide to Currituck's Outer Banks today.