Saturday, November 6, 2021
12:00pm – 6:00pm
Currituck County Rural Center (CCRC)
184 Milburn Sawyer Road, Powells Point, NC 27966
Enjoy a full day of events including a KCBS BBQ Competition, People's Choice Competition (proceeds benefit Currituck Backpack for Kids), Mechanical Bull Riding, LIVE music, Craft Market, Cornhole Tournament, local food vendors and ending the day with a Rodeo.
For more information and to purchase rodeo tickets, please call 252-435-2947.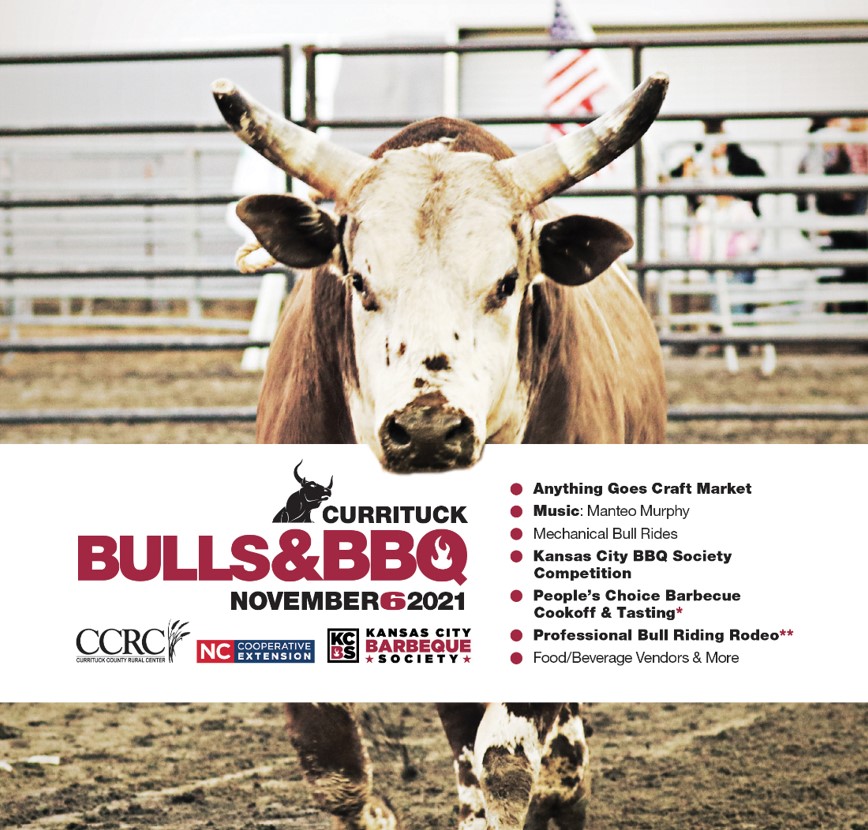 _________________________________________________________________________________________________________________________________________________
Event Timeline:
12:00pm – Gates Open
1:00pm – Welcome
1:15pm – 3:00pm – Band:  Manteo Murphy
1:45pm – 3:00pm – KCBS People's Choice Tasting (or until BBQ runs out)
3:00 pm – Rodeo Starts
4:15pm – Intermission with KCBS Awards
4:45pm – People's Choice BBQ Awards
5:30pm – Rodeo Ends
People's Choice BBQ Tasting:
Tickets: $10
Proceeds benefit 4-H Currituck Backpack for Kids
12:00pm – 2:30pm – Ticket Sales (until BBQ runs out)
1:45pm – 3:00pm – Tasting (until BBQ runs out)
4:45pm – People's Choice Awards (immediately following KCBS Awards)
5th Annual Rodeo:
3:00pm – 5:30pm (Rodeo Gates Open at 2:00pm)
Rodeo Tickets:
Advanced sale tickets may be purchased until November 5th, by 4:30pm at the Moyock Welcome Center. The hours for the Welcome Center are 9:00am to 5:00pm (7 days a week) … or purchase tickets via phone by calling the Moyock Welcome Center at 252-435-2947 with your credit or debit card, tickets then can be picked up the day of the rodeo at "Will Call" beginning at 2:00pm at the rodeo ticket tent.
***After November 5th, 4:30pm, tickets will only be available for purchase on November 6th, at the CCRC beginning at 2:00pm***
$15 – Advanced Adult Ticket (13 and older)
$10 – Advanced Children's Ticket (6-12 years old)
$45 – Advanced Sale Family 4 Pack – 2 adults and 2 kids (Kids are 12 or younger)
$10 – BBQ Judges and Cook Teams (Day of Event)
$20 – Day of event Adult Ticket (13 and older)
$15 – Day of event Children's Ticket (6-12 years old)
$65 – Day of event Family 4 Pack – 2 adults and 2 kids (Kids are 12 or younger)
Children ages 5 and under are free
Barrel Racing:
For information on participating in the rodeo (barrel racing, etc.), please contact Carey McNeill at cmcneill1969@gmail.com
Registration will begin, Monday, November 1, 2021
KCBS Competition Applications & Forms:
2021 CBB KCBS TEAM Application >
2021 People's Choice Competition Application >
Blank W9 >
Partnership Opportunities:
We invite you to consider one of our several event Partnership opportunities that are currently available. Partnership monies will be earmarked for use as KCBS prizes and to cover event-related expenses, with a portion of any remaining funds being added to our donation to Currituck 4-H Backpacks 4 Kids. Please contact Kemberly Sawyer or Samantha Payne at 252-453-9040 to learn more.
Partner levels and benefits >
Event Partners:
We would like to say a special thank you to all of our 2021 Bulls & BBQ Sponsors/Partners .  Please support our local businesses.
People's Choice:
SILVER:
BRONZE:
COWBOY NOD:
OTHERS

Event Contacts:
Kemberly Sawyer
Samantha Payne
252-453-9040