Pristine beaches and spectacular sunset views make the Currituck Outer Banks the perfect setting for a beach wedding — but these are only two of the reasons why so many couples choose this part of North Carolina's coast to create a wedding event that captures their vision and meets their budget.
Here in breathtaking Currituck County, you can say, "I do" in a family-owned vineyard or on the grounds of the historic Currituck Beach Lighthouse. You can exchange vows overlooking the Currituck Sound or right in front of tumbling ocean waves – sometimes within sight of the wild Colonial Spanish Mustangs that have lived here for hundreds of years.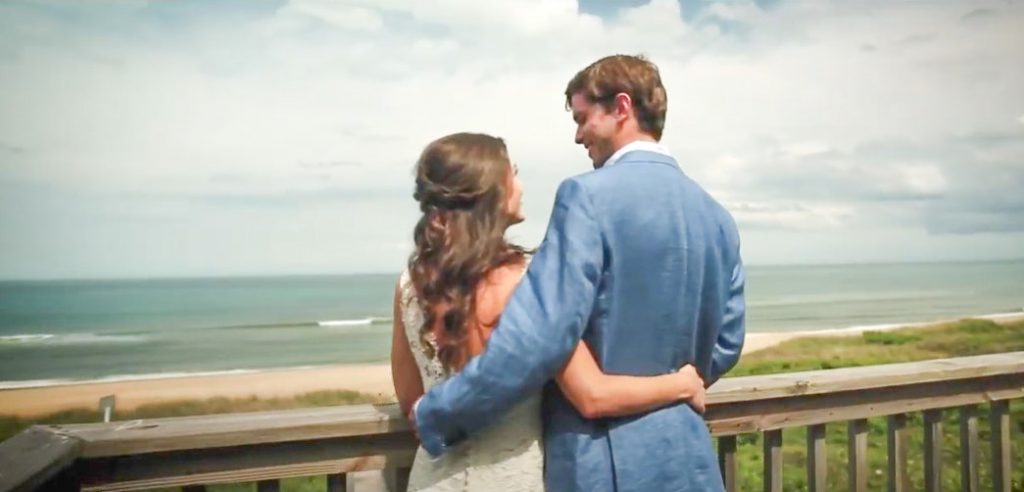 Additionally, the area's expert wedding planners, vendors, photographers and florists work seamlessly together in the Outer Banks. No wonder this string of barrier islands, renown for its unparalleled beauty, is one of the most popular wedding destinations on the East Coast.
With so many outstanding venues, facilities and event homes to choose from, we've asked local wedding planners to help compile a short list – it's impossible to name them all here – of some of the top places to get married in Currituck County. The venues appear alphabetically as each location is exceptional on its own. Be sure to download our Currituck County wedding guide for important tips and details to help you plan the event of your dreams.
The Black Stallion
With 24 Bedrooms, 31 bathrooms, an open spiral staircase and a dining room that seats more than 50, it's easy to see why event planner Kerri Catino-Nason, owner of The Proper Setting, calls The Black Stallion an "architectural gem."
"This is one of the best designed event homes in the Outer Banks with unique spaces inside and out," Catino-Nason said.
Currituck Beach Lighthouse
Many couples choose to have their wedding on the inviting lawns and grounds of this historic landmark and then head to neighboring Whalehead – or another facility – for their reception. The lighthouse offers a unique setting for weddings that range from a handful of guests to 150 friends and family.
Pelican's Landing
An oceanfront rental home in Corolla, Pelican's Landing offers access to the beach and the flexible option to rent a partial week. The five-bedroom home is close to other large family rental cottages in Corolla.
"Pelican's Landing is such a great location," said Gena Martin, who owns Platinum Party Planning. "It's affordable and you get such a wonderful view."
The Pointe Golf Club
The Pointe's club house facility on the Currituck Mainland not only offers indoor and outdoor areas but also features a ceremony site called The Tree House – a small restored house built more than 100 years ago that sits under an oak tree twice its age. Brides and bridesmaids can use the house to hang out and get ready on the day of the wedding in total privacy.
"The setting is perfect for country-themed ceremonies as it is on several acres surrounded by woods and wildflower fields on three sides," said Deborah Sawyer Gergen, wedding planner with Nordstrom Events and 11th Hour Events. "You can't even see the golf course from this expansive lawn. After cocktail hour in the country, you can travel back to the club house by golf cart for dinner and dancing."
The Ritz in Pine Island
Located in the Corolla community of Pine Island – just south of Duck – The Ritz is a custom-built, 9-bedroom oceanfront luxury retreat that features a grand foyer, seven master suites, a large gourmet kitchen, gentleman's sports bar and a mahogany billiard table.
"A private boardwalk leads guests to the beach, where couples can exchange vows with the Atlantic Ocean as the backdrop," said Diane Nordstrom, owner of Nordstrom Events. "Oversized windows in the home's living/dining area provide ocean-to-sound views and a perfect setting for a wedding reception."
Sanctuary Vineyards
Located on a quaint seaside farm in Jarvisburg, Sanctuary Vineyards offers a true vineyard wedding experience that's both refined and rustic. Begin your married life in front of the vineyard's growing vines. Take your first dance indoors surrounded by barrels and tanks that create a unique, beautiful backdrop. Wedding packages vary and a few include discounts on the vineyard's delectable wines.
Summer Moon
An event home in the Whalehead beach section of Corolla, Summer Moon has been hailed "a modern masterpiece" for its contemporary design elements, elegant furnishings and upgraded amenities. This 12-bedroom home includes a bridal suite and an elevator so everyone can enjoy its picturesque ocean views. A private walkway leads guests over the dunes to the beach.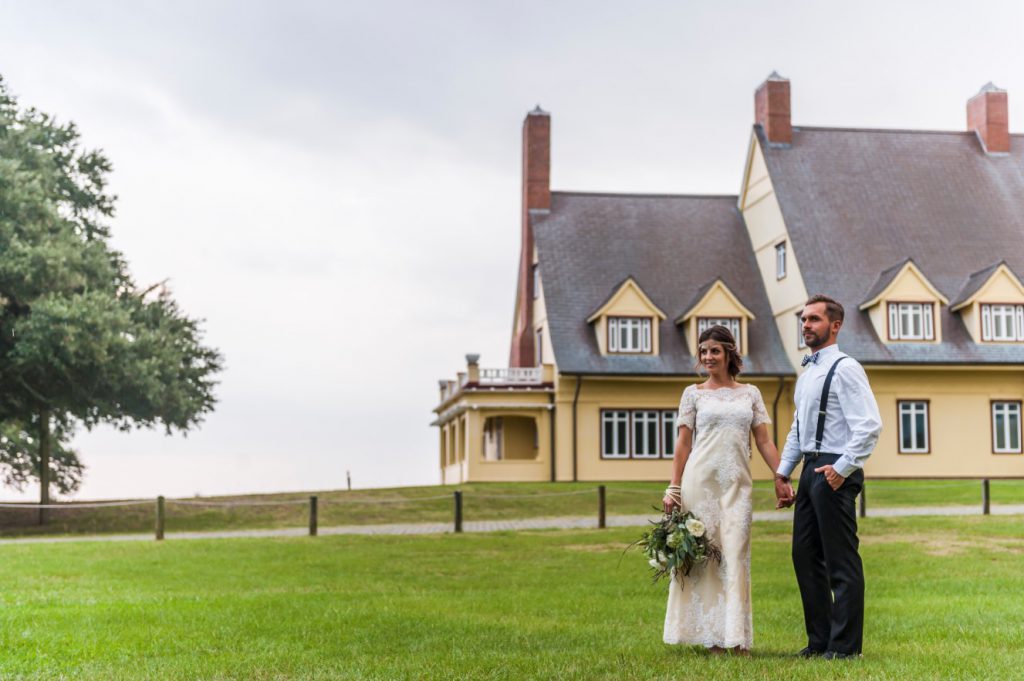 The Three Authors
This trio of event homes includes The Fitzgerald, The Mark Twain and The Hemingway. Situated near each other, couples often rent all three of these oceanfront retreats for their wedding and reception. The Mark Twain is large enough to accommodate 130 guests sitting inside. Although they're only accessible by 4X4 vehicles, the homes lie just 2 miles up the beach highway – a 10- to 15-minute drive. Transportation companies that specialize in beach weddings make it easy to ferry guests from their cars to the event homes.
Whalehead in Historic Corolla
Located on 39 acres in Corolla, Whalehead is a soundfront property that features views of the Currituck Beach Lighthouse, the historic Footbridge, live oaks and magnificent sunsets. Couples can exchange their vows under beautiful trees or on its lawns overlooking the Currituck Sound or with the restored Whalehead residence – now a museum – in the background.
Wild Horse
A 23-bedroom, oceanfront event home in the 4×4 beach area of Carova, Wild Horse has many different spaces and layout options – an ideal setting for a destination wedding. The home incorporates the beauty of old Nags Head-style architecture and offers incredible views of the ocean. The home has a 1,000-square-foot room, which can accommodate more than 100 guests.